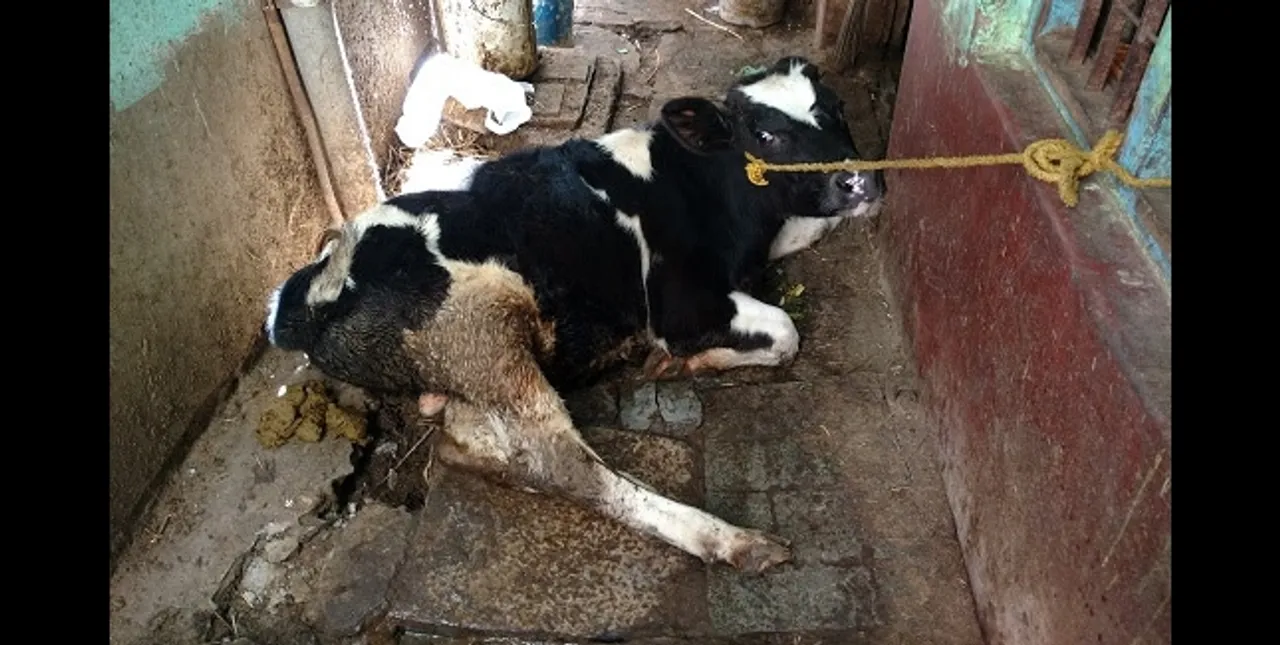 Recent research by World Animal Protection across local dairies within the city limits of six major metropolitan areas in India, has exposed the in humane living conditions and shocking treatment of dairy cows and buffaloes. The research shows, while all dairies in India are governed by the Registration of Cattle Premises Rules under the Prevention of Cruelty to Animals Act, many local diaries are operating outside the law, ignoring laws and policies set to protect animals and the environment.
It is estimated that up to 50 million dairy animals are suffering every day in unacceptable conditions in dairies. Millions are kept in badly managed local dairies, known as urban and peri-urban dairies, located in cities and suburbs. With a new video exposing the grim reality for dairy animals in India, World Animal Protection is urging the Government of India to phase out local diaries from city limits.
Research found disturbing evidences of cattle foraging in garbage, in the middle of bustling roads, in almost every visited city, indicating the absence of proper management of dairy animals. Animals are seen tied up to short ropes round the clock and forced to lie in their own urine and faeces, without any natural air to breathe, or room to stand, sit, move or roam.
Dairy animals are living in overcrowded, barren conditions, causing them immense pain and stress. They suffer malnutrition, have inadequate shelter, and don't have access to proper breeding and veterinary care. They are also often seen eating unsuitable and stale food and drinking sewage water.
Khushboo Gupta, Project Manager of Humane and Sustainable Agriculture at World Animal Protection India said, "We are extremely concerned about these local dairies keeping animals in such appalling conditions. It not only causes immense suffering to dairy animals, but also impacts the environment in surrounding areas and brings into question the quality of the milk being produced for human consumption."
"The irresponsible disposal of waste, contaminants and even dead animals on public land is a common sight at these dairies – resulting in a breeding ground for disease, potential human health hazards and environmental pollution."
Gajender K Sharma, Country Director at World Animal Protection India added, "Local dairies that disregard the welfare needs of animals need to end. With the shocking discoveries from our research we are urging the Government of India to start phasing out local dairies from our cities."
"To further end the suffering of dairy animals, the National Dairy Code of Practice for the Management of Dairy Animals in India, offers guidance on humane and sustainable practices for Indian dairies. We need to see this code implemented and enforced without delay; ensuring the highest possible welfare standards are implemented and securing a better future for diary animals in India."
World Animal Protection is petitioning the Department of Animal Husbandry, Ministry of Agriculture and Farmers Welfare, Government of India, to end the needless suffering of dairy animals, by phasing out local dairies, and implementing welfare standards that protect all dairy animals across India. You can sign the petition here: www.worldanimalprotection.org.in/protect-dairy-animals-india