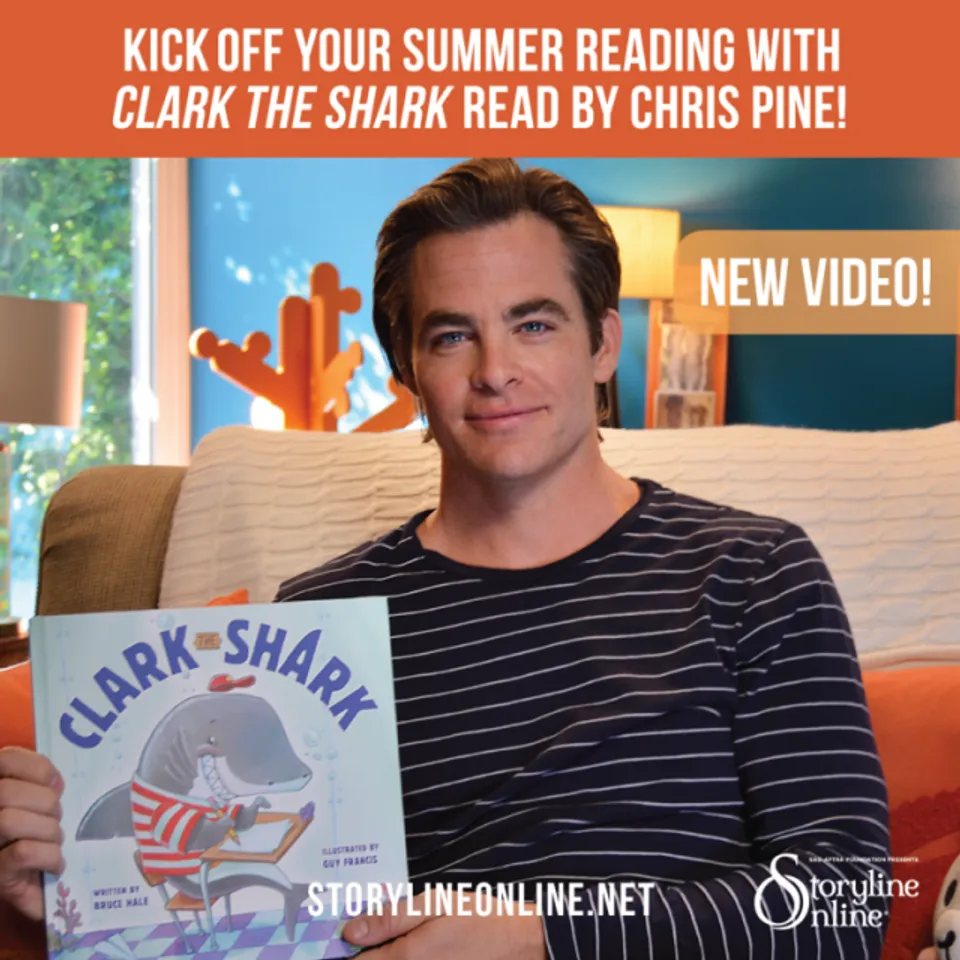 Los Angeles (June 1, 2017): Chris Pine is making waves with his newest project! The Wonder Woman and Star Trek star partnered with the SAG-AFTRA Foundation's Storyline Online® (storylineonline.net) children's literacy initiative to read the beloved children's book Clark the Shark (storylineonline.net/clark-the-shark/) written by Bruce Hale, illustrated by Guy Francis and published by HarperCollins. With its release today, Clark the Shark marks the latest addition to the award-winning Storyline Online®, a free educational website & children's literacy resource.
Clark the Shark tells the story of Clark, a big, boisterous shark attending Theodore Roosterfish Elementary School. While his heart is in the right place, Clark is rowdy, loud and over-the-top. He has trouble containing his excitement for everything in his underwater life. When his classmates stop spending time with him, Clark can't help but wonder why. After speaking with his teacher Ms. Inkydink, Clark learns that there's a time and a place for everything – even being boisterous. Highlighting thoughtful morals about friendship, social skills and accepting differences, Clark the Shark can be used to start a conversation with children about impulse control and how to deal with feelings of extreme excitement at times that require a little self-control.
Pine concludes his reading by sharing his thoughts on the book. "I really like this story. I think it speaks to all of us…. We want to be ourselves. We want to yell when we want to yell, and play and laugh and have a good time – but as Ms. Inkydink says, 'There's a time and a place for everything.' There's a time and place to be considerate of other people's feelings. Just because you want to play and laugh and eat and have fun, sometimes that hurts other people and sometimes other people don't want to play that way."
Pine is the latest actor to join an expanding cast of Storyline Online® readers. Previous readers include Viola Davis, Kevin Costner, Annette Bening, Lily Tomlin, Christian Slater, Betty White and Rita Moreno. Storyline Online® features beloved performers reading cherished children's books out loud alongside inventively animated, original illustrations. The site features 39 videos available at no cost to children, parents, and educators worldwide, and receives over 14 million views every month.
"Chris Pine is a real champion for children's literacy. He is an extremely busy actor, yet he made time to read for Storyline Online because he cares about literacy, and thinks it's important to give back to kids," said Cyd Wilson, Executive Director of the SAG-AFTRA Foundation. "Clark the Shark is a delightful new addition to our digital library. We are so grateful to Chris for his participation."
Clark the Shark comes with supplemental activity guides for both home and school that strengthen verbal, written and comprehension skills. Aimed at students in the 1st-3rd grades, these activities encourage students to engage in critical thinking and ponder the themes from the book including friendship, empathy and acceptance.
To view Clark the Shark and all of Storyline Online's videos, visit storylineonline.net, and subscribe to youtube.com/storylineonline. Keep up with new videos to be released in 2017 by following @StorylineOnline on Twitter and /StorylineOnline on Facebook.
Source:
MySocialGoodNews.com
as part of CSRlive's collaboration with
Your Mark On The World