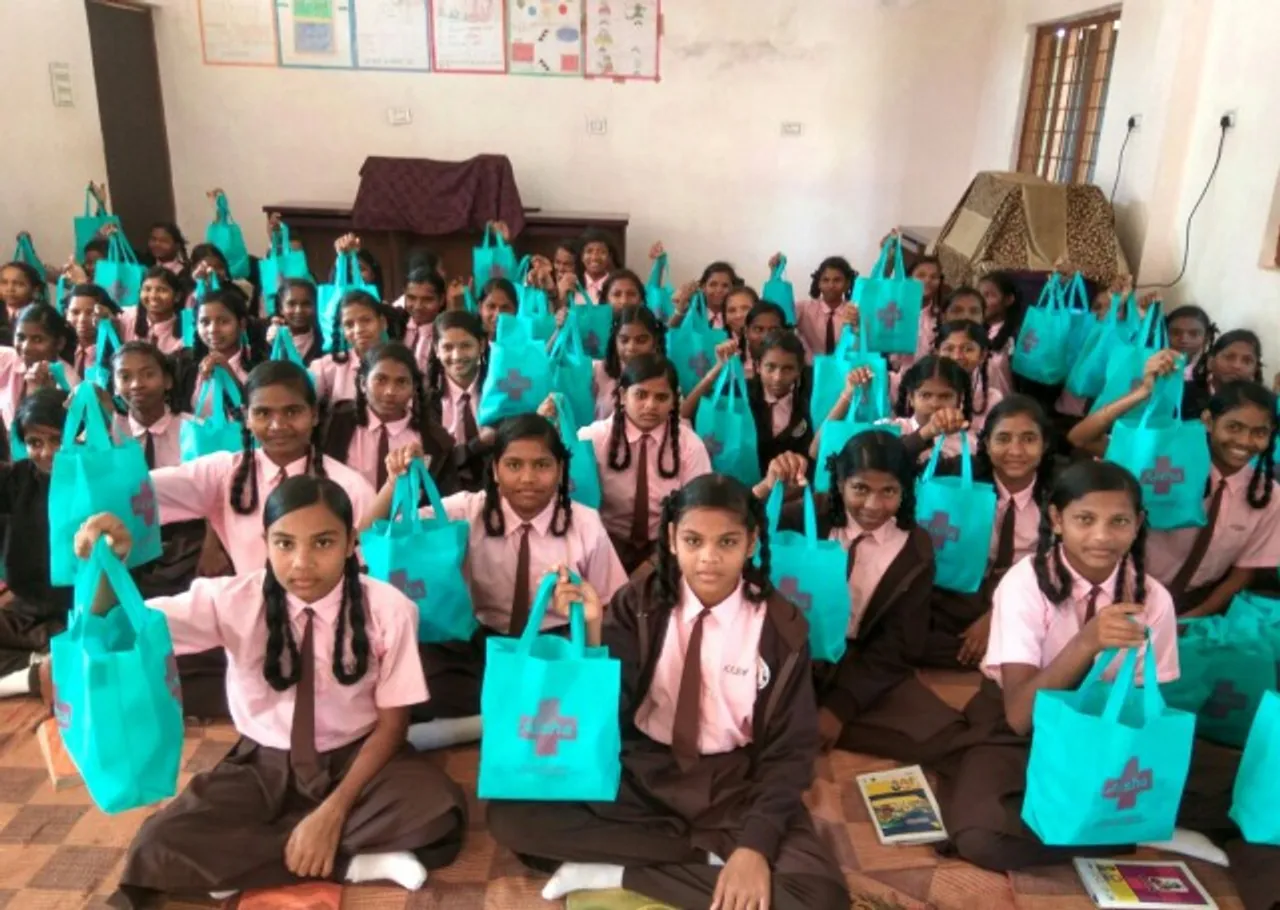 Bangalore (December 01, 2016): Women's health tracker, Maya, has launched an initiative called 'Project Sunshine' in India. Through Project Sunshine, Maya aims to promote good health and hygiene among women and young girls. As per the initiative, for every sign-up through a user referral, Maya will donate one month's worth of sanitary pads to women and girls with limited access to hygiene products. The project has been initiated in government schools in Sukma, Chhattisgarh and over 1417 sanitary pads have already been donated.
As per a report by HEEALS (a non-profit organization), around 23 % girls drop out of school every year in India due to lack of menstrual hygiene facilities. The percentage of girls having access to menstrual products is dramatically less in India and this is one of reasons of decline in number of girls in secondary and higher education courses. 'Project Sunshine' was conceptualised as Maya believed that their work should impact the lesser privileged as well. The project will help in creating awareness both among the women who receive the products as well as the community of users on Maya who contribute to the cause.
To drive 'Project Sunshine', Maya has partnered with Saral Designs and Shiksharth Trust. Saral manufactures high quality sanitary pads at a low cost with machines designed and developed in-house at their unit. Shiksharth is a platform which operates out of Sukma region in Chattisgarh and is working towards the holistic development of tribal and rural children by bridging the gap between community and schools. Maya is working in collaboration with Saral towards procuring high quality sanitary pads that are distributed to women. It has partnered with Shiksharth to equip girls in tribal belts to overcome the limited access to menstrual hygiene products.
Shiksharth Trust will be facilitating the process of distribution in schools with Danteshwari Mahila Mandali (Women's Club of Sukma) and Rajiv Gandhi Shiksha Mission, Sukma Administration. Maya aims to expand the scope of donation to other geographies in India and extend partnerships with other organizations in facilitating and distributing sanitary pads. Though the project has been initiated amongst school girls, the goal is to expand to menstruating women in the country with little or no access to sanitary pads irrespective of their age.
Project Sunshine aims to achieve the following goals:
Enable Access - Only 12% of women in India use sanitary pads. Unavailability of menstrual pads and inadequate sanitation is one of the major causes for reproductive health issues and has an impact on school dropout rates in developing countries, including India.
Empower Women- Better access to healthcare and sanitation resources empowers women to improve their health and not only benefits them as individuals but also the community at large.
Bring about a Change in thought - Menstruation is still taboo subject in countries like India and we are striving to bring a positive dialogue about these issues.
"Since the inception of Maya, we have obsessed about decoding each day of the monthly cycle to help women across the world manage their health better. Project Sunshine is our way of contributing to this mission beyond the tier 1 cities in India. The project is driven by the community of users on Maya who are motivated about supporting women who are less privileged", said John Paul, chief executive officer and founder, Maya.
Maya has recently raised an undisclosed amount in funding from Rajan Anandan, Vice-President, Google, Southeast Asia and India. The company had also raised seed funding of 5 crores from Prime Venture Partners earlier this year. Maya is building a personal health assistant that uses data, analytics and machine learning to provide women actionable insights around their health. Using the tracker, women can record vital health information and trace out patterns that help them manage their health better.