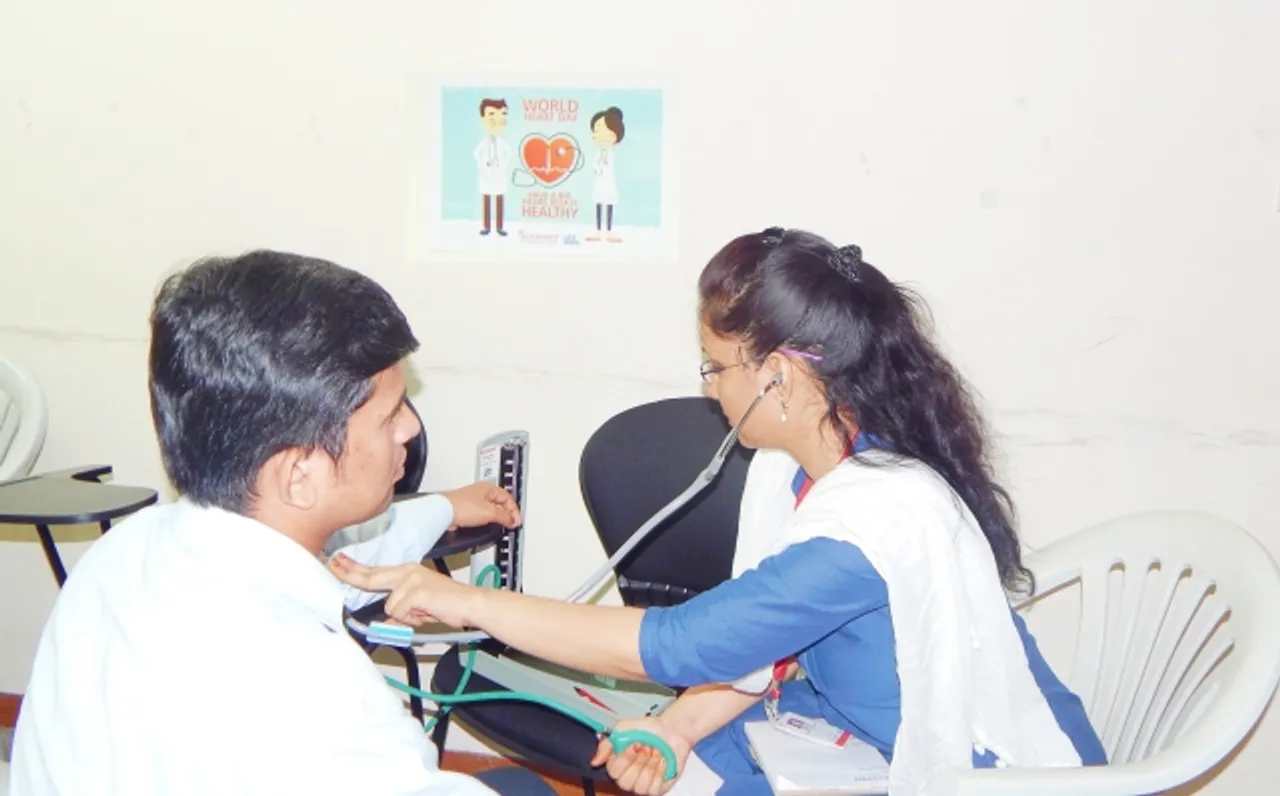 Marking the occasion of World Heart Day, Wockhardt Foundation has taken a pledge to assist more kids suffering from congenital heart disorders (CHD), and spread awareness on maintaining a healthy heart environment by conducting a BP check-up camp for the employees.
As a special invitee at Wockhardt Foundation, Dr G B Parulkar, a renowned cardiovascular surgeon in the country and the first teacher for post graduate students for heart surgery in India emphasised on the fact that BP check is a must to know the health status of heart. More than 100 employees took the test and results indicated that almost 25% did not have normal blood pressure.
The employees were briefed on how arthrosclerosis in coronary arteries occurs due to deposition of cholesterol under the intimal lining of coronary artery, the advantages of early preventive measures including use of medical therapy to lower cholesterol level.
Dr. Parulkar briefing employees on the advantages of early preventive measures including use of medical therapy to lower cholesterol level
Speaking at the occasion Dr Huzaifa Khorakiwala, CEO & Trustee, Wockhardt Foundation said, "Non communicable disease burden is growing at an alarming rate in the country and lack of awareness on maintaining a healthy heart accompanied with erratic lifestyle is a major cause. By conducting this camp we aim at educating people on undertaking routine BP check."
He further added, "Little Hearts was started by Wockhardt Foundation in January 2015. The rationale behind this programme is to provide funds and facilities to the underprivileged children of the society. We have been able to collect funds from private donors; the amount collected has been used in the financial support of 15 surgeries at Wockhardt Hospital, South Mumbai, which has all the best facilities, instruments and devices required. It has a well experienced pediatric cardiac team; a state-of-the-art paediatric Congenital Heart Centre headed by Dr Suresh Joshi, well known cardiologist."
Congenital heart disease (CHD) is one of the major causes of mortality and morbidity in the pediatric population of both the developing and developed countries. According to various reports, every year 1.5 lakh infants are born in India with congenital heart disease out of which about 78,000 die because of inadequate health care facilities in the country. More than 50% of all children born with congenital heart defect require at least one invasive surgery in their lifetime. In India, a helping hand to the Little Hearts suffering from cardiac diseases is given by Child Heart Foundation (Founded in 2004, registered - 2013) and Fortis Foundation jointly with Being Human Foundation (Founded in May 2013).
About Wockhardt Foundation
Wockhardt Foundation is a national, not-for-profit organization engaged in social service and human welfare activities. Its 9 programmes have made perceptible change in its areas of operations to the lives of the underprivileged.
Mobile 1000, its flagship programme, aims at operating 1000 Mobile Health Vans in rural India and administering free primary healthcare to 25 million Indians every year. As of date, there are 54 Mobile 1000 Vans operating in 14 states and doing yeoman service to rural India.
Its other programmes like Little Hearts, Swachhalaya, Bio Toilet, E-Learning, Khel Khel Mein, Wockhardt Skills Development Institute, SHUDHU water purification tablets and Adarsh Gram Yojana have made significant impact and it continues to expand its social coverage in areas where the need is the most. Says it's Trustee & CEO, Dr. HUZ (Dr. Huzaifa Khorakiwala) -"Wockhardt Foundation operates its social programmes based on the 3 B's - Big, Best and Bold. The Big ensures scale, the Best ensures quality and the Bold ensures need."