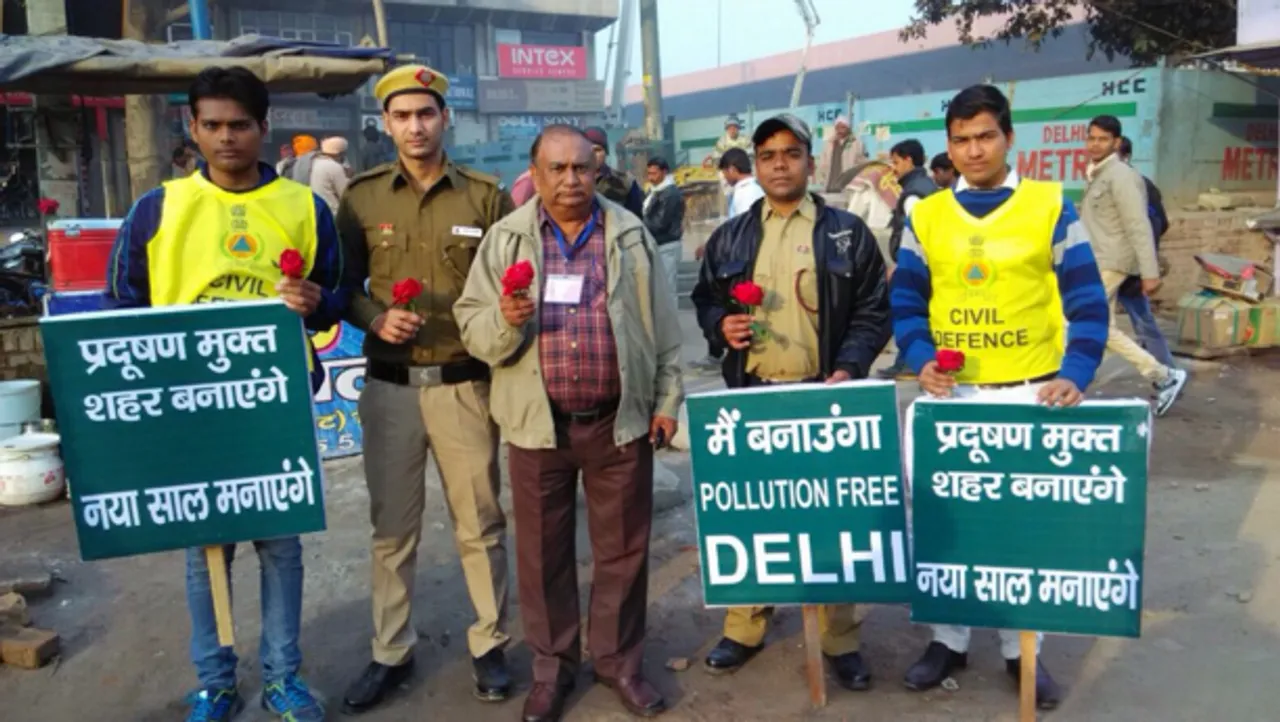 Exactly 124 years ago, India saw it's first car, a French-made De Dion-Bouton enter the garage of the ruler of Patiala, located just four hours from the nation's capital, New Delhi. The car had a proud license plate "O." Starting 1 January 2016, 4.5 million cars with either an even or odd number license plate are vying for space in Delhi's crowded streets while another 4.5 million cars are forced to stay at home in an effort to cut pollution.
The goal of this 15-day experiment is to allow people to cough less in the world's most polluted city and is happening just less than a month after 195 countries signed the Paris Agreement, a legally binding pact to bring global pollution down to pre-industrial levels.
Did the Road to Paris inspire Delhi chief minister, Arvind Kejraval? Does he sincerely want to change how the public behaves and help them improve their health and well being? Or, is this another political move to appease his urban, middle class voter base with concepts like road sharing and sustainable living?
Critics have started doubting the success of this experiment. Some have publicly stated that they will resort to using fake license plates. Others lament that they will not be able to find alternate transportation on days that they cannot use their cars. Some say they will buy an additional car to add to the approximately 1400 new entrants that enter the Capital's roads every day.
Kejriwal has cleverly exempted high-ranking officials and VIP's from this experiment. Will the pollutant really care whose car is on the road, after all?
There is no easy fix to Delhi's pollution woes. The capital has the world's highest concentration of particulate matter smaller than 2.5 micrometers, also called PM2.5.
Decades of neglect, sustained pollution and rapid demographic shifts have choked people's lives, especially those of the poor and the middle class. Besides cars, large trucks, two wheelers and pollution-spewing factories on the fringes of the City have also contributed to a low quality of life.
The worst, but less discussed culprit in India's pollution debate is rampant fuel adulteration. According to the Delhi-based Centre for Science and Environment (CSE), "the 'official' failure rate in fuel samples due to adulteration in satellite towns around New Delhi -- Faridabad, Gurgaon and beyond -- is as high as 26%."
So, the next time you smell more kerosene at the pump, note that your government and oil companies are culprits as well.
If the 15-day experiment becomes a wake up call for Delhi's residents to unite to safeguard their health and wellness, we can expect some progress. If not, we will be back to square one.
Founder of Lettersnatcher.com, Sarat Pratapchandran's career spans philanthropy, corporate social responsibility & content management. A graduate from Walter Cronkite School of Journalism, he worked as a journalist in India, the Middle East and the United States and now advises and mentors individuals at kanthari, an international organization focused on creating social visionaries around the world. Sarat is also on a personal mission to help 50 orphans by age 50.