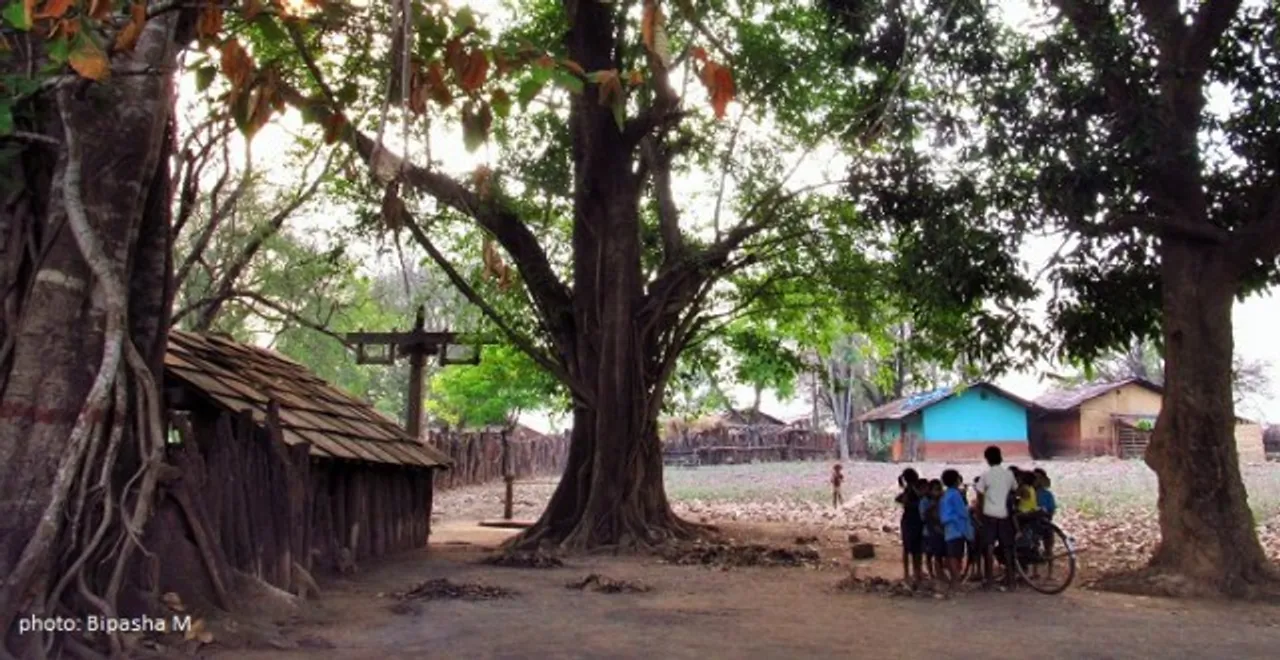 "The mines have taken everything, we have lost everything. The mines should stop but they say it's for the country's development, so what can we say or do? For us, life has become more difficult, there is no peace or happiness. Earlier with our forests, we had so much for ourselves, so much food and abundance. We used to live mostly on forest produce. We do not have anything to give to the next generation – no land or money or work. Now we have to buy land, food and even coal."
Sukhdev Singh (60yrs) was the Mukhiya (village leader) of Sikri in Korba district of Chhattisgarh when I visited him in 2014. The remaining houses in this village and miles of surrounding area looked desolate and forlorn – similar to a scene of devastation in an apocalyptic movie – with coal-dust covered trees, dug-up earth, no farms, and a black ribbon of water where once a clear perennial stream flowed. The coal mines had started way back in 1991 when the region was a dense forest full of wildlife; by 2014, the devastation was complete, changing the lives of these tribals and forest dwellers forever.
Recently, many stories of conflict between tribals and government agencies and/or corporations have been making news, if not headlines (Hazaribagh and Gadchiroli). The complexity of situations like these arises largely due to the fact that India's mineral belt overlaps the country's last standing, biodiversity rich, dense forests which are also home to millions of tribals and other forest dwellers dependent on these forests for their life and livelihood (8% of India's population are Scheduled Tribes. 90% of Coal and 80% of other minerals are found in region with tribal population). They are also the one of the poorest and most marginalised communities in the country.
The Scheduled Tribes and Other Traditional Forest Dwellers (Recognition of Forest Rights) Act, also known as Forest Rights Act, was passed in 2006 keeping in mind that the forest dependent communities get legal recognition to their land, legal rights over forest produces, right to conserve and manage the forests, and most importantly right to decide what they want to do with their land and lives. And in case they choose to give away their land, they could get fair compensation for it, so that the situation of Sikri village does not continue to happen. The Panchayats (Extension to Scheduled Areas) Act of 1996 or PESA also ensured self-governance through Gram Sabhas in scheduled (forested/tribal) areas. The FRA has been in controversy since its enactment, with the wildlife conservationists claiming it will lead to large scale deforestation, while corporations see both FRA and PESA as an additional hindrance in the long sequence of clearances needed for land acquisition, development of the country as well as these communities. In a seemingly no-win situation, one organisation has shown what can happen if FRA and PESA are implemented in the right spirit – when the communities get to decide the type of development they want.
Vidarbha Nature Conservation Society, a Nagpur based Civil Society Organisation has been working with the tribal communities in Gadchiroli and Gondia districts of Maharshtra and helping them with the process of getting legal rights over their traditional forest boundary under Community Forest Rights (CFR) of FRA. Earlier, the Forest Department had a control over the sale of minor forest produces such as bamboo, tendu, amla, mahua etc. with the community members getting only wages for their collection. With CFR, the communities had the power to collect as well as sell their produces directly to dealers. Despite tremendous opposition by various sections, lack of marketing support, and volatile markets, 20 villages from these two districts were able to earn Rs. 1.54 crores from the direct sale of tendu leaves from their CFR areas in the 2016 season alone. This is probably the first time in India where villages have been able to successfully exercise their rights over management and sale of minor forest produces. The villages have also decided not to use fire or bush cutting, a method used by the Forest Department to boost growth of tendu leaves but which degraded the forests.
In Naroti Chak, a Village Development Plan was prepared by the Gram Sabha after analysing the land, water and forest resources available and listing down the existing schemes under various government departments. The plan included development of irrigation and agriculture, water bodies conservation, regeneration of forests, use and sell of forest produces (NTFPs), construction of roads, check dams, fisheries, and installation of biogas etc. under funds mobilised from Forest Department, State Biodiversity Board, Tribal Department, NREGA etc. In the first year itself (2012), they were able to mobilise Rs.62 lakh for different activities. They also fought for and got fishing rights in ponds within their CFR area. The VDP helped the village to strategise and plan the development of their villages, conserve their forests, improve their livelihood options, create market linkages, increase participation of women in decision making, provide the youth with 'jobs', stop migration, and also improve people's standard of living. Naroti Chak stands out as a model case of self-governance and development through convergence of livelihood schemes.
Due to its success, 24 more villages have now prepared their Village Management (development) Plans under a UNDP project with over Rs.57 crores worth of development and livelihood work planned under various schemes. If successful in the coming years, these villages will not only be able to redefine what development could mean for the tribals and other forest dwellers, but also become an example of the strength and success of self-governance – just as Gandhi had envisioned rural India to be.
Bipasha Majumder shifted to the social sector after working in advertising and media for a decade. She loves traveling to the grassroot, talking to the communities, understanding their issues first hand and writing about her experiences. Currently she works as an environmental researcher, and content and documentation specialist for various NGOs and CSR projects.