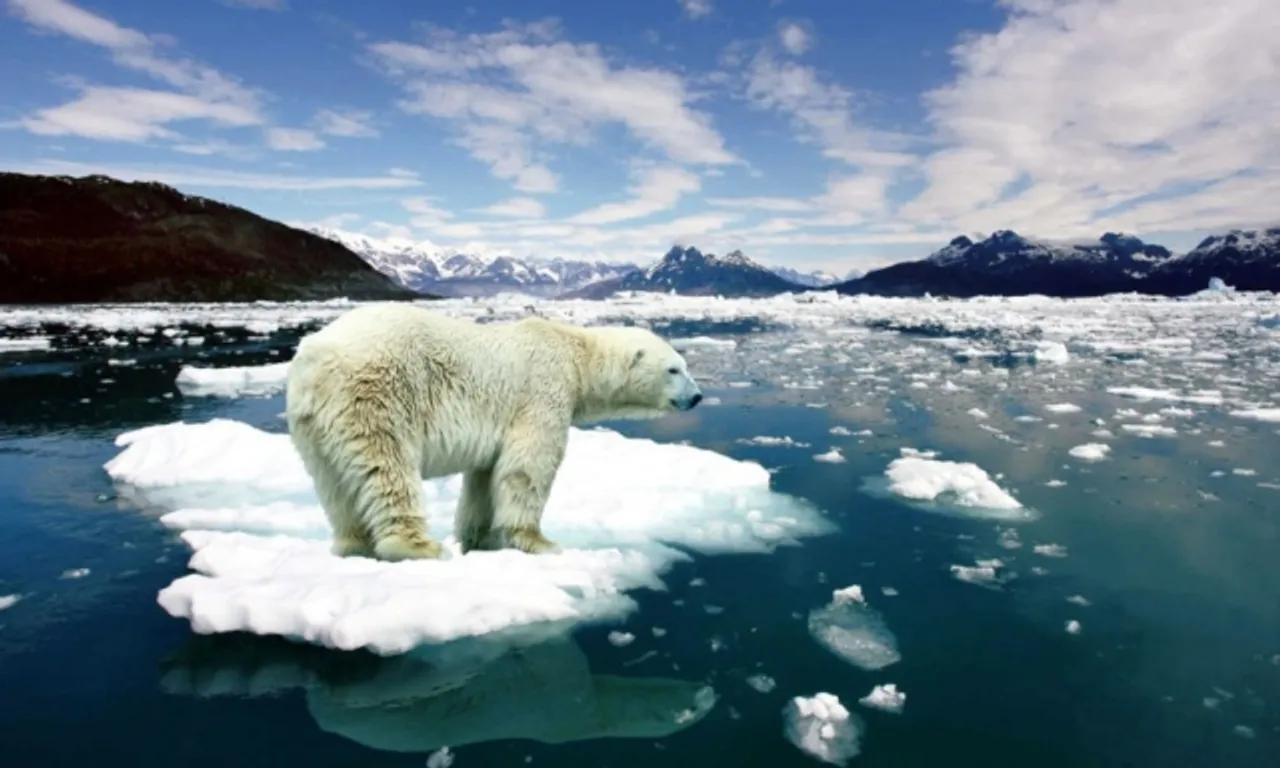 "This year, every vote is a vote for or against climate change," says Nick Stockton onWired.com. Citizens of the United States have to make a real choice about climate this year. Through their coming Presidential choices, the people will define the policies that represent our national will. Our votes in November may determine how the country addresses the powerful forces involved in world climate for decades to come. They may also affect the vulnerability of the entire planet.
Fortunately, with three months left before the election, the voting options have now become clearer. After the Republican National Convention, which opened Monday, July 18, in Cleveland, and Philadelphia's Democratic National Convention, which concluded last week, Republicans and Democrats have clearly differentiated their perspectives. (In some cases, the candidates diverge from their own official party lines.) Although the two parties' platforms differ starkly on other important issues like immigration, health care, and criminal justice, the gap between them is clearly widest on how to proceed with climate.
Stockton reviews the political history of climate issues:
"Climate change and politics met on February 8, 1965, when President Lyndon Johnson addressed Congress on the danger of releasing too much carbon dioxide into the atmosphere. The issue simmered through Carter, Reagan, and Bush I. By the mid-1990s, climate science and climate denial had seeped deeply enough into US politics that President Bill Clinton signed the Kyoto Protocol, and the Republican congress subsequently refused to ratify it. In the 2000s, Bush II made denial mainstream, and Al Gore's An Inconvenient Truth did the same thing for climate science. Mainstream—but never as important as the economy, foreign policy, abortion, the economy, religious freedom, drugs, and the economy."
At the UN's COP21 meeting last December, leaders of world governments right, left, and center agreed that unchecked climate change threatens all countries of the world. Scan through the study recently released by the Sierra Club. It presents directly attributable, verifiable statements, quotes, and actions from all the worlds' heads of government about their commitments in the Paris Agreement. To summarize, the whole world has advocated safeguarding the advantages of our present environment, embracing sustainable energies, and implementing new technologies that will maintain vibrant commerce despite ecological change.
However, the two major parties in the US and their Presidential choices — Donald Trump and Hillary Clinton — directly oppose each other. Only Clinton appears to take seriously the linked needs to retain the advantages of our present environment and to embrace new technologies and energy sources in an orderly way.
A Quick Glance At Party Positions
This table from InsideClimateNews summarizes the climate views on both sides of the political spectrum.
Carbon Brief has also prepared an interactive grid that shows the climate and energy views of the candidates, their vice presidential candidates, and the party platforms that will be constantly updated as the election approaches. View this excellent election tracker of Democrat and Republican views on energy and climate here.
Republicans Now Cluster Around A Distinctly Unpopular View
The Republicans continue to sow doubt on whether the climate is changing. They reject the findings of the United Nations' Intergovernmental Panel on Climate Change, calling the UN "a political mechanism, not an unbiased scientific institution" with "intolerance toward scientists and others who dissent from its orthodoxy." For an analysis of the Republican rejection of the Paris agreement, see Evan Lehmann's article for Scientific American via ClimateWire two weeks ago.
The GOP's platform plank on environment states the following:
"We believe sound energy, agriculture, and environmental policy can foster sustainable economic growth. We are also the party of America's growers and producers, farmers, ranchers, foresters, miners, and all those who bring from the earth the minerals and energy that are the lifeblood of our nation's historically strong economy. We are the party of traditional conservation: the wise development of resources that keeps in mind the efforts of past generations to secure that bounty and our responsibility to preserve it for the future."
In other words, the party has no stated policy at all — only a repudiation of all forward progress made during President Obama's term. In fact, as Greg Dotson points out in ThinkProgress, the Republican platform eight years ago was more progressive than in 2016. The party now comes out strongly in favor of loosening restrictions on the oil and gas industries. Its platform also describes coal as a "clean" source of energy, an untruth that sends Democrats and others worldwide rolling on the floor laughing.
Trump has made his positions very clear. He only mentions the subject of climate change in order to bait and mock the Democrats. Donald Trump has also pledged to renegotiate or cancel the Paris climate agreement, gut President Obama's Climate Action Plan, and approve the previously rejected Keystone XL pipeline.
In fact, if Trump were elected, he would be the only world leader still denying the science of climate change. As the Paris results indicate, he would also be the only world leader refusing to take urgent climate action. Almost inconceivably, he scorns world opinion in the face of comprehensive research acknowledging the climate crisis, current climate science, and the need for climate action. Say the authors of the Sierra Club study:
"Trump has a history of engaging in conspiracy theories, and in that vein he has described climate change as a 'hoax,' 'mythical,' 'nonexistent,' a 'con job,' and 'bullshit.' He even said that 'The concept of global warming was created by and for the Chinese in order to make U.S. manufacturing non-competitive.'"
Also, as shown in MIT Technology Review, if Trump could increase domestic natural gas production, his action would push coal into an even more drastic decline. To explain the number of active oil and gas rigs recently dropping to 1989 levels, Trump has blamed Obama's policies — but rig counts have dropped not due to government policy, but because of low oil and gas prices on the global economic scale. Trump's recently hand-picked running mate, Indiana Governor Mike Pence, has views similar to the candidate's own. He has also sought to scuttle President Obama's Clean Power Plan.
Says the Sierra Club's Global Climate Policy Director John Coequyt:
"Donald Trump's failure to acknowledge basic climate science wouldn't just leave him isolated on the world stage as President, it would undermine our relationships with key allies and threaten our ability to work effectively internationally. Trump's climate science denial would make him a global laughingstock if it wasn't so dangerous. Every single leader on earth — from Germany to India to Somalia to Japan — recognizes that the climate crisis is happening and demands the world's attention."
It's worth noting that most of the GOP leaders who accept climate science skipped the RNC convention. "Trump is sticking his head in the sand while the seas are rising," Coequyt concludes. "Climate change poses a real and urgent threat to our economy, our national security, and our children's health and futures," the Democrats have declared. Says Khalid Pitts, political director of the Sierra Club, "The Republican platform has gone beyond partisan politics and extended into cartoonish absurdity."
Though conservatives characterize Democrats as "environmental extremists," a majority of Republicans also view climate change as a potent threat and acknowledge the power of anthropogenic causes. In other words, not only are 97% of scientists concerned about the issue, but so are most other citizens. Belief in climate change and the need to tackle it is actually the mainstream American view. As Ben Adler has noted in Grist, "The real radicals are the anti-government extremists who would reverse 45 years of environmental progress."
Democrats Now Own The Majority Position
A stunning video called "Not Reality TV," narrated by Sigourney Weaver and produced by James Cameron, aired at the DNC convention. Here's how Stockton summarizes it:
"The 2016 Democratic National Convention in Philadelphia aired a five and a half minute video about climate change…. It featured Don Cheadle, Jack Black, America Ferrera, Gov. Arnold Schwarzenegger, and other celebs. Instead of scientists and hockey sticks, it had forest fires, Hurricane Sandy survivors, and a summer blockbuster soundtrack. The gist: Climate change is causing awful things in America and abroad. If you care to stop it, vote for Hillary Clinton."
He also points out that "climate action is a prominent plank in the Democratic Party platform," and that Democrats are going on the offense with it. Here are some specific Democratic promises.
First, the party recognizes that "climate change poses an urgent and severe threat to our national security" as a threat multiplier that is already contributing to "new conflicts over resources, catastrophic natural disasters, and the degradation of vital ecosystems across the globe."
2016 Democratic candidate Hillary Clinton (grist.org)
Democrats urge that the US continue to contribute global leadership in this area as President Obama has over the past seven-plus years. The Democrats support last December's Paris Agreement, which the United States signed along with most of the world's other nations. The treaty commits signatories to hold the global temperature increase to less than two degrees Celsius above pre-industrial levels — and ideally, 1.5 degrees or less. (A recent report in the respected publication Naturehas found that "the window for limiting warming to below 1.5 C… seems to have closed.") The Democratic platform states:
"We will not only meet the goals we set in Paris, we will seek to exceed them and push other countries to do the same by slashing carbon pollution and rapidly driving down emissions of potent greenhouse gases like hydrofluorocarbons…. We will support developing countries in their efforts to mitigate carbon pollution and other greenhouse gases, deploy more clean energy, and invest in climate resilience and adaptation."
Also see Clinton's detailed plan for US energy and climate policy, which you can find on her campaign website. In fact, Hillary Clinton has declared a goal of making America the world's clean energy superpower. The platform states that Clinton's "climate change policy will cut carbon emission, address poverty, invest in disadvantaged communities, and improve both air quality and public health." Specifically:
"We believe America must be running entirely on clean energy by mid-century. We will take bold steps to slash carbon pollution and protect clean air at home, lead the fight against climate change around the world, ensure no Americans are left out or left behind as we accelerate the transition to a clean energy economy, and be responsible stewards of our natural resources and our public lands and waters. Democrats reject the notion that we have to choose between protecting our planet and creating good-paying jobs. We can and we will do both."
As he turned over party leadership to Hillary Clinton, Democratic socialist leader Bernie Sanders advised:
"Hillary Clinton is listening to the scientists who tell us that if we do not act boldly in the very near future there will be more drought, more floods, more acidification of the oceans, more rising sea levels. She understands that we must work with countries around the world in transforming our energy system away from fossil fuels and into energy efficiency and sustainable energy—and that when we do that we can create a whole lot of good-paying jobs."
In contrast to Trump, Hillary Clinton has put forward sound proposals, many of them amplified by the Sanders campaign, to meet almost all the climate changes specified in US energy planning and in the proactive work of the United Nations. From her nomination acceptance speech:
"I believe in science. I believe climate change is real and that we can save our planet while creating millions of good-paying clean energy jobs…. I am proud we shaped a global climate agreement. Now we have to hold every country accountable to their commitments, including ourselves."
The only element of the platform that Clinton is missing is its firm commitment to carbon pricing — generally agreed to be the fastest and surest way to reduce the greenhouse gases that leave us defenseless against rapid climate change. With enough political pressure, the next three months could still result in a reversal here, improving our chances of avoiding the worst that climate change may have to offer.
Based in Chicago, Sandy Dechert is an energy, environment, and health writer who specializes in climate change. She studied at UPenn and the University of Kent and worked for groundbreaking environmental consultants (now part of CH2MHill) and a Fortune 100 healthcare company. A regular contributor to CleanTechnica and other online media, she has reported US and UNFCCC developments in depth. Sandy live-blogged in 2014 from COP20 in Lima, Peru, and plans to spend the first two weeks of December this year reporting from Paris.