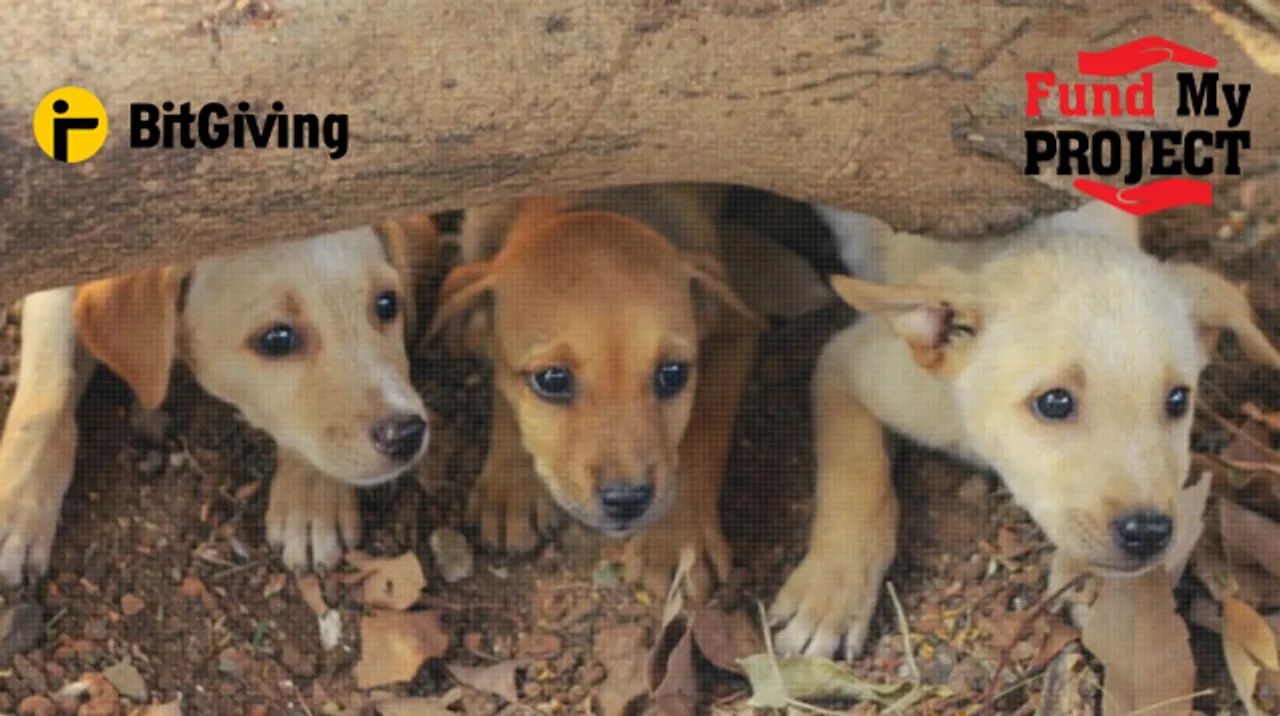 Here's how your CSR Funding can come to the rescue of injured and starved stray dogs, provide shade to the animals in peak temperatures during summers and additionally create awareness about the environment among the children in Gehja Village, Noida.
This cause is featured on Fund My Project as part of CSRlive.in's collaboration with BitGiving.com
Project by: Voiceless India
Funding Required: INR 75,000
Here's what the folks at Voiceless India have to say about this Project:
Voiceless India is a campaign which was founded by Ankit Puri, a student of class 12 of Step By Step School Noida along with his friends, to spread awareness about animal cruelty and environmental sustainability. Under the campaign, they have organized cleanliness drives, initiated a bed program for the stray babies in winter, launched several petitions to increase penalty on animal abuse and have been conducting animal welfare workshops in collaboration with PETA. 
This campaign has been started to fund our two new endeavors- a dog sterilization drive of 50 dogs in Noida, and a plantation drive in Posh Foundation (an animal shelter) and Gejha Village in Noida. 
Through the sterilization drive we aim to control Noida's stray dog population in the most humane ways possible. Everyday we see dogs dying under our vehicles, maybe by accident, but they do! It is the most horrible sight, for us animal lovers, to see a dog die in front of our eyes. It is everyday that we hear about distress calls being made to animal activists and NGOs, even on animal rescue groups on Facebook, about injured or starved animals but how many of them can we really help? We feel that controlling the population of these innocent souls is one of the only ways we can support them. For this purpose we have partnered with FRIENDICOES SECA, a Delhi based animal shelter, to carry out our sterilization drives.
To free stray dogs from starvation and accidents, it is imperative that we control their population humanely, and sterilization is the ONLY way to do so at this moment. It not only reduces reproduction but also makes dogs more docile and well mannered. 
Our second initiative - the two plantation drives will be organized in one of Noida's most urban villages - Gejha Village and in an animal shelter called Posh Foundation. We have partnered with WWF (World Wildlife Fund) to get the tree saplings. By planting trees in Posh Foundation, we not only want to increase environmental awareness but also provide shade to the dogs of the shelter who have to survive in Noida's peak temperatures during summers. 
In Gejha Village, we aim to create extensive awareness about the environment among the children who will ultimately be the future of our planet and also among the adults by involving them in the drive.
All our initiatives will take place during the months of October, November and December (a span of 3 months) and we would love you to join us as well!
The Risks and Challenges
The biggest challenge that we are facing are low funds. As our projects are of a large scale, we need to generate at least 75000 to execute them in the most proper manner!
Allocation of funds
The sterilization of one dog costs Rupees 1,000 and thus 50 dogs will cost 50,000 Rupees. 
The remaining 25,000 Rupees will be used for our plantation drive which includes the transport costs of saplings, renting tools, calling a gardener to the spot and buying any organic fertilizers required. 
If any amount is left it will be used for the sterilization of more dogs in Noida.
Want to Fund this Project?
Visit BitGiving.com here and support the cause.
Looking for funding?
If you have a social project that's high on innovation and impact, but running low on financial fuel, do write in to Nidhi Singh at nidhi@csrlive.in with your proposal, and we'll feature it on FUND MY PROJECT.