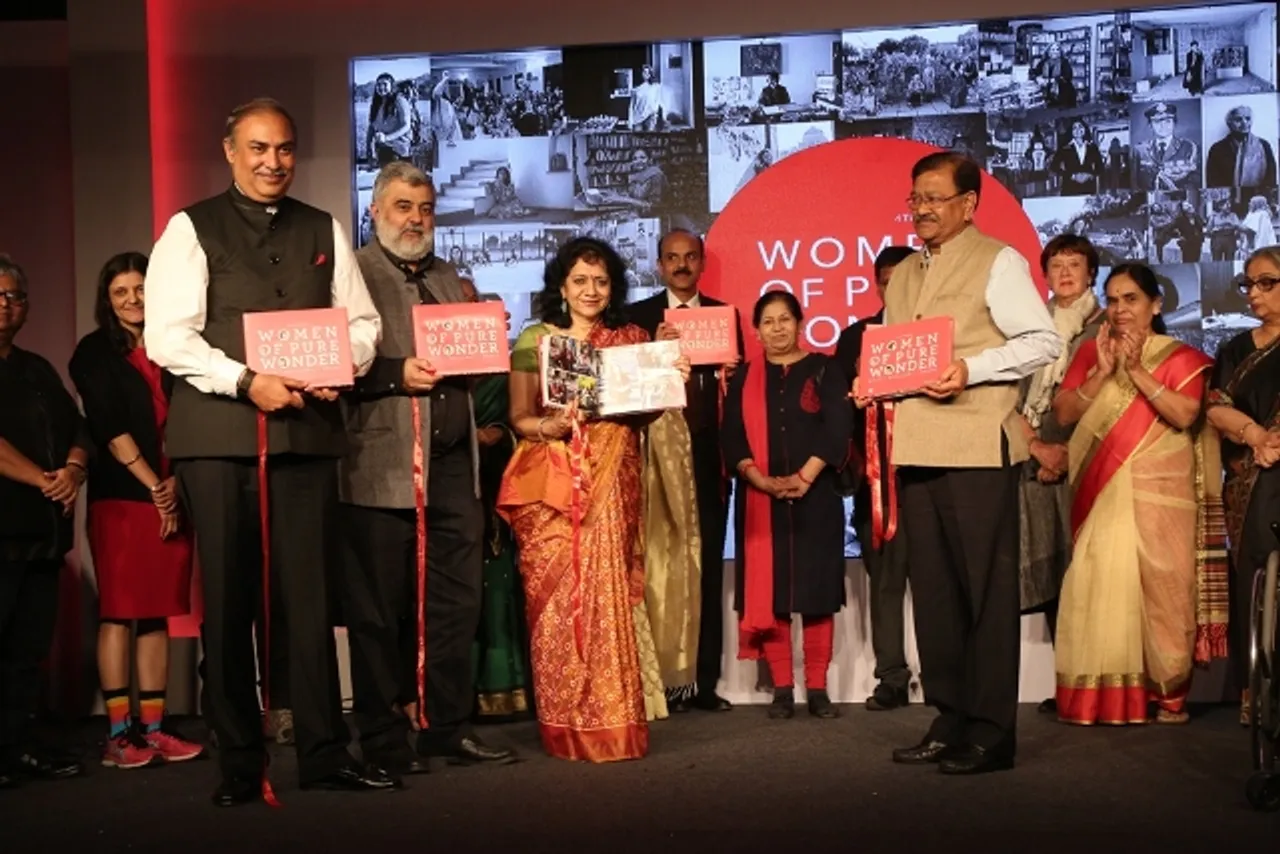 New Delhi (March 10, 2017): Vodafone Foundation acknowledged the extraordinary contribution of  50 women like Irom Sharmila, Laxmi Narayan Tripathi, Seema Rao, Nivedita Bhasin, Tasleem Fatima, The Phogat sisters, Shubha Mudgal, Tania Sachdev, amongst others through the Women of Pure Wonder series. The event, which also marked the celebration of International Women's Week, witnessed the launch of 4th edition of the coffee table book Women of Pure Wonder, featuring these 'Bold, Brilliant, Brave' women.
This year's book revolves around the theme 'Bold, Brilliant, Brave' and showcases inspirational stories of 50 phenomenal women across urban and rural India, from diverse socio-economic backgrounds and different walks of life.
Sunil Sood, MD & CEO, Vodafone India, said, "Gender disparity is a major challenge in our country, but we strongly believe that mobile technology can play a key role in addressing this issue. At Vodafone, we are committed to empowering women and are an equal opportunity employer. We continuously make efforts to help women rise up against all odds and contribute to the well-being of the society at large. The Women of Pure Wonder series is aimed at recognizing courageous women who have helped improve the standards of living in various fields and tell their stories to inspire others to emulate and follow their footsteps. This year, we have taken it a notch higher and brought together awe-inspiring women who have very well defined the concept of 'Bold Brilliant Brave'."
Announcing the initiative, P. Balaji, Director – Regulatory, External Affairs & CSR Vodafone India, said, "With the Women of Pure Wonder series, Vodafone Foundation aims to acknowledge the contribution of women in India and the positive social change they have brought in the society. The first three editions of the book have been well received and we are proud to carry forward the legacy this year as well. Our salutations to all the bold, brilliant and brave women across the country whose inspiring tales continue to serve as the guiding lights for many more."
Vodafone Foundation launched first edition of Women of Pure Wonder book in 2013, narrating stories of India's unknown women champions. The second edition – Women of Pure Strength, illustrated how astutely women can steer the mast amidst waves of diverse social and cultural milieu. The third edition of Women of Pure Wonder featured women of extreme vision, valour and victory.
Published by Roli Books, Women of Pure Wonder will be available at leading bookstores including and Flipkart and Amazon.
Vodafone India celebrated International Women's Day throughout the week of 6th to 10th March with the theme #ConnectedSheCan. It encouraged women to become self-sufficient, independent and empowered using the power of mobile connectivity and improve the standard of health, education and economy in their lives.