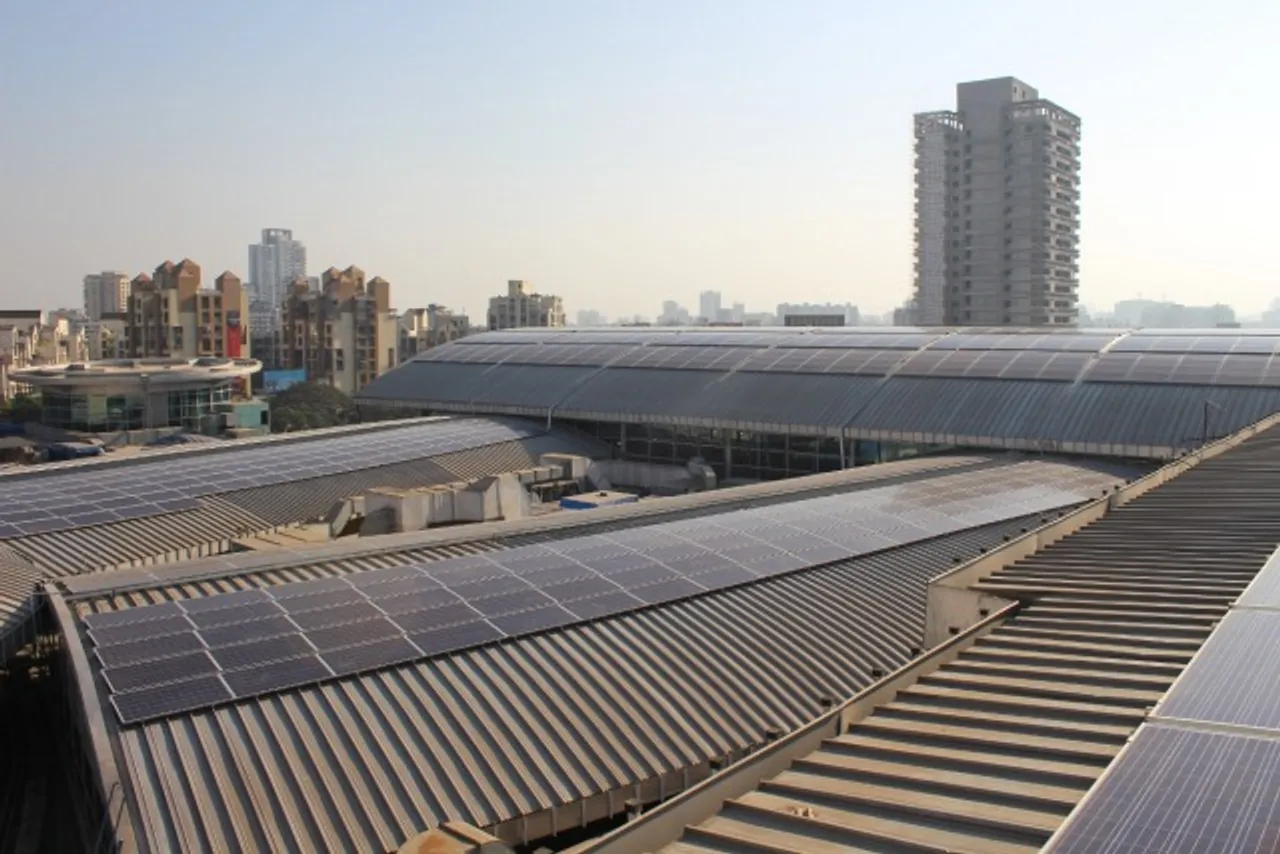 Mumbai (December 15, 2016): Viviana Mall, a retail mall in Mumbai Metropolitan Region announced the inauguration of 900KVA solar power plant at the rooftop of the mall. With this initiative it will become one of the first mall to generate 91000 watt in a month through solar energy. This is in sync with the initiative of Prime Minister, Narendra Modi's vision to raise renewable capacity to 175 gigawatts by 2022 from 45 gigawatts at present.
The installed solar power plant will save 30% of the Mall's electricity usage by using solar energy. The mall aims to generate around 33 lakh unit of electricity in the next three years using solar energy.
Sanjay More, Mayor of Thane, Sanjeev Jaiswal (I.A.S.) - Municipal Commissioner of Thane and Ashwin Sheth, Chairman and Managing Director, Sheth Corp & Viviana Mall at the inauguration of Solar Power Plant in Viviana Mall
Speaking on the development, Ashwin Sheth, Chairman and Managing Director, Sheth Corp & Viviana Mall said, "We believe solar is the power of our future. We as a part of the society are taking a small step towards saving energy by installing solar power plant in the mall. We received full co-operation, guidance and support from all concern government departments. We also aim to increase the power generation in coming years by 15 per cent and would want to be known as the greenest mall of India."
Mayor of Thane, Sanjay More said, "Global warming is a slow poison which can lead to irreparable hazards if we do not take necessary precautionary measures. It is a wonderful step that Viviana Mall has taken to use solar energy. We would like other corporate also to use solar energy in order to save our environment."
Sanjeev Jaiswal (I.A.S.) - Municipal Commissioner of Thane added, "As a corporation we are doing lots of work to make Thane an environment friendly city. The potential of solar energy is immense and the same needs to be harnessed to manage our depleting resources. Sooner or later usage of solar energy would become imperative for everyone. It's better that we start taking small steps for making a better and cleaner society to live."
The initiative to make Viviana the greenest mall of India would help the mall to connect with its leisure conscious customers that are looking for environment friendly services and products. The mall already has installed few solar powered street lights around its vicinity. The Mall is also visually impaired friendly and has its own 'Organic Waste Management' plant for treating organic waste into manure. All the food waste that is generated is being converted to organic manure on a daily basis. On an average 5,500 kg of manure is generated in the plant every month which gets distributed to customers free of cost and also used for developing greenery around the mall.