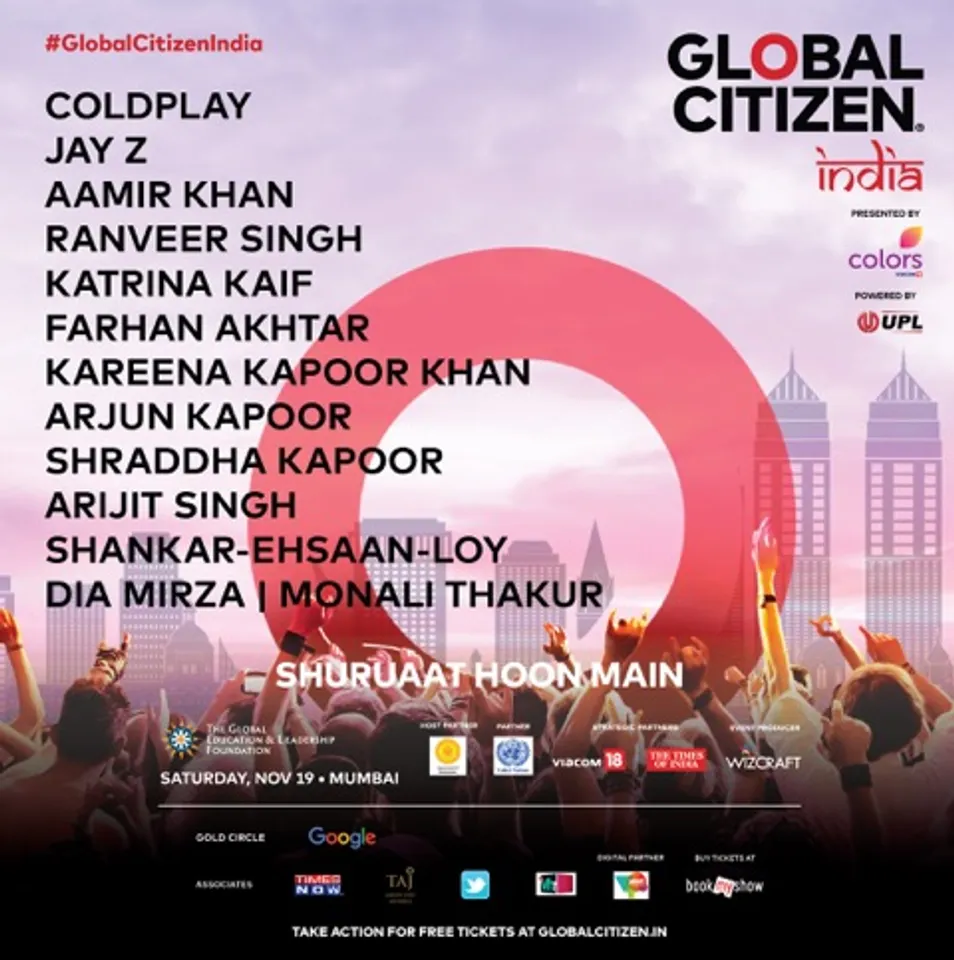 Mumbai (November 19, 2016): Media and entertainment network Viacom18, has entered into a strategic tie-up with the Global Citizen Festival, to amplify a hi-decibel public awareness campaign in India, on the issues of quality education, gender equality and clean water and sanitation. As part of this partnership, the festival will be telecast live exclusively on Vh1, streamed exclusively on Voot, with the network's flagship channel COLORS airing it in December while COLORS Infinity and MTV will showcase content around the festival.
The Global Citizen Foundation India has been mobilizing Indian youth as a run up to the festival to take action on various challenging issues for India. These are in the areas of Quality Education, Gender Equality, and Clean Water & Sanitation; causes that Viacom18 has been supporting, through both its corporate and media brands, since its inception.
Last year, Viacom18 launched its flagship CSR program - Chakachak Mumbai - aligned to the Prime Minister's Swacch Bharat Abhiyaan, where the company works closely with the local authorities to renovate and reconstruct toilets across slums in Mumbai. It also launched a sibling campaign called The Get Angry Project, a series of social experiments to invoke discussion, amongst the social media savvy population, on the need for a Swachh Bharat. Similarly, gender equality has been central to Viacom18, since its inception, from supporting the award-winning documentary Daughters of Mother India, to a campaign paying tribute to the tireless work of women homemakers - Sunday Is Her Holiday. The company has introduced a women-centric employee benefits program called WAVE (Women at Viacom18), and broadcasts shows like Balika Vadhu and Shakti on COLORS or Angels of Rock on MTV . The have also created women centric films like Kahaani, Mary Kom and Queen. To facilitate quality education, Viacom18 works closely with Akanksha Foundation to not only support underprivileged children receive a good education, but also to encourage and build them into better and more capable citizens of tomorrow.
Sudhanshu Vats, Group CEO, Viacom18
Commenting on the GCF partnership, Sudhanshu Vats, Group CEO, Viacom18, said, "We live in interesting times. There's so much happening around at a global, national and local level. As a leading Indian media and entertainment organization we saw this partnership as a natural extension of our own beliefs and perfectly in sync with the kind of work we have been doing since our inception. It gives us the ideal springboard to channel a much larger force towards driving change in modern-day India. The Global Citizen Festival enables us to work with like-minded organizations as we use all our media assets to drive behavioral change when it comes to WASH (Water, Sanitation and Hygiene) related matters."
The Global Citizen Festival will see a galaxy of international musicians like Colday, Jay Z and Demi Lovato and Indian icons like A. R. Rahman, Aamir Khan, Ranveer Singh, Katrina Kaif, Farhan Akhtar, Kareena Kapoor Khan, Arijit Singh, Arjun Kapoor, Amitabh Bachchan, Ayushmann Khurrana, Dia Mirza, Freida Pinto, Malaika Arorha Khan, Monali Thakur, Parineeti Chopra, Sachin Tendulkar, Sakshi Malik, Shah Rukh Khan, Shankar-Ehsaan-Loy, Shraddha Kapoor, Sonakshi Sinha, Vidya Balan, Vijendar Singh and Vivek Oberoi; come together in support of the GCF's causes at MMRDA Grounds on 19th November 2016. Viacom18 will be multiplying the reach of the festival by broadcasting it live on the all new VH1, streaming it on the network's OTT service VOOT with repeat telecasts on MTV and Colors Infinity, and telecast of Hindi content on Colors at a later date.