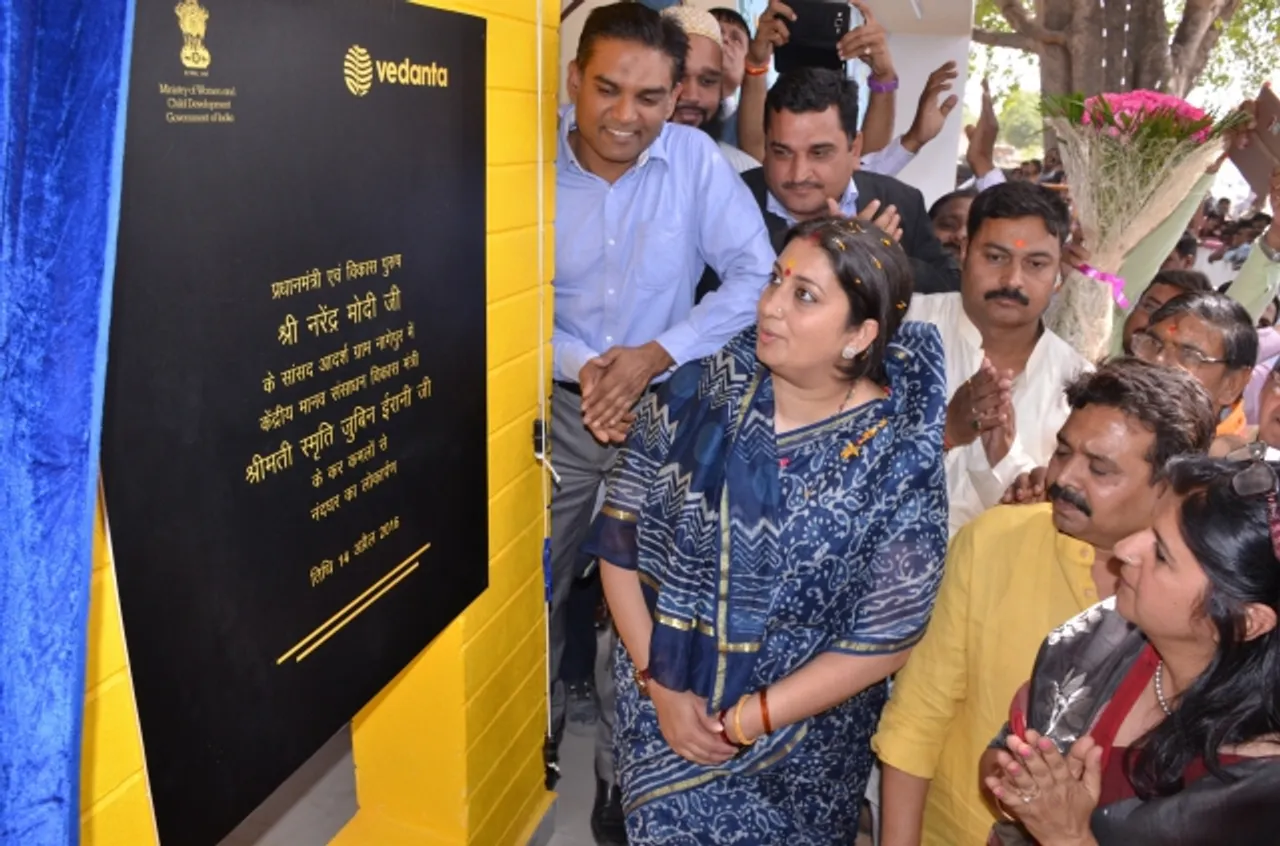 Varanasi (April 14, 2016): Vedanta Limited, a diversified natural resources company launched its 'Project Nandghar' today at Nagepur- the village near Varanasi adopted by Prime Minister Narendra Modi under Sansad Adarsh Gram Yojana. In partnership with the Union Ministry for Women and Child Development, the company will roll out 4,000 such model Anganwadis across the country, in the next two years.
A service delivery unit established under the Integrated Child Development Scheme (ICDS) by the Government of India, the Nandghar is an extension of the existing Anganwadi initiative. Vedanta is committed to nation-building through child development and nutrition.
Vedanta has joined hands with the Government of India to transform Early Childhood Care and Education Centres, Anganwadis, in India. We have embarked on an ambitious goal to create a network of 4000 modern Anganwadis in India which will be known as "Nandghars".
On this occasion, Union HRD Minister Smriti Zubin Irani said that Anganwadi nourishes future of the country and it is heartening to know that the children - the future of our country will be polished at Vedanta's Nandghar via use of latest technology. While terming the Nandghar at the Prime Minister's Model Village as a unique initiative, she congratulated Vedanta for it.
"The Nandghar project aligns with the Honorable Prime Minister's vision and commitment to providing quality education for children and job creation through skill development for women, across the country. The 'Nandghar' will be a game changer for poverty alleviation by delivering long term benefits to communities through interactive learning, healthcare and skills training in a world class infrastructure," said Anil Agarwal, Chairman, Vedanta.
The Nandghars are in line with Prime Minister of India's vision of social development through initiatives such as Digital India, Swachh Bharat and Skilling India. The Nandghar will use state of art construction technology and has added benefits of round the clock electricity through Solar panels, e-learning in a stimulating environment, clean drinking water through RO purifiers and primary healthcare through mobile medical units.
The Nandghars will run as children's education and health centre in the morning and train women in vocational skills in the second half. This will measure aims to eradicate malnutrition in children and create women entrepreneurs across India. An estimated 25 lakh community members children will benefit through this project each year. 'Building as a Learning Aid' a concept piloted by UNICEF, which will feature learning concepts embedded within the structure, will attempt to increase attendance of children.
Vedanta's philanthropic arm, Vedanta Foundation –has already collaborated with over 3000 Anganwadi Centers in Rajasthan and Odisha by supplementing the services of the government and addressing the nutrition and as well as the educational needs of over 1 lakh children.