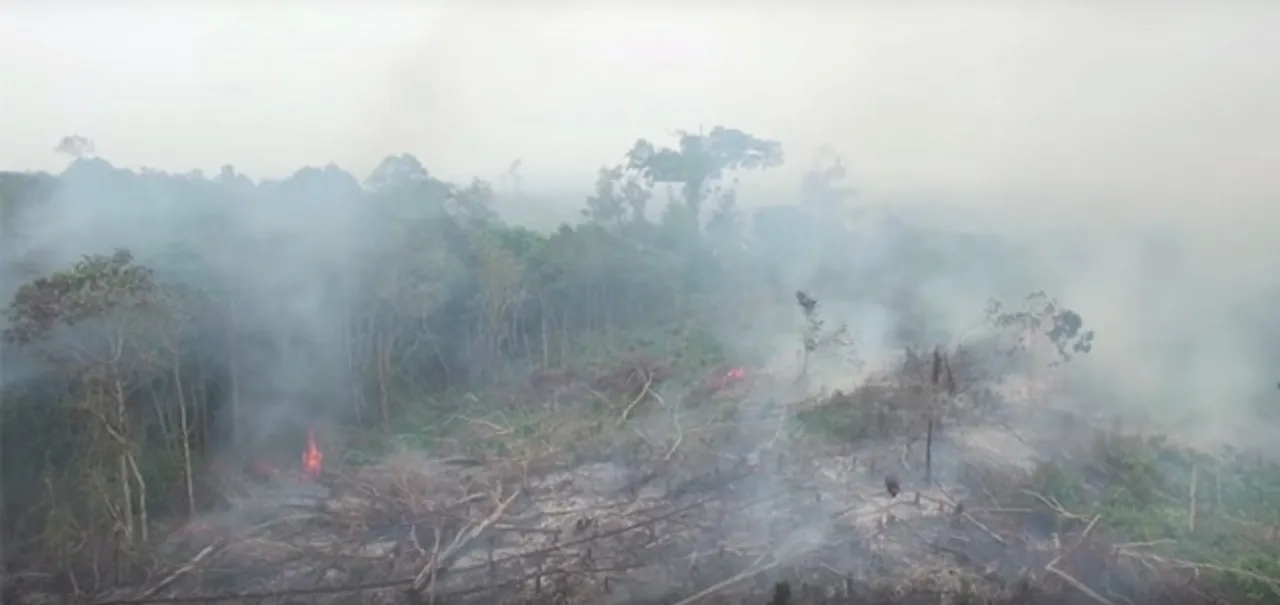 Six years after NGOs released a scathing report on Malaysian palm oil producer IOI Group, the Roundtable on Sustainable Palm Oil (RSPO) decided to suspend IOI last Monday.
A 2010 report from Milieudefensie and Friends of the Earth Europe alleged that IOI Group was not following through on its sustainability commitments as a founding member of the RSPO. The report went on to form the basis of the formal complaint against IOI Group to the RSPO, lodged by Amsterdam-based Aidenvironment in March 2015. Satellite images and on-the-ground investigations have continued to find that IOI Group has failed to protect peat areas and forests from deforestation and has not met its commitments.
"This suspension puts IOI in breach of our policy," Unilever announced on Thursday in response to the RSPO's decision. The company updated its Sustainable Palm Oil Policy just last month.
"In line with our grievance procedure, we are now in the process of disengaging with the supplier and have set a time bound plan to do this over the next three months.
"In parallel, we are reaching out to IOI and to relevant NGOs and stakeholders to work together to determine a way forward for IOI to address and remediate the proven complaints and to demonstrate its commitment to fundamentally and transparently change the way it drives sustainable palm oil development to meet the highest social and environmental standards," Unilever's statement continued. "We believe that this is a critical step in leading industry transformation."
Unilever is one of the world's largest buyers of palm oil, and it claims to be the largest company using certified sustainable palm oil in its supply chain. Overall, the company uses about 1 million tonnes of crude palm oil and its derivatives annually. Unilever claims that it achieved sourcing 100 percent sustainable palm oil in 2012. In 2015, it said it had achieved 73 percent of its target to source palm oil that can be traced to the mills, and used 300,000 tonnes of certified palm oil.
On Friday, Kellogg stated that it had begun the process of removing its IOI Group-affiliated supplier, Loders Croklaan, in January 2016 since it was at risk of being suspended from the RSPO due to noncompliance. In an update to its Palm Oil Commitment, the company reported that as of March, it had transitioned 67 percent of the volume from Loders Croklaan to other suppliers.
"The remaining Loders volume (6% of global Kellogg palm usage) will be transitioned over the next 90 days," Kellogg's update said.
In 2014, Kellogg set a goal to fully trace its palm oil supply chain by the end of 2015. Its Palm Oil Commitment document states that it had achieved 92 percent traceable to mill and 23 percent traceable to plantation by the end of the year. Kellogg disclosed in January that 5 suppliers formed 90 percent of its total palm volume purchased globally:Cargill (100 percent traceable to mill); Bunge (96 percent traceable to mill); Sime Darby(Kellogg sources from 3 fully segregated, RSPO-certified mills); ADM (89 percent traceable to mill); and Loders Croklaan (94 percent traceable to mill). Kellogg has integrated Cargill into its KnownSources traceability tracking program and is in the process of integrating Bunge and Sime Darby as well.
Mars, Incorporated also sources from Loders Croklaan and added a short update to theinformation on its palm oil supply: "Unfortunately, we recently learned RSPO temporarily suspended the certification of one of our palm oil suppliers, IOI Loders Croklaan. In order to stay true to our policies and keep our commitments, Mars will not source palm oil from IOI Loders Croklaan while the suspension is in place. We will continue to work with our suppliers and the extended palm oil value chain to achieve a fully sustainable palm oil supply in compliance with our deforestation and palm oil policies." Mars announced anew zero-deforestation policy 2 years ago.
It is expected that IOI's other customers, including companies such as Mondelez International, will also face pressure to cut ties.
"If IOI wishes to regain its customers, it must take immediate and significant action to address its legacy by restoring and protecting the peatland forests it has destroyed. It must also address the serious social, labour and environmental issues that continue to taint its supply chain," Greenpeace Indonesia forest campaigner Annisa Rahmawati said.
"IOI has been given every opportunity to reform and has repeatedly refused to do so, even though its actions were contributing to the fire and haze crisis. Even now it is still pretending nothing is wrong and is appealing the decision instead of trying to right the wrongs it has done," Rahmawati added.
Aidenvironment noted in its response , the RSPO has "requested IOI to come up with yet another action plan . That would be RSPO's third public attempt to get IOI to address the same non-compliance that were first raised six years ago."
Kellogg and Mars were among the 15 companies to publicly push for stricter RSPO standards last June.
The week before the RSPO's decision was announced, IOI's sustainability manager Yeo Lee Nya told Malaysian media, "Sales of IOI's crude palm oil will not be affected even in the event of a suspension as CPO is a globally traded commodity. The only effect is that IOI will not be able to earn CSPO premium on our oil which represents only a very small percentage (less than 0.5 per cent) of our revenue."
The company has since released a statement that the suspension "is a very serious matter and has given rise to new challenges." IOI did not deny the allegations, and said, "We wish to assure all our stakeholders that after the complaint was made to the RSPO one year ago, we have taken corrective actions to review and enhance our sustainability practices. These include rehabilitating affected areas, improving our firefighting capabilities and engaging consultants to advise on all relevant Indonesian laws and regulations which are the subject matters of the complaint."
Sustainable Brands®
 is a global community of brand innovators who are shaping the future of commerce worldwide. Since 2006, their mission has been to inspire, engage and equip today's business and brand leaders to prosper for the near and long term by leading the way to a better future. Digitally published news articles and issues-focused conversation topics, internationally known conferences and regional events, a robust e-learning library and peer-to-peer membership groups all facilitate community learning and engagement throughout the year. Sustainable Brands is a division of Sustainable Life Media, headquartered in San Francisco, CA.