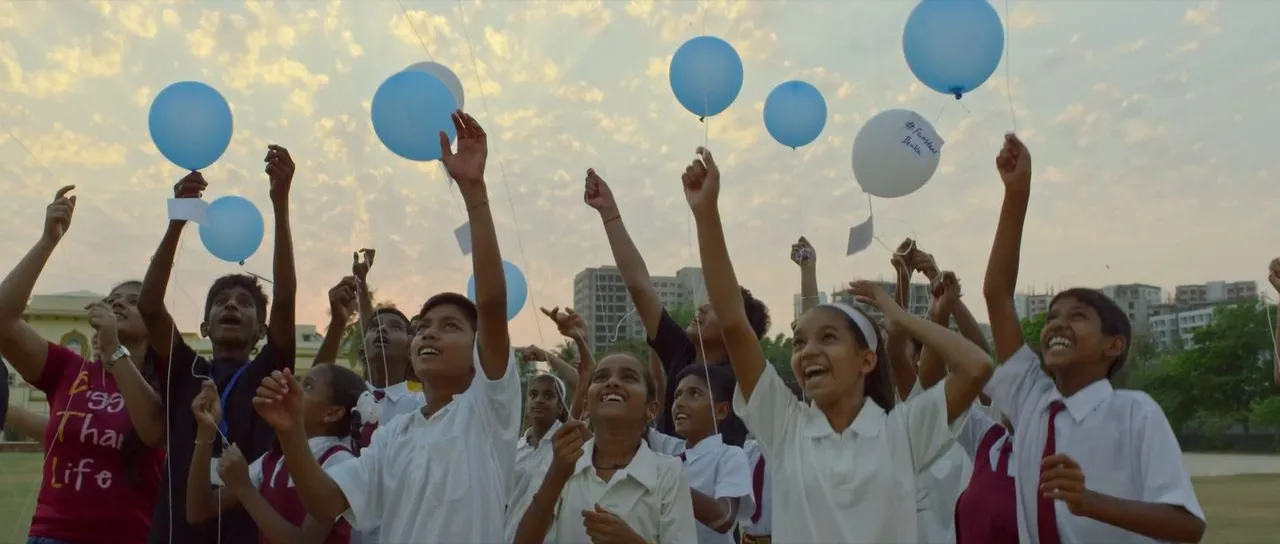 UNICEF India recently unveiled the 'Fair Start' film as part of a social media campaign that will focus on persisting inequities that large groups of children in India face, affecting their survival, growth and development. A series of impactful films will give an insight into the lives of millions of children from various backgrounds, who are full of potential but less likely to grow up healthy and safe, less likely to attend school , less likely to learn, and more likely to be married as children.
Introducing the film, Caroline Den Dulk, Chief, Advocacy & Communication, UNICEF India said, "Every child deserves a fair start in his/her life and deserves adequate nutrition, education, sanitation, protection and health care. The campaign draws attention to the lives of many children who are deprived of these basic rights, often at times determined simply by where they are born. Every child should have a fair and equal chance in life, irrespective of their caste, ethnicity, gender, poverty, region or religion."
UNICEF works closely with the Government of India and many other partners to curb the situation of the most vulnerable and deprived children, ensuring that each child born in this vast and complex country gets the best start in life, thrives and develops to his or her full potential.
"Often the issues faced are immensely complex in nature and cut across all layers of society", said Mrs. Den Dulk. "To make change happen a mind-shift is required. The #FairStart campaign aims at engaging the larger public in a debate and for everyone to see they have a role to play to make sure every child can have a fair chance in life".
The 'Fair Start' films were produced with the participation of a group of children who brought their own daily reality to the film set.
"We have made this film with a lot of love and we hope you like it. Help us get a fair start, life. We deserve a #FairStart"
"The #FairStart campaign was quite a remarkable and prestigious project to work on for me, as well as the entire team at Avant Garde Films. The most memorable thing was working with such wonderful kids from 'Bigger Than Life' NGO. They played cast and crew really well. For me, and I am sure for everyone who was a part of this project, it would be the most memorable experience and will be close to our hearts forever", said Abhishek De, Avant Garde Films.
Meet the talented Crew:
Caroline Den Dulk, Chief, Advocacy & Communication, UNICEF India with Sahil, Suraj & Belinda of Fair Start advocacy campaign (Photographer: Mustafa Quraishi)
Sahil: Camera man - Sahil is a 14-year-old enthusiastic boy who is interested in sports and music. He is an avid cricket fan and wants to pursue cricket as his profession. He has a mother and a sister who love him. His father passed away 3 years back. He helps his uncle in laundry work. Sahil goes to an English medium school.
Suraj: Art Director - Suraj is 10 years old. He has 3 sisters and 2 brothers. His mother works very hard selling corn. He helps his mother at her work. His father is an alcoholic and fights at home. Suraj wants to become a scientist when he grows up.
Shawn: Camera Man / Director - Shawn is 15 years old. He has 6 siblings. Since his father has left home and mother keeps unwell he has taken up the responsibility to work and earn money for his home. So he goes everyday to clean gutters. He does not go to school but wants to. He is good at football. He is very helpful and caring by nature.
Belinda: Costume - Belinda is 13 years old. She goes to a municipal school. She is Shawn's sister. She works at home after school hours. She is a very shy girl but aspires to become an office accountant when she grows up.
Press release source: