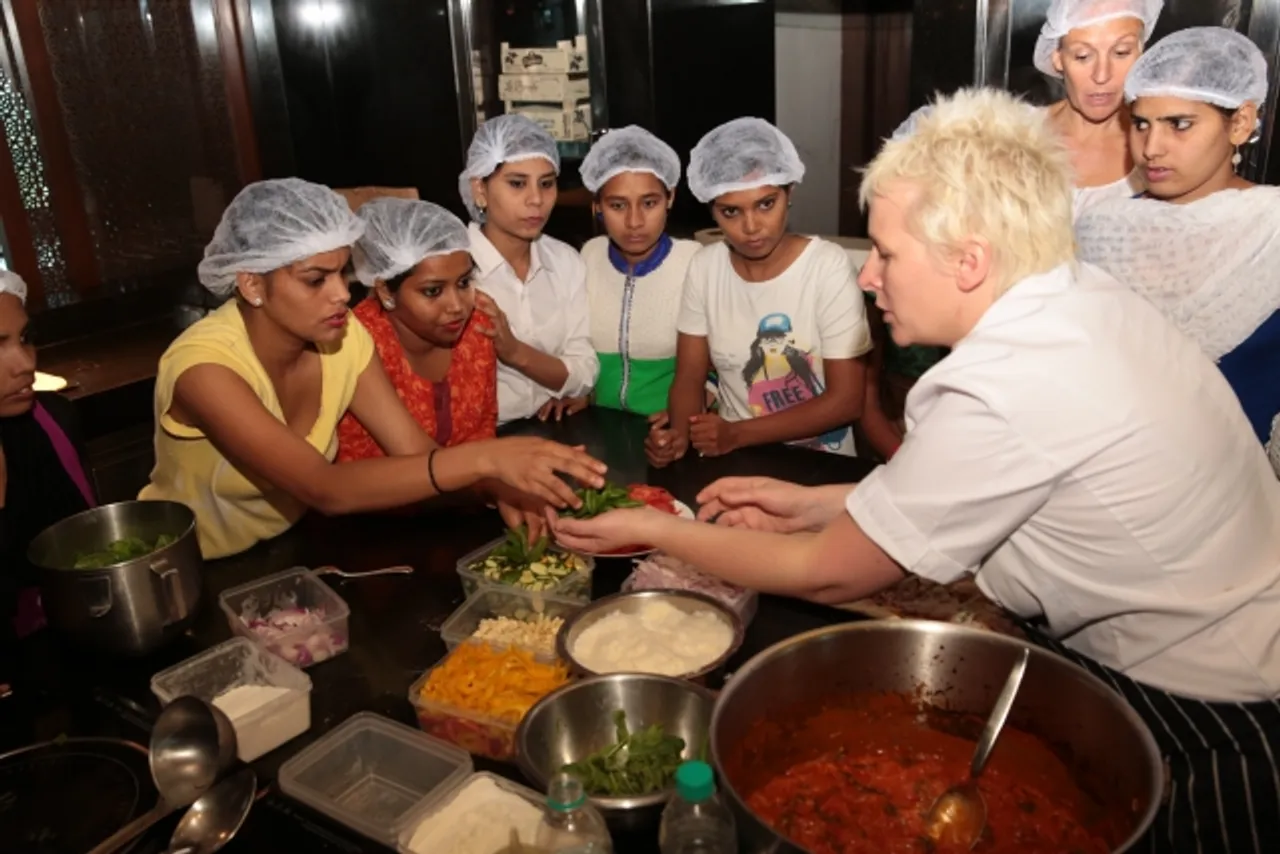 CREATIVE Services Support Group has brought 53 young, underprivileged girls to cook at Le Cirque, The Leela Palace New Delhi to cook together with eight international women Michelin chefs as part of its initiative to educate them into becoming chefs. The girls, who have never had an opportunity to make a livelihood for themselves after undergoing a number of issues right from early childhood, are today well set to become chefs in their own right.
Le Cirque offers Italian gourmet experiences with multiple dining rooms and while the girls cook with the international chefs at Le Cirque, their placements have already kicked off with the likes of Ritu Dalmia, Jatin Malik and Sabyasachi Gorai amongst others, shortlisting them for recruitment at their respective standalone restaurants.
The girls along with the Michelin chefs cooked a variety of dishes using organic ingredients provided by key organic farmers in the Delhi area curated by CAARA and Farm Love. From the palate of ingredients that were provided, the girls together with the chefs learnt to cook Pizza, a variety of Frittatas, Chargrilled Vegetables, Pastas, Marinated Cherry Tomatoes and Apple Crumble with Vanilla Cream. They learnt how to use a limited palate of ingredients and create dramatically different tasting dishes.
40 Girls to 40 Chefs - underprivileged girls train with Michelin chefs in New Delhi as part of CSSG initiative
Anand Kapoor, President, Creative Services Support Group said, "The whole experience has been unbelievable. We started off with this project as a pilot with 40 girls. Today, we have over 53 girls who have undergone training and over 200 more in the waiting wanting to become chefs. It is truly heartwarming to see the aspirations that the girls keep – they want to break the monotony and get into some serious careers. I strongly believe that it is important to show young women that there are opportunities beyond the conventional roles in society and provide them with the necessary direction; we need to create avenues that will empower them to make choices that can dramatically make a difference in their lives as well as in their communities."
CSSG has dedicated 2015 as the "Year of Women". As part of this, CSSG has undertaken several programs that will ultimately help us in taking our end objectives forward. A gender sensitization workshop using Art and Literature as a form of communication was organized with over 450 boys and girls with an aim to equip them with the much required knowledge and help enhance their living by providing with the requisite skills to support their livelihood. The second phase of the initiative supports 40 young women to a career in the food industry. Titled "40 girls to 40 chefs", under the initiative, underprivileged girls are being provided with education opportunities through formal training at Institute of Hotel Management (Pusa Road), followed by job placement.
The girls began their day with a visit to an organic farm in Delhi along with the Michelin chefs to source fresh produce and ingredients as well as understand farming techniques and the importance of fresh produce. The chefs took the girls through the entire process of what kind of ingredients one should look for, how to check for quality, how the fresh produce should be picked, basic hygiene practices that must be followed etc., before traveling to The Leela Palace New Delhi for a cookout with the girls.
These girls will now undergo a thorough interview process before they are offered formal employment at standalone restaurants for further mentorship under the able guidance of experts. The best performers will also be given an opportunity to work in a Michelin starred chef's kitchen abroad.