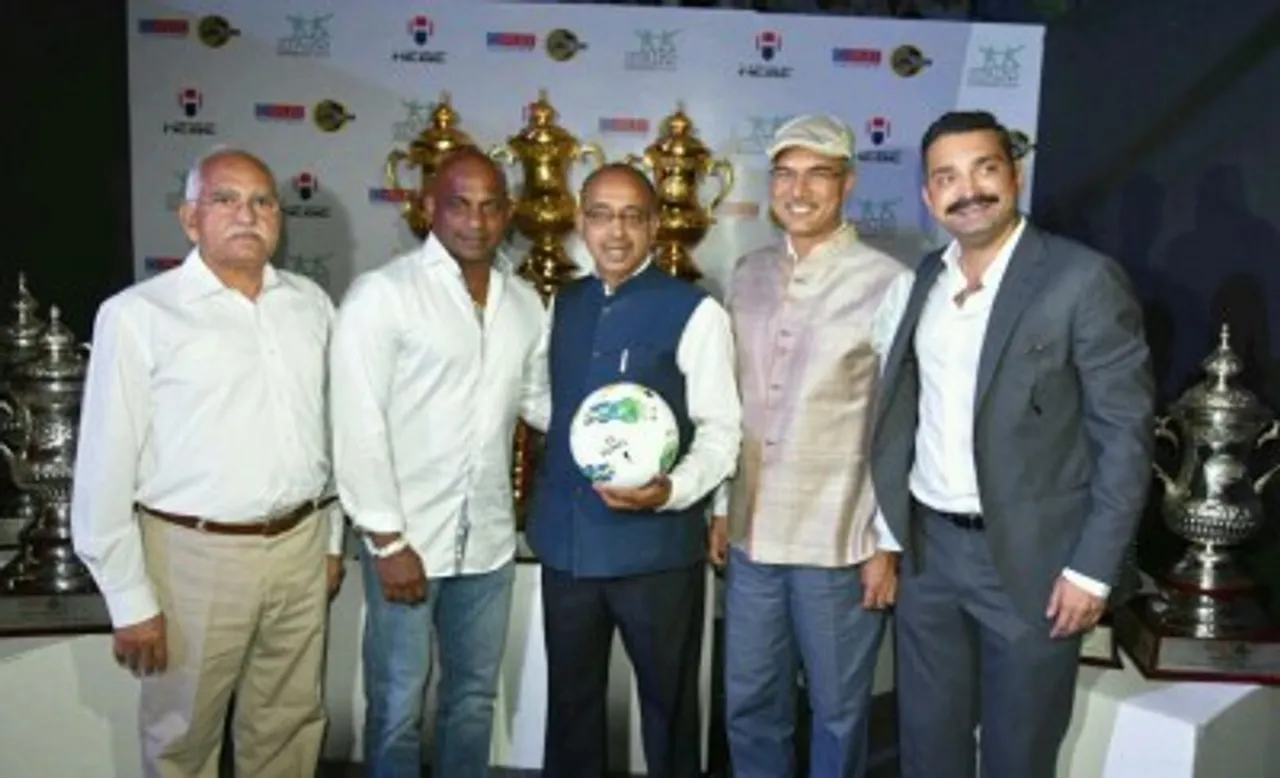 In its third year now, Uflex UFLEX Stairs School Football League (SSFL - 3) will see more than 30,000 School level footballers from 2000 schools of Delhi & Gujarat participating in the tournament. The mega sports event organized as part of UFLEX's CSR will witness 4000 matches (500 in Delhi and 3500 in Gujarat) being played. A total of 256 teams comprising 128 teams of under 14 boys and 128 teams of under 17 boys will be participating in the tournament. Apart from the boys' team, the tournament will also see avid participation from32 girls' teams in under 14 and under 17 categories.
Minister of State (I/C) for Youth Affairs & Sports, Vijay Goel,  who inaugurated the UFLEX Stairs School Football League's third edition on October 19th shared his vision for sports development in India and outlined the Government's 'mission 11 million'.
"The mission 11 million aims to train 11 million children in India on football in the next one year", he said. Mr. Goel also highlighted the personal interest shown by Prime Minister Narendra Modi in promoting and developing sports while mentioning Prime Minister's belief that "Khelega India, Khilega India."
Siddhartha Upadhyay, Founder and Secretary General, STAIRS said, "When we talk about a billion plus population, my question is: how many of them play? There is a need to build the sporting culture at the grassroots, expand opportunities for children and help them discover their love and talent for sports. Stairs School Football League is seen as a game changer in the football journey of the country. Already 35,000 children have been enrolled with SSFL, and the aim is to cross 1,00,000 footballers on a permanent basis for scouting, training and development. This year we have added STAIRS football academics in various parts of Delhi and plan to open in Gujarat as well. This will further speed the process of producing champions in the country."
Brand Ambassador of UFLEX Stairs School Football League 3, legendary Cricketer and former captain of Sri Lankan Cricket team, Sanath Jayasuriya said, "First of all I would like to say that Siddhartha and his team are working towards a great cause. Exactly 1 year ago, I was here for the SSFL 2nd edition and I am very happy to be here again for a worthy cause that Siddhartha and his team have been doing. I want to wish them good luck and I want to make sure that they go from strength to strength."
"For any sport you need to put in lots of hard work, discipline, dedication and you need to sacrifice a lot. This program is going to produce a lot of sportsmen and sportswomen for the country. I wish everyone all the very best", he added.
The fundamental objectives of Uflex SSFL include:
Transforming the sporting scenario at the grassroots,
Uproot all obstacles confronting sporting talent at the hinterland and
Nurturing future champions and creating opportunities for them to excel
Uflex SSFL-3 begins with league matches at over 8 different venues across four zones in Delhi while the semi-final and final games will be played at the central venue. The event is solely meant for the children under 14 years and under 17 years of age and exactly follows the FIFA World Cup format. All the participating school teams will also have to go through the qualifier rounds. For the 3rd season SSFL will be getting assistance from Sakaar Association for all its matches/ events in Delhi and from Gujarat State Football Association for all Gujarat-based matches.
According to UFLEX, the league has become one of the most significant 'talent spotting' platforms for clubs and bodies seeking to acquire talent right at early adolescence. While many officials and individuals from professional bodies keep their eyes on the budding players during the matches, selectors from international foreign clubs watch 'live streaming' of important matches and even call for recorded videos to assess the performance and potential of promising players.
About STAIRS
STAIRS is a New Delhi-headquartered not-for-profit, non-governmental organisation (NGO) started in 2000, nurtures the talented sportsmen at the bottom-of-the-pyramid to ensure sports become a mean of earning a living. STAIRS also organises educational and health programmes and educates youth about the dignity of labour and equality irrespective of caste, creed or sex. STAIRS operates through its 300 centres spread across six states in India.
Source: