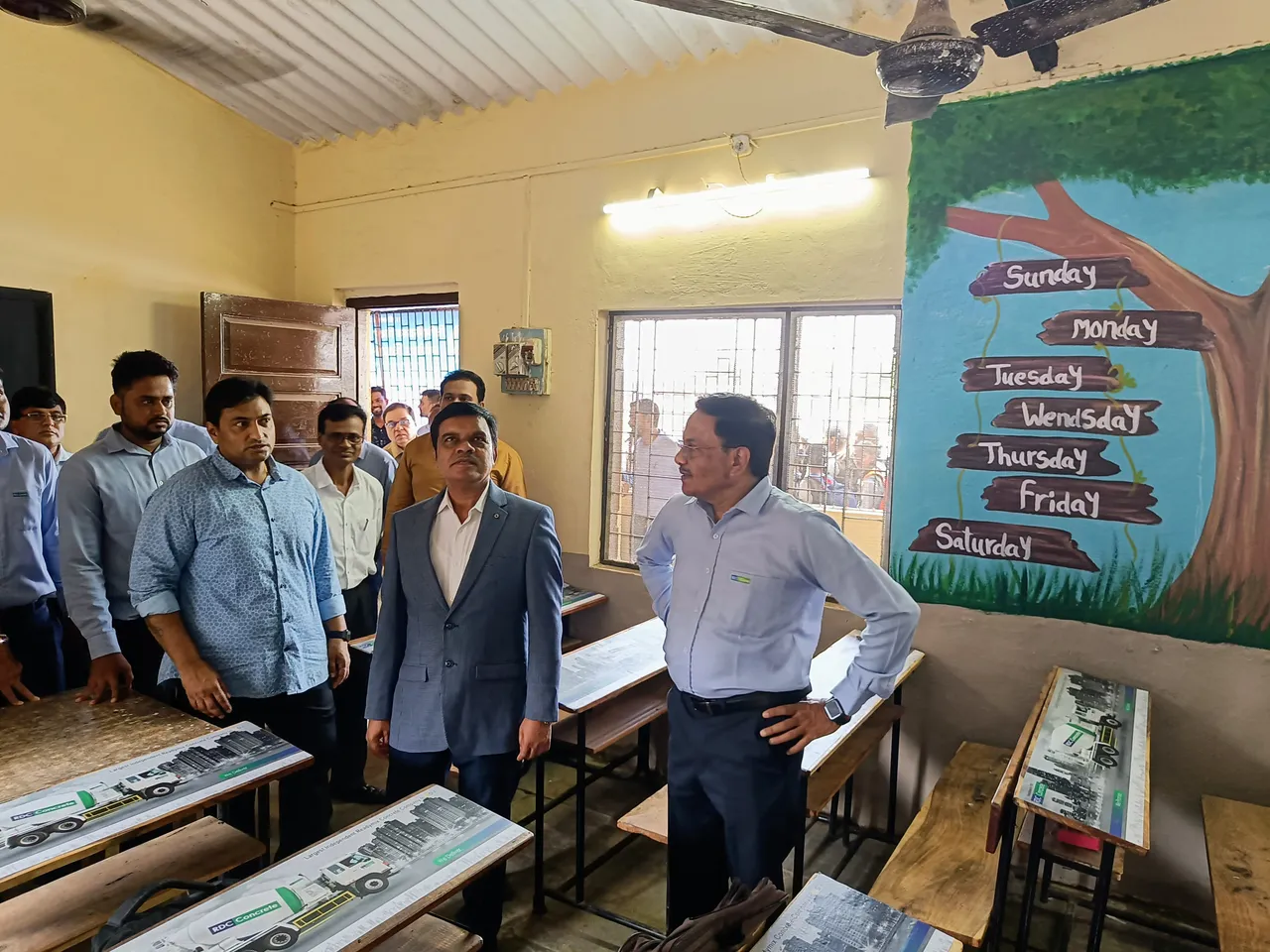 RDC Concrete, India's largest and leading independent ready-mix concrete manufacturer, proudly announces its latest initiative, Project PEUSC (Promoting Education for Underprivileged School Children). This project aims to support education initiatives for children from deprived sections of society all over India, covering over 70 similar schools. The project highlights RDC Concrete's commitment to creating a positive impact in the communities where it operates. Going beyond traditional CSR efforts, RDC Concrete aims to engage its employees actively in the process and foster meaningful connections with school students.
RDC Concrete recently undertook the renovation of Ganesh Vidyalaya, a semi-government school for underprivileged students located in Kharegaon, Kalwa near Thane. The school had been grappling with inadequate infrastructure, leading to various health issues among the children. Recognizing the importance of a safe, hygienic and positive learning environment, RDC Concrete stepped in to address these concerns ahead of the monsoon season.
The renovation efforts at Ganesh Vidyalaya were comprehensive and focused on addressing critical infrastructure needs. RDC Concrete installed a 1500-liter water tank to ensure a steady supply of clean drinking water for the students. Moreover, the installation of water purifiers further enhanced the water quality, safeguarding the health of the students. These measures will play a crucial role in reducing waterborne illnesses and ensuring the well-being of the school community. 
In addition to addressing the water-related concerns, RDC Concrete repaired the existing desks, which were in a dilapidated condition, and also procured new ones to ensure comfortable seating for the students. By providing these essential amenities, RDC Concrete aims to create a conducive learning environment that fosters the growth and development of every child, ensuring they enjoy coming to school.
Mr. Anil Banchhor, MD & CEO, RDC Concrete said, "The initiative showcases RDC Concrete's efforts in supporting all sectors of the country's growth fueled with better infrastructure and learning environment. The idea to step into the educational domain is to provide underprivileged sections and strata of students with the necessary facilities and engagement required to learn and grow. RDC Concrete through its societal initiatives, in a small way, strives to play a transformational role in helping the students to build a bright future for themselves and the country."
Understanding the significance of active engagement with the school students, RDC Concrete has taken its commitment a step further. The company has decided to incorporate an Employee Engagement - CSR component into the Key Performance Indicators (KPIs) of each employee. This inclusion will encourage employees to visit the designated school that is located in the range of less than 5 KM of its plant premise and spend quality time engaging with the students, sharing their knowledge, and inspiring young minds.
The school management held an inauguration ceremony on Tuesday, June 20, to commemorate the successful completion of the project. The inauguration was attended by Shri Nand Kumar Verma IAS Ex- Additional Chief Secretary as chief guest along with Mr. Anil Banchhor, Managing Director & Chief Executive Officer of RDC Concrete, Dr. K. S. Bhoon, Head of Human Resources and Business Excellence at RDC Concrete & Mr. Adnan Khan, Regional Business Head. 
Disclaimer: This story has not been edited by CSRLive Staff and is auto-generated from news agency feeds |