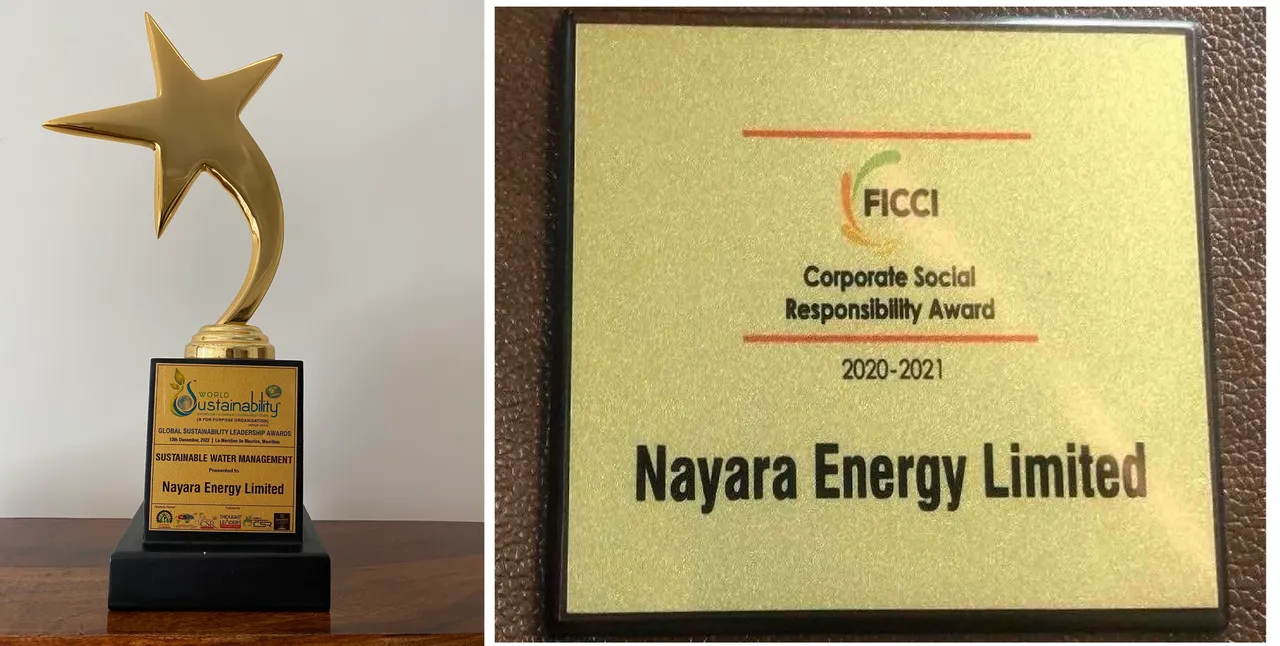 Nayara Energy, a downstream company of international scale, has been awarded the 'Corporate Social Responsibility Appreciation Plaque' at the 20th edition of the FICCI CSR Summit and the 'Sustainable Water Management Award' at the 9th edition of the Global Sustainability Leadership Awards. 
These prestigious awards acknowledge Nayara Energy's deep commitment to driving inclusive growth and making an enduring impact in the areas of Sustainable Livelihoods & Environmental Sustainability, Education & Skill Development and Health & Sanitation.
Organized by FICCI, the CSR Summit held on 12th December, 2022 was graced by Shri Arjun Munda, Hon'ble Union Minister for Tribal Affairs, Government of India who presented the appreciation plaque to Nayara Energy for its flagship Project 'Tushti'. The project reflects Nayara's commitment to support Devbhumi Dwarka by improving nutrition parameters and achieving under-nutrition free status in the region. Under this project, a holistic approach covers various initiatives and interventions such as child mal-nourishment & treatment centers, home visits, health kiosks as well as education, awareness and sensitization sessions for adolescent girls, pregnant women and lactating mothers to address malnutrition and under-nutrition root factors. Since its launch in 2019, the project has helped reduce malnutrition among underweight children by 70% and severely underweight children by 52%.
Nayara Energy was also recognised at the 9th edition of Global Sustainability Leadership Awards held on 13th December, 2022 for its significant efforts in sustainable water management under its Gram Samruddhi programme. The programme covers 15 villages in Jamnagar to create on-ground impact towards water resource management, water sufficiency, sanitation, improved agriculture practices and sustainable livelihoods. In addition to creating additional water storage and groundwater recharge of 17.38 million cubic meters, the project has provided an income of INR 180 million for its beneficiaries.
Commenting on the recognition, Dr. Alois Virag, CEO, Nayara Energy Ltd said, "We at Nayara Energy are extremely delighted that our CSR efforts have been recognised at such prestigious awards. These awards are testimony of Nayara Energy's commitment to social welfare, community development and sustainability. We are determined in our endeavors to uplift the local communities in which we operate."
Disclaimer: This story has not been edited by CSRLive Staff and is auto-generated from news agency feeds | Source: Nayara Energy|