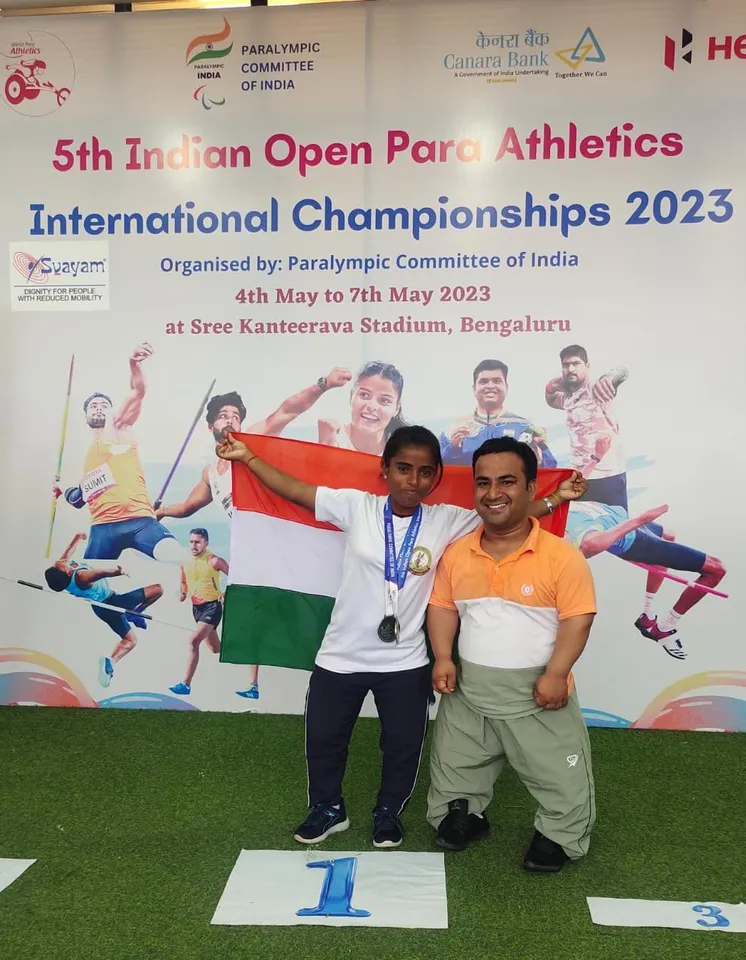 Sightsavers India, a leading development organisation working to prevent avoidable blindness and promote equal opportunities for people with disabilities, is proud to announce the success of Nisha Lamba, a member of its OPD (Organisation for Persons with Disabilities), at the 5th Indian Open Para Athletic Championship 2023 held in Bengaluru.
Nisha Lamba, a para-athlete from Sriganganagar, Rajasthan, won the gold medal in the shot put and a silver medal in the discus throw, breaking her national record with a throw of 5.88 metres in the shot put. The competition, attended by participants from 12 countries, saw Nisha competing against top athletes from Bhutan, Bangladesh, Kazakhstan, Kyrgyzstan, Mongolia, Nepal, Sri Lanka, and India, among others.
This victory marks a significant milestone in Nisha's sports career. She has previously won silver medals in the discus throw at the national and state level and at the Asian Para Games. Nisha is an active member of APNO Sansthan, an organisation of persons with disabilities in Rajasthan and is a role model for women with disabilities overcoming all barriers and showcasing women's empowerment through sports. Her husband Shishpal Lamba, is also an active member of APNO. Both have been instrumental in ensuring access to persons with disabilities to government entitlements and strongly contributed to the SVEEP activities for elections. 
CEO of Sightsavers India, RN Mohanty, said, "We are thrilled to see Nisha Lamba's hard work and dedication paying off with these remarkable victories. Her achievements represent the pinnacle of sporting excellence, making her an inspiration for people with disabilities. We congratulate Nisha on this tremendous success and wish her all the best for her future endeavours."
Sightsavers India is committed to empowering people with disabilities and promoting inclusive development through various initiatives such as institution building of persons with disabilities called organisation of persons with disabilities (OPD), building capacity of persons with disabilities on livelihood, leadership skills, gender, RPWD Act and various government schemes. 
Disclaimer: This story has not been edited by CSRLive Staff and is auto-generated from news agency feeds |