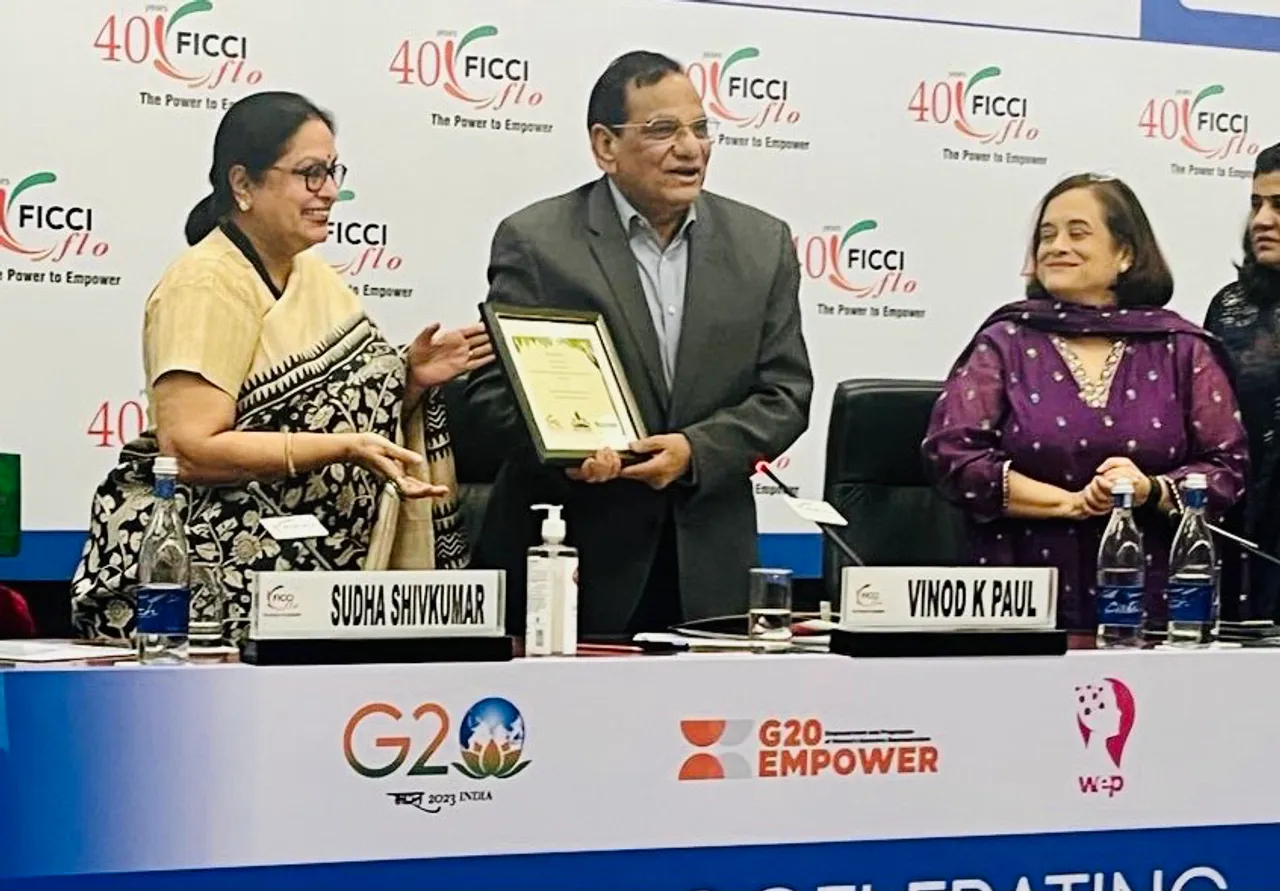 There is a need to come together to create a stimulating environment for a child's first few months as more challenges crop up after the first six months of the child's upbringing .  And it's pivotal that both parents share equal responsibility in engaging, interacting and teaching foundational skills to their youngest children 
"We need to come together to create a stimulating environment for a child's first 1000 days. A child is born loaded with information and millions of neuronal connections. If one is not stimulated intellectually, those neuronal connections start to fade. . more care is needed for the child . Both private and public sectors need to sit together to think about increasing the maternity leave of the mothers from present Six months to Nine months protecting the livelihood " said Dr Vinod K Paul, Member , NITI Aayog, while speaking at an event  "Accelerating the Care Economy in India" organised by FICCI Ladies Organisation (FLO)   under the aegis of G20 Empower Jan Bhagidari and Women Entrepreneurship Program (WEP) here today , 
"For a year old child the food required is far more than what the child consumed in first Six months  these is need to bring systemic change in parents ways of bringing up the child as it is not only duty of the mother to look after the child , the Indian family system which includes father, grandparents needs to do more as these are formative years of the child " said Dr Paul.
" The private or should help the NITI Aayog to design the comprehensive care of the children by opening more creches for children for better upbringing as well as doing the needful for the elderly care . AS millions of care workers will be needed in future we have to develop systematic soft  and hard skilling training " said Dr Paul
" The global care economy, the paid and unpaid labour related to caregiving such as childcare, elder care, and domestic chores, is a critical sector that enhances economic growth, gender equity, and women's empowerment. Care work is economically valuable but globally undervalued. Is Unpaid Care Work the missing link in the analysis of gender gaps in labour outcomes. The care economy is critical to the functioning of our society and backbone of the entire economy, globally, women and girls contribute more than 70 percent of total global caregiving hours both paid and unpaid and perform more than 75 percent of unpaid care work. The truth is - Care economy is economically valuable but globally undervalued. In India, the biggest lacunae is that we lack a system for properly identifying care economy workers, and relative to other nations, India's public spending on the care economy is extremely low. It is less than 1% of GDP." said Ms Sudha Shivkumar, President, FICCI ladies Organisation (FLO) while speaking on the occasion .
"Investing in the care economy is essential for several reasons. It is essential to ensure that care workers are adequately compensated for their work and that they have access to safe and decent working conditions. This includes providing them with fair wages, benefits, and protections, as well as investing in their training and professional development. Investing in the care economy is critical for promoting gender equality. The majority of care work is performed by women, and the undervaluation of care work reinforces gender inequalities and perpetuates gender-based discrimination. Ultimately, investing in the care economy is an investment in our shared future. It is essential for promoting social and economic justice, for advancing gender equality, and for creating a more sustainable and equitable society for all." Ms Shivkumar said.
Those present at the program included  Ms Anna Roy, Senior Director, NITI Aayog & Mission Director, Women Entrepreneurship program (WEP), Dr. Sangita Reddy, Chair, G20 EMPOWER, Debjani Ghosh, President, NASSCOM , Ms Jyoti Vij, Additional Director General, FICCI, Ms  Sakshi Khurana, NITI Aayog, Elena and Perez Villanueva, Deputy Chief of Mission, Embassy of Spain
Disclaimer: This story has not been edited by CSRLive Staff and is auto-generated from news agency feeds |