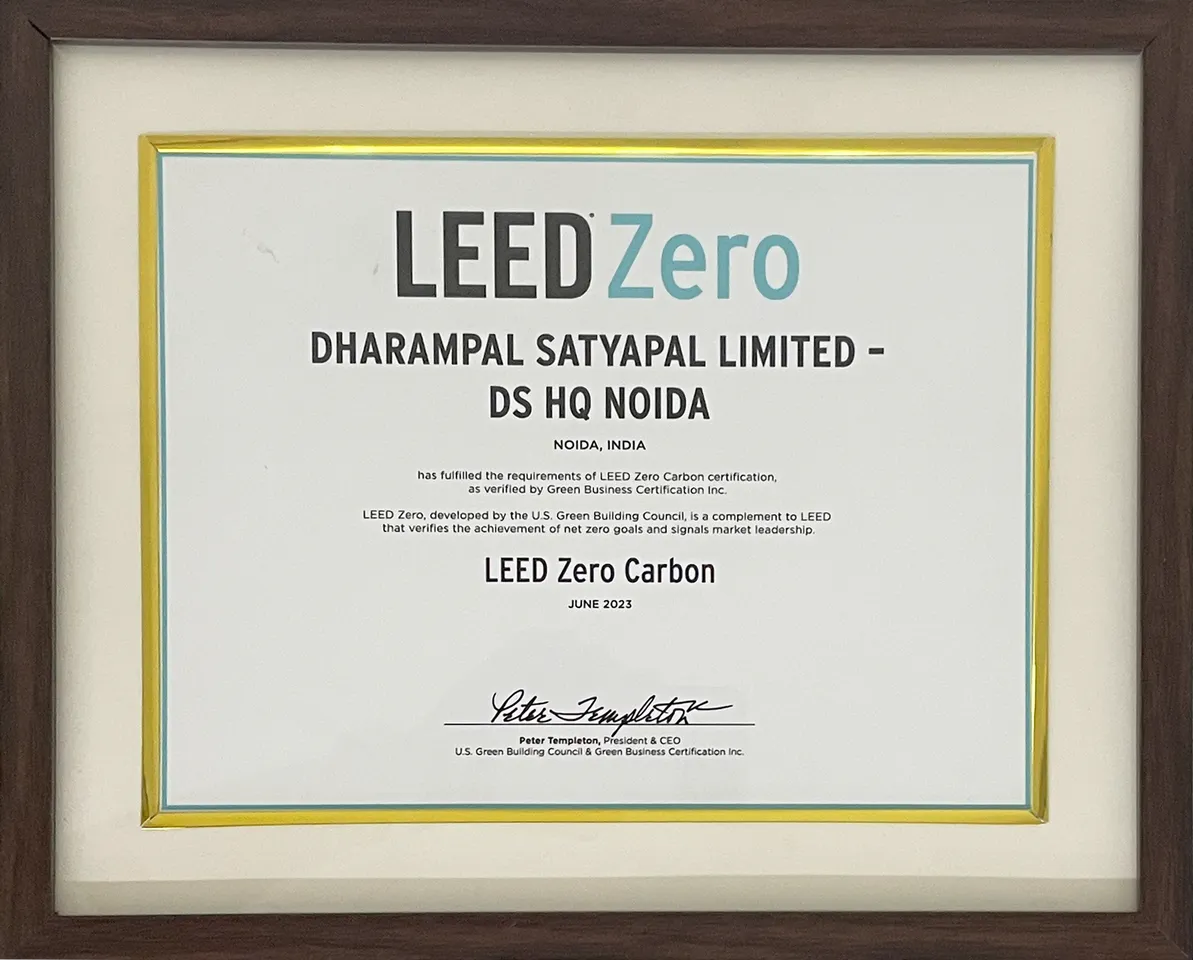 Dharampal Satyapal Group (DS Group), a multi-business corporation and a leading FMCG Conglomerate today announced the receipt of the prestigious LEED Zero Carbon Certification for the DS Group Headquarters, by USGBC- United States Green Building Council. This achievement demonstrates DS Group's commitment to reducing carbon emissions, enhancing energy efficiency, and fostering a greener future, further pledging its dedication to environmental sustainability. 
The LEED Zero Carbon Certification acknowledges DS Group's holistic approach to carbon reduction, considering the entire lifecycle of its operations. By embracing sustainable practices and investing in cutting-edge technologies, the DS Group has reduced its reliance on fossil fuels and optimized energy consumption. This certification exemplifies the organization's commitment to actively combat climate change and sets an inspiring example for others within the industry. DS Group has invested in renewable energy sources, energy-efficient technologies, and waste reduction initiatives as part of its sustainability strategy. These initiatives and the organization's forward-thinking approach and collaborative partnerships have allowed DS Group to achieve this significant milestone. 
The DS Group's Vice Chairman, Mr. Rajiv Kumar, stated, "Receiving the LEED Zero Carbon Certification serves as a testament to DS Group's ongoing pursuit of improved prospects for future generations and safeguarding our resources to work to balance environmental, societal, and economic considerations. It reinforces our unwavering commitment to sustainable operations and highlights our dedication to mitigating the effects of climate change. By obtaining this certification, DS Group has proven its ability to meet stringent sustainability benchmarks while upholding its industry leadership and responsibility towards the environment."
With this achievement, DS Group adds another milestone to its sustainability journey. Notably, the DS Group Headquarters Facility has consistently maintained its position as the global leader in the green building segment for four consecutive years with LEED Platinum Certification. This distinction was granted by USGBC in the year 2019 under the existing building O&M programme version 4.0. Furthermore, through this accomplishment DS Group, a forward-thinking and environmentally aware organization has contributed to a regenerative future – one that cares for the environment, and humanity and enhances the health and well-being of the building occupants.