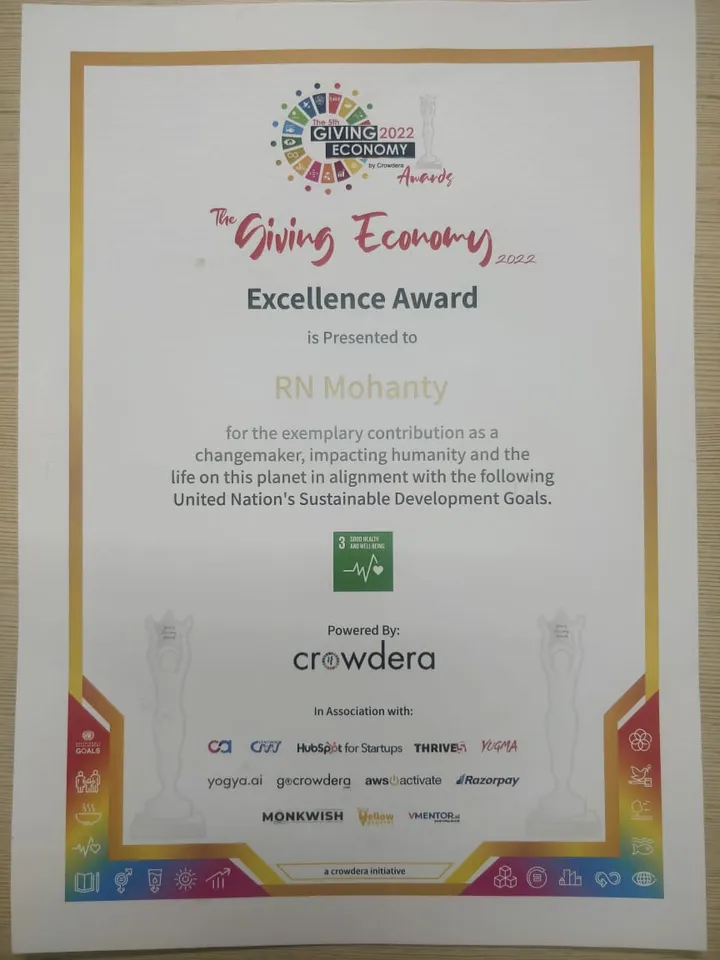 RN Mohanty, CEO, Sightsavers India has been awarded the Giving Economy Award for his incredible contribution to the development sector. Crowdera Foundation has been hosting Giving Economy Changemakers Summit & Awards since 2018 to unlock the true potential of the changemakers community from the grassroots to a global level. Some of their past awardees include Padma Bhushan Dr Bindeshwar Pathak, Shantilal Muttha, Gauri Sawant, Deepak Dwivedi, and Triveni Acharya amongst other illustrious changemakers from all walks of life.
The awards seek to celebrate changemakers — people and organizations that have brought about positive change in society and made our world a better place to live in.
RN Mohanty, CEO expressing his gratitude said, "Thank you Crowdera Foundation for awarding me with the Giving Economy Excellence Award. I am honoured and I humbly accept this award. I have been inspired by the development sector itself since my college days and have been working in this sector for the last three decades or more. I find the work extremely satisfying. I joined Sightsavers India in 2013 and we've been working on eliminating avoidable blindness and promoting equality of opportunity for people with disability. We've been operational in India for the last 55-odd years and have been working in 100 rural districts of 8 States. We've reached out to 55 million people with eye problems to date. Our goal is that no one goes needlessly blind and people with disabilities live a life of independence and dignity. 
We've been pursuing this with passion and humility and this is all possible because of the great team I have in Sightsavers India and with support from our donors; which allows us to achieve Sightsavers India's objectives. I'd like to thank the committee for acknowledging our work and conferring me with the award". 
Mr Mohanty became the CEO of Sightsavers India in 2013, with over 25 years of illustrious service in the development sector behind him. His vision has brought the desired shift to the current program and the resource mobilization strategy of Sightsavers. Sightsavers started working in India in 1966 in the key areas of eye health, inclusive education, and social inclusion. The organization envisions eliminating avoidable blindness by strengthening the system of service delivery at the State/District level. Additionally, it ensures that people who are irreversibly blind are supported with adequate resources and opportunities to lead their lives with dignity.
Within the leadership and guidance of Mr RN Mohanty, Sightsavers has expanded its work across 8 least developed states, 100 districts and 20 cities. In the past 50 years, we have also educated, counselled, trained, and rehabilitate people who are blind or visually impaired.
Disclaimer: This story has not been edited by CSRLive Staff and is auto-generated from news agency feeds | Source: Sightsavers India|