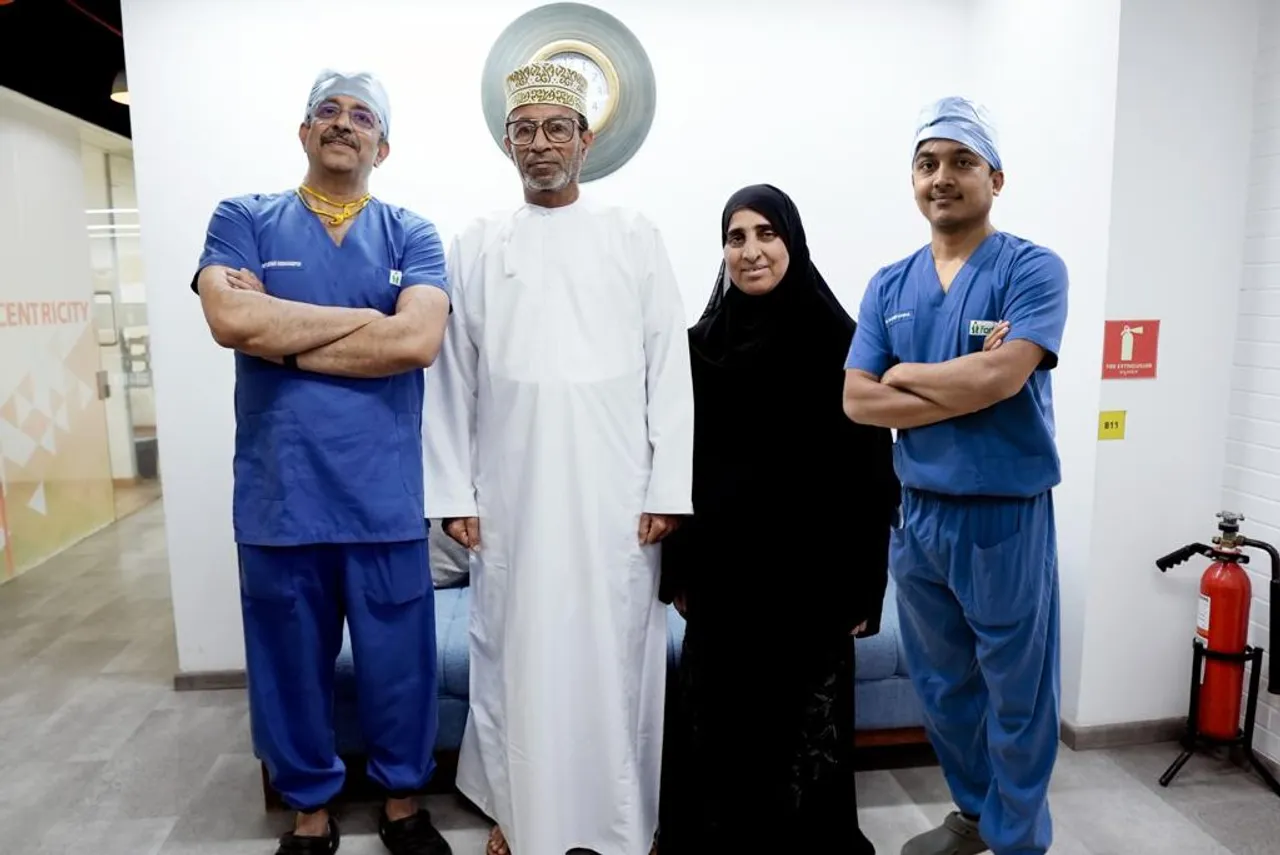 Fortis Hospital Bannerghatta Road achieved yet another clinical milestone by successfully conducting complex Robot aided Surgery for Narrowed Ureter of a Transplanted Kidney. The patient, a 51-year-old Omani woman had previously undergone unrelated kidney transplant (kidney transplantation where the donor and recipient are not biologically related) following which her transplanted ureter was obstructed by a broken piece of ureteral stent resulting in recurrent urinary tract infections. The unique surgery was performed by a team of skilled surgeons led by Dr Mohan Keshavamurthy, Senior Director - Urology, Uro-Oncology, Uro-Gynaecology, Andrology, Transplant, and Robotic Surgery at Fortis Hospitals Bengaluru marks a remarkable advancement in the field of robot-assisted transplants.    
51-year-old Reshma (name changed) underwent an unrelated kidney transplant a year ago in Pakistan. As part of the transplant, ureteral stenting (also known as double J stent) was done wherein a thin, flexible plastic tube was placed temporarily in the ureter to help urine pass from the kidney into the bladder. The new or transplanted kidney functioned well, however, a piece of the double J stent in the transplanted ureter was broken. Multiple attempts were made surgically by multiple hospitals in Oman to remove it, however the broken piece was left behind causing an obstruction to the transplanted ureter resulting in repeated urinary tract infections.  
In order to provide temporary relief and help preserve kidney function until the underlying issue can be treated, a diversion percutaneous nephrostomy was performed wherein a small tube was inserted directly through the skin and into the kidney, guided by ultrasound. The tube was then connected to a catheter outside the body, allowing urine to bypass the blocked portion of the urinary tract and drain directly from the kidney. However, the patient had recurrent urinary tract infection needing multiple course of IV antibiotics as well as multiple ICU admissions. She was then referred to Fortis Hospital, Bannerghatta where the doctors evaluated her and comprehended that this case needs an innovative approach to provide a permanent solution owing to the complexity.   
Elaborating on the procedure Dr Sreeharsha Harinatha, Additional Director - Urology, Uro-Oncology, Uro-Gynaecology, Andrology, Transplant, and Robotic Surgery at Fortis Hospitals Bengaluru, said, "We cut open the bladder and found the ureteric orifice (point where ureter connects to the bladder allowing urine to flow) of the transplanted kidney through which we located the level of obstruction. We then removed the nephrostomy tube which was directly inserted through the skin into the kidney and did a Robot-Assisted Laparoscopic Transplant Kidney Pelvic-Cystostomy wherein, the broadened top part of the ureter which is the Pelvis was disconnected robotically from the ureter and connected to the bladder by creating an opening thereby allowing urine to pass directly into a catheter which is placed in the bladder.  
Adding on Dr Mohan Keshavamurthy, Senior Director - Urology, Uro-Oncology, Uro-Gynaecology, Andrology, Transplant, and Robotic Surgery at Fortis Hospitals Bengaluru, Chairman, Renal Sciences Specialty Council, Fortis Hospitals, India, said, "Creating a temporary pathway for the urine to bypass the obstructed area and drain into the bladder catheter on a transplanted kidney is unusual and extremely challenging. However, we successfully carried out the surgery which lasted for 3 hours and the patient was discharged two days post-surgery with a well-functioning kidney. This case is a testament of our ability to perform robot-enabled innovative techniques to enhance kidney transplant procedures, be it a transplant procedure itself or recouping unfortunate complications of transplants done elsewhere."  
Mr Akshay Oleti, Business Head, Fortis Hospitals, Bangalore said, "With this achievement, Fortis Hospital Bannerghatta solidifies its position as a pioneer in the adoption of cutting-edge medical technology, furthering our mission to deliver world-class healthcare services to our community and beyond. Our commitment to research, training and innovation remains unwavering, as we continue to explore novel methods to enhance patient outcomes and improve the overall quality of life for those in need." 
Disclaimer: This story has not been edited by CSRLive Staff and is auto-generated from news agency feeds |