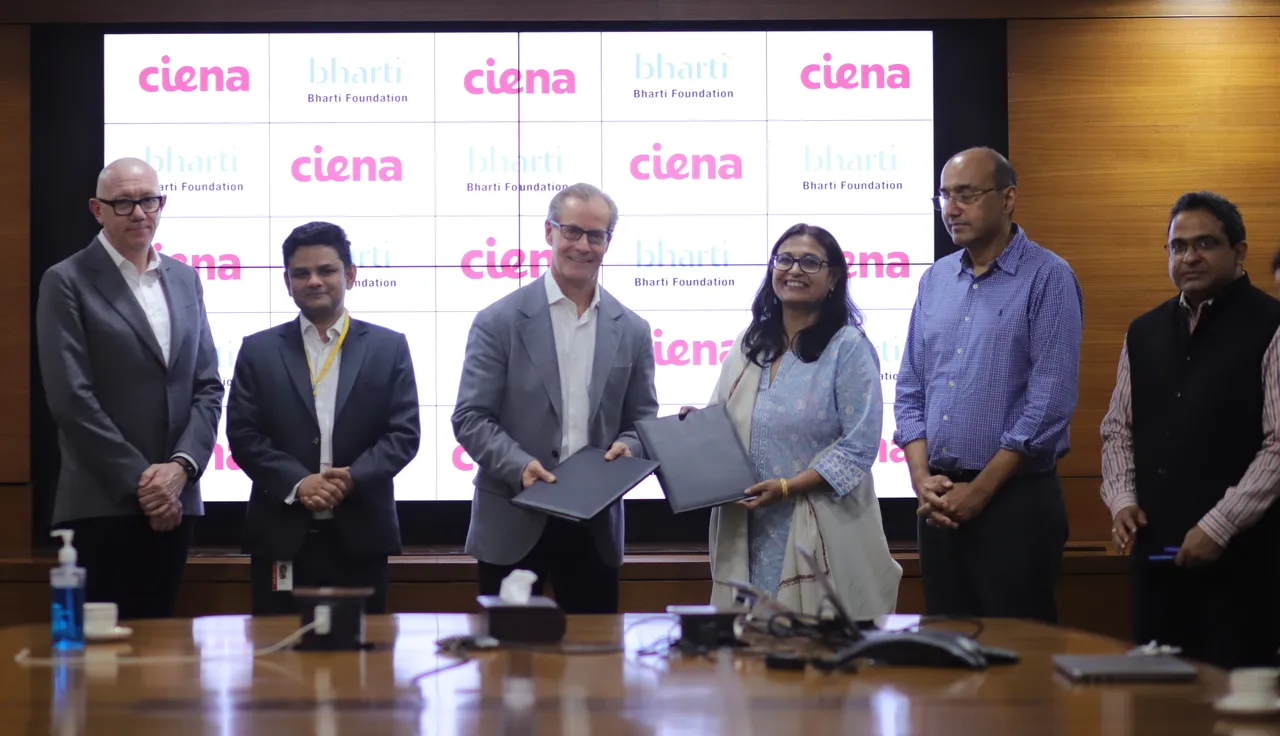 Ciena is strengthening its existing collaboration with Bharti Foundation by setting up Language and Computer Labs in Satya Bharti Senior Secondary Schools in Punjab. The company recently signed an MoU with Bharti Foundation that will enable students to enhance LSRW (listening, speaking, reading and writing) skills along with IT skills through state-of-the-art labs in an easy and interactive way.
Digital Language Labs bring a welcome shift from traditional teaching-learning methods and incorporate intensive practice to make one proficient in a language. It is a fun-based learning method with linguistic immersion for students. The youth will get exposure to a variety of structured activities based on their level and ability. The labs will also support teachers in creating an engaging learning experience for the students in the classrooms, and teachers will be empowered with tools to train and assess students.
The collaboration extension with Bharti Foundation comes after the successful implementation of Advanced Technology Labs and Digital Classrooms under an MoU signed in November 2020, to build interest in STEM in the students. 'Advanced Technology Labs' were set up in Satya Bharti Senior Secondary School, Chogawan and Fatubhilla, Punjab and 15 'Digital Classrooms' in primary/elementary Satya Bharti Schools in Punjab and Haryana. This initiative, under Ciena's Digital Inclusion Program, has benefitted more than 5000 students. It has provided the students with knowledge on new technologies such as coding, programming and robotics while helping them get ready for jobs in the future.
Gary Smith, Chief Executive Officer, Ciena: "Combining linguistics with technology can transform a passive language class into an interactive learning environment.Collaborating once again with our long-time customer, Bharti Airtel and the Bharti Foundation, we're bringing the magic of connectivity and technology to students and youths, empowering them to embrace learning and digital upskilling."  
Speaking on the occasion, Ms. Mamta Saikia, CEO, Bharti Foundation said, "With rapid changes in technology, it is essential that students are well prepared for the future. Language labs and computer aided learning in our Satya Bharti Schools will help students accelerate their careers. I would like to thank Ciena for partnering with us and supporting our students in attaining the same level of knowledge and skills as students at national & international level."
Disclaimer: This story is auto-generated from News Agency Feed and is not Edited by CSRLive.