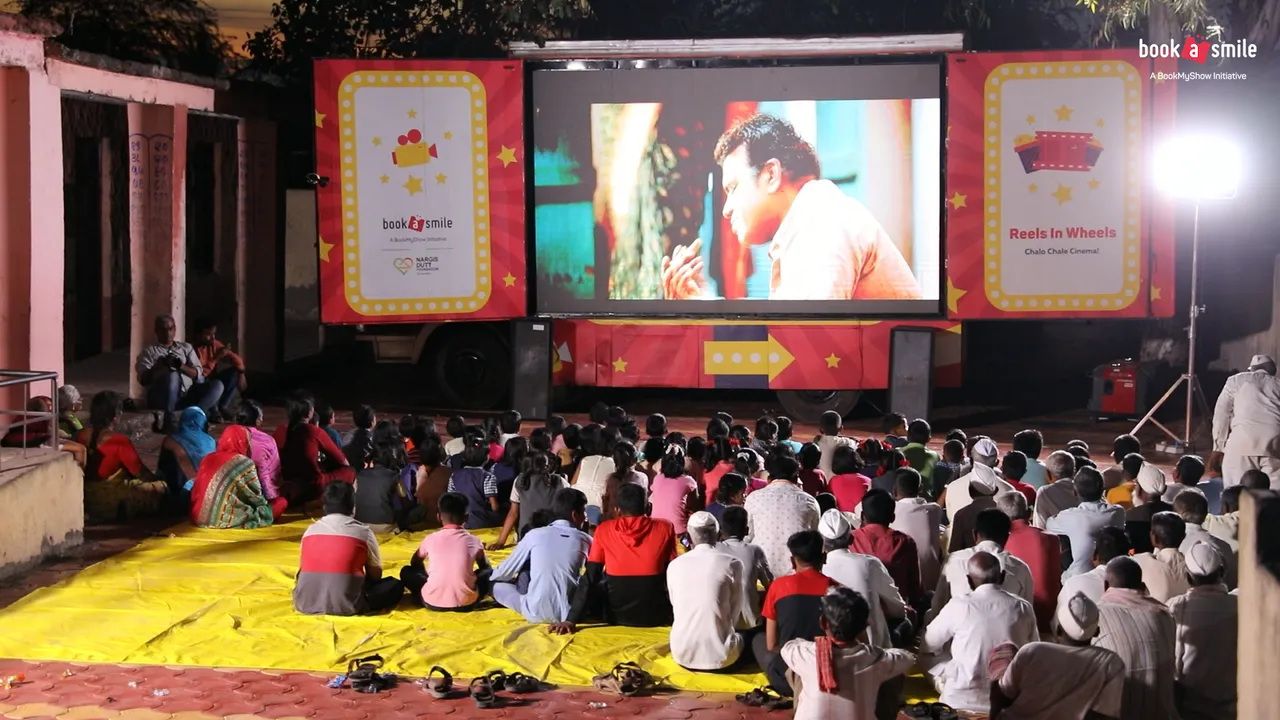 Cinema is one of the most impactful forms of art in society. It is a window into the world around us. Movies, mirror and shape culture as well. They are reflective of people, their stories and personalities. It is a force that brings to light the social framework across the world traversing through various sections of society and slices of life. Films create perception shifts, emotional evolution, provide mental stimulation, educate, create awareness and help build different perspectives – all of this while invoking feelings of joy, relatability, thrill, inspiration and so much more in their ability to enable a momentary escape to a different world.
While a large part of India enjoys cinematic experiences on the big screen as their most loved and preferred form of entertainment, many smaller villages and towns with limited television penetration still do not have avenues for entertainment such as theatres. For instance, in many rural areas, the nearest theatre is almost 150 kms away, leading to many villagers never having experienced a movie on the big screen or watched films even on TV.
To bridge this gap and spread the love of films on cinema screens, BookASmile, the charity initiative of BookMyShow, India's leading entertainment destination, took the cinematic experience to over 350 villages across India through its initiative 'Reels in Wheels'. 
BookASmile along with Caravan Talkies, an initiative by UFO Cine Media Network and Nargis Dutt Foundation took the 'Reels in Wheels' van across villages spanning 12 states, including Maharashtra, Rajasthan, Punjab, Haryana, Jharkhand, Odisha, Uttar Pradesh, Tamil Nadu, Kerala, Madhya Pradesh, Chhattisgarh and Telangana.
Through the 'Reels In Wheels' initiative, BookASmile was able to spread the magic of movies and enable #SmilesForMiles for more than 72,000 men, women and children across rural Indian villages who got the opportunity to watch popular regional movies such as Bhirkit (Marathi), K.G.F: Chapter 2 (Hindi), Lekh (Punjabi), Tu Mora OK (Odia), My Dear Bootham (Tamil), Malayankunju (Malayalam), Acharya (Telugu) in a specialised curated open–air setup.
Commenting on the initiative, Farzana Cama Balpande, Head – BookASmile, said, "Entertainment is so deeply engraved in India's DNA across the length and breadth of the country. Even in geographies that don't have access to formal entertainment avenues, it is enjoyed in its most raw formats. Cinema is a powerful tool of storytelling that creates impact by evoking emotion, education, evolution of mindsets and a strong driver of culture and society. Through our 'Reels in Wheels' initiative we wanted to take the magic of the movies to villages that don't have theatres and therefore easy access to quality entertainment. It has truly been heart-warming to see the resounding response, we have received through this initiative. Some of the beneficiaries had in fact watched their first movie ever through this process while some others said it felt like a dream-come-true to watch a movie on the big screen! We feel humbled and blessed to be able to share such precious moments with them through the wonder of films – an aspect that is so core to us at BookMyShow as well as so meaningful to us as a country with thousands of villagers across India being able to experience this emotion."
Through the initiative, BookASmile's NGO partner, Nargis Dutt Foundation screened a one-minute audio-visual about cancer awareness across these villages.
BookASmile's 'Reels In Wheels' initiative ⬅ Watch this video to see the magic of movies created on wheels.
Disclaimer: This story has not been edited by CSRLive Staff and is auto-generated from news agency feeds | Source: New Feed|