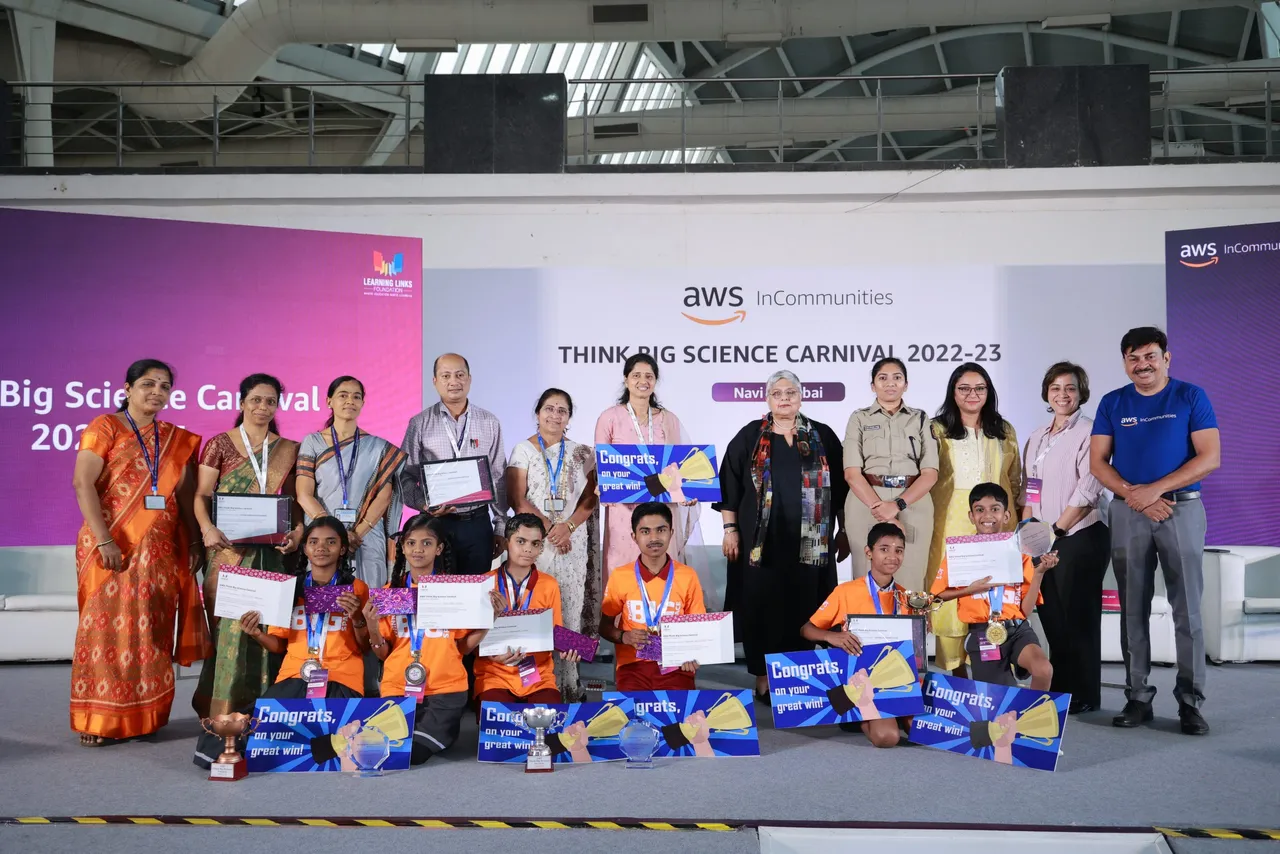 Picture an electric car with built-in self-charging capabilities to ensure the vehicle is self-sustaining, or a gadget that can send reminders on when leftovers in the refrigerator need to be consumed based on the colour, texture, and smell of the food. These examples are innovative ideas from young students aged 11 to 14, and are a few of the many interesting science projects developed by over 60 students from Navi Mumbai's municipal schools for the finale of the AWS Think Big Science Carnival, 2022-23, held on March 24, 2023.
In its fourth year now, the science carnival is organised by AWS InCommunities as part of the AWS Think Big Spaces program, a comprehensive change initiative that focuses on providing students from underserved communities, the infrastructure and guidance required to excel at STEAM (Science, Technology, Engineering, Arts, and Math) subjects early in life, leading the way to STEAM careers in the future. More than 2,000 students from 50 Navi Mumbai Municipal Corporation (NMMC) schools attended the finale conducted at the CIDCO Exhibition Centre in Navi Mumbai.
Speaking at the finale, Aruna Yadav, Education Officer – Navi Mumbai Municipal Corporation said, "It is wonderful to be here at the AWS Think Big Science Carnival which has been organized for the students of Navi Mumbai. Many of the children's projects are unique and astonishing; their thinking is refreshingly different, and it is exciting to see this kind of talent. I have no doubt that these children can go on to become scientists and make India proud, and also develop solutions for the general public. I thank the AWS team for organizing this event and providing these children a platform that will take them a step closer to becoming scientists and innovators."
Encouraging students to Think Big
The AWS Think Big Science Carnival provided a platform for students to look closely at problems that local communities face in the areas of agriculture and food safety, health and hygiene, environment conservation, renewal energy, and disaster management, in line with multiple Sustainable Development Goals laid down by the United Nations, and develop STEAM-based ideas. Over 270 students submitted their project ideas in the preliminary round of the science carnival, and were mentored by STEAM experts, including AWS employees. Students with the most innovative ideas in the preliminary stage were supported to build their prototypes, and the top 30 prototypes were presented in the finale event. Students subsequently use the prototypes and experience to compete in district, state, and national-level competitions.
Disclaimer: This story has not been edited by CSRLive Staff and is auto-generated from news agency feeds | Source: New Feed|