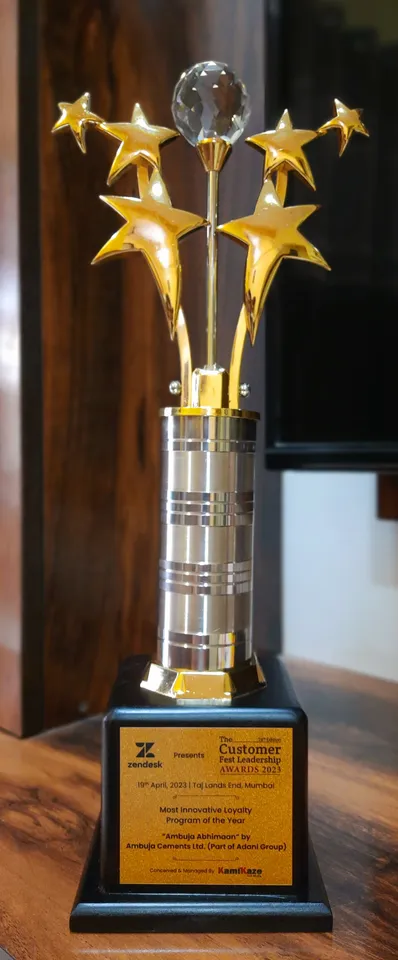 Ambuja Cements, the cement and building materials company of Adani Cement and part of Adani Group, has been awarded the 'Most Innovative Loyalty Program of the Year' at the Customer Fest Leadership Awards 2023 for its Contractor Loyalty Program - 'Ambuja Abhimaan'. This award acknowledges the Company's exceptional efforts in creating and maintaining an outstanding loyalty program that has helped build strong relationships with its contractor partners. 
The evaluation of nominations was conducted by an eminent jury panel of experts, and Ambuja's innovative and transformational initiatives such as skill upgradation programs, family engagement and social welfare, talent hunt contests, and business aid to contractors were highlighted. These initiatives differentiated Ambuja from competitors and helped win the award under the Customer Loyalty - Organizational category. The event featured more than 50+ renowned brands across various industries. 
Mr. Ajay Kapur, CEO, Cement Business, said, "Ambuja has always been synonymous with strength, and we are honoured to be recognised for our strong commitment and efforts that goes beyond cement. This award is a testament to our commitment to delivering exceptional experiences to our partners and customers. We thank the jury panel and all the participants for acknowledging our efforts towards customer centricity and innovation."
Ambuja Abhimaan, a differentiated long-term loyalty program has achieved many milestones, including recognition as one of the best mobile loyalty programs, engaging and benefiting 1.2 lakh+ key contractors.
Disclaimer: This story has not been edited by CSRLive Staff and is auto-generated from news agency feeds |