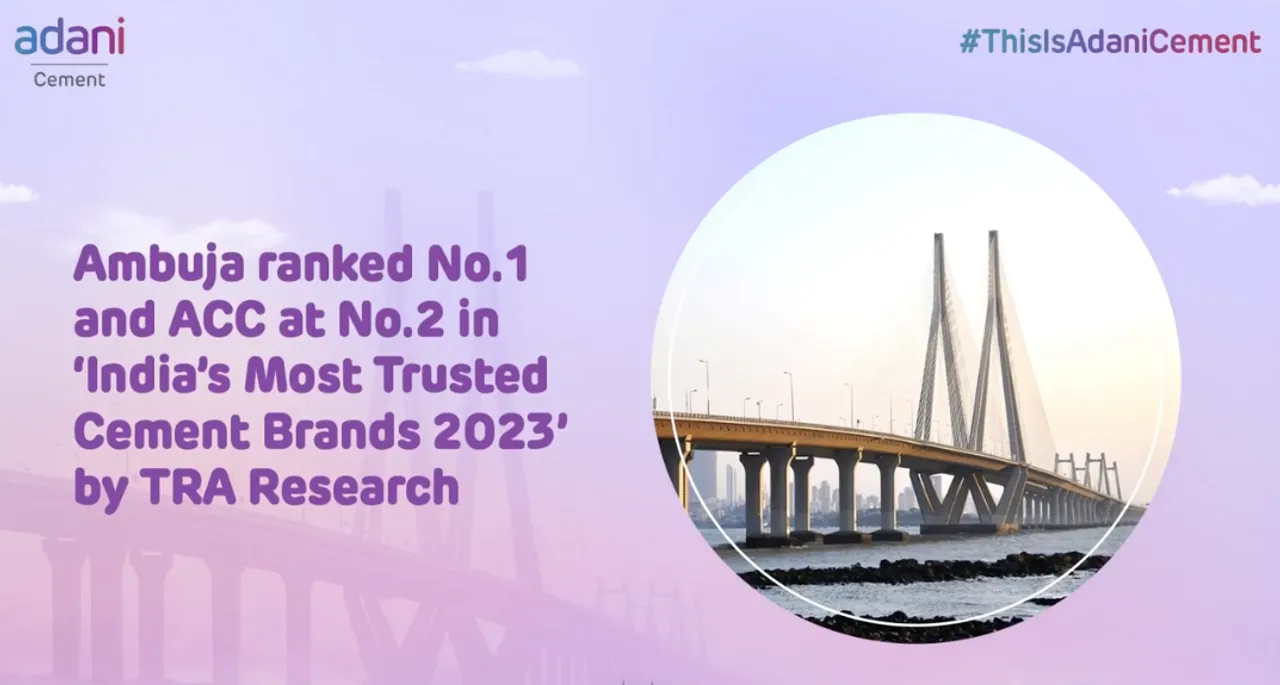 Ambuja Cement and ACC, the cement building and material companies of Adani Cement and part of Adani Group, have been recognised as India's Most Trusted Cement Brands by TRA Research in its Brand Trust Report 2023, for second year in a row. Ambuja Cement and ACC rank amongst the top two cement brands and are also amongst the top 3 brands in the manufacturing category of the report.
TRA's Brand Trust Report offers a valuable snapshot of India's 1000 most trusted brands. One of the most significant findings from this year's report is the importance of transparency and social responsibility in building consumer trust. Ambuja Cement and ACC have secured impressive rankings of 91 and 115, respectively, in the overall report of 'India's Most Trusted Brands 2023'. This is a significant improvement from their positions in the previous year's report wherein they ranked 246 and 341, respectively.
The Companies have become India's leading cement brands by constantly seeking to offer more than what its customers need and has been providing hassle-free and innovative building solutions. Ambuja Cement and ACC have always placed the customer at the center by setting industry benchmarks in offering low carbon, sustainable solutions.
Mr. Ajay Kapur, CEO, Cement Business said, "We are thrilled to have been acknowledged as India's most trusted cement brands. This recognition reinforces our dedication to providing our customers with only the best products and services. It also motivates us to continue to innovate and improve our products to meet ever-evolving needs of the construction industry. We thank our customers for their unwavering trust and support, which has made this recognition possible. We are confident that with our commitment to quality and customer satisfaction, we will continue to lead the way in the cement industry."
TRA's Brand Trust Report 2023 is based on comprehensive primary research conducted on the Brand Trust Matrix which comprises proprietary brand behaviors. The report provides valuable consumer insights to leading Indian and global organizations, enabling them to enhance their brand's scope and relevance in these rapidly changing times.