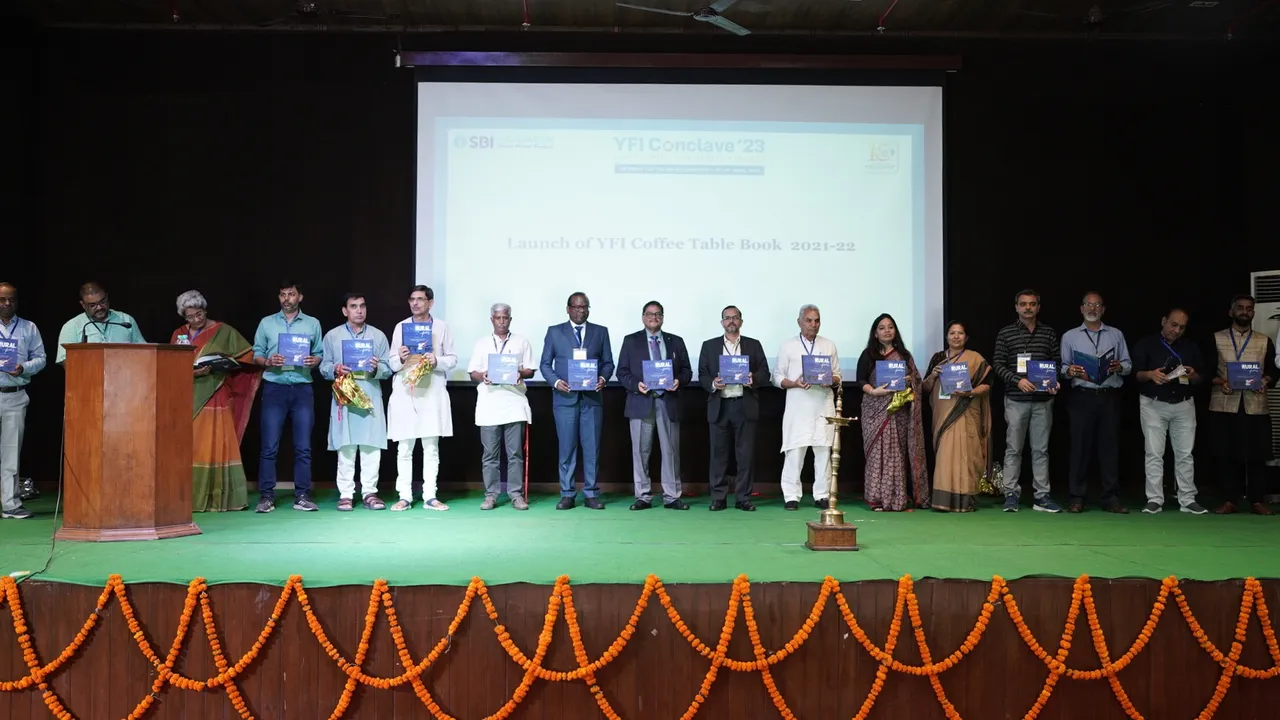 The SBI Foundation organized a two-day SBI Youth for India Conclave providing a platform to bring together leaders and pioneers in the social sector. Among others, social entrepreneurs, academia, civil society and SBI YFI alumni were present at the event to deliberate on societal issues in rural India, paving the way for accelerated rural development in the country.
Speaking at the Youth for India Conclave 2023, Mr Sanjay Prakash, Managing Director & CEO, said: "The future change drivers for our nation will be its young demographic that is educated and socially aware. We have seen our Youth for India fellows foster and implement ideas for social development to drive on-ground change in rural India. As an organization, we are proud to fuel social enterprise and contribute to India's G20 goals." He added "Projects implemented by our fellows have helped to accelerate rural development, as also resulted in inclusive and sustained growth across the remotest corners of the country."
The Youth for India Conclave showcased the last decade of the Fellowship and the impact it has made in the development of the rural sector. The SBI YFI projects have made significant contributions in areas such as Health, Rural Livelihood, Food Security, Environmental Protection, Education, Water, Technology, Women's Empowerment, Self-Governance, Social Entrepreneurship, Traditional Craft and Alternate Energy.
At the Youth for India (YFI) Conclave 2023, grants amounting to approx. INR 2.4 million were given out to WINNERS during the 'SBI YFI Sahyog - The Pitch Fest'. This Pitch fest intends to offer seed grant to the promising non-profit/ for-profit ventures by the SBI YFI Alumni. The following ventures won grants to further their work:
YFI Sahyog - The Pitch Fest 2023

Ventures that received grant

Sr. No
Name of Alumni
Batch
Name of the Organization
Organization Brief

1

Mr. Nitesh

Bhardwaj

2016-17

Aadiwasi

Janjagruti

Using hyperlocal Communications to bring

social justice and awareness.

2

Mr. Rangan Ghosh

2018-19

AIZHEIMERS

AIZHEIMERS is engaged in design,testing and prototyping of innovative AI/ML based platforms combined with deep science approaches for early-stage risk stratification of neurologicaldisorders and mental health

issues such Alzheimers, depression etc.

3

Ms. Shravani Ladkat

2016-17

Eco-Circular India Foundation (ECIF)

ECIF encompasses activities coming under health, livelihood, education, environment and sustainability as these integrate to provide a better tomorrow.

4

Mr. Siddarth Daga

2016-17

NeoMotion

NeoMotion designs and manufactureslife transformative products for thephysically challenged and elderly!













The winning ventures were selected based on the assessment & evaluation by an eminent jury that included Mr Sanjay Prakash, Managing Director & CEO, SBI Foundation; Mr Lalit Mohan, President & COO, SBI Foundation; Mr Vijay Mahajan, Co-Founder Pradan & Basix; Mr Vimal Garg, Director, R A Environlink Technologies; Mr. Suresh Krishna Bandi, Associate VP-Programs & Partnerships, I-Venture at ISB Hyderabad & Mr Gyan Prakash, Coordinator & Program Head, SBI Youth For India Fellowship.
The Conclave had several interactive sessions that included advisory forums, speed networking, lightening talk, formal and informal discussions between non-profits, think-tanks, fellows, and other stakeholders from across the country.
The event was attended by well-known personalities such as Ms. Sanchita Mitra, National Coordinator, SEWA Bharat; Mr Liby Johnson, Executive Director, Gram Vikas; Mr Ronak Shah, Chief Executive, Seva Mandir; Dr Sunil Kaul, Founding & Managing Trustee, the ant; Mr Badrish Mehra, Executive Director, CHIRAG among others