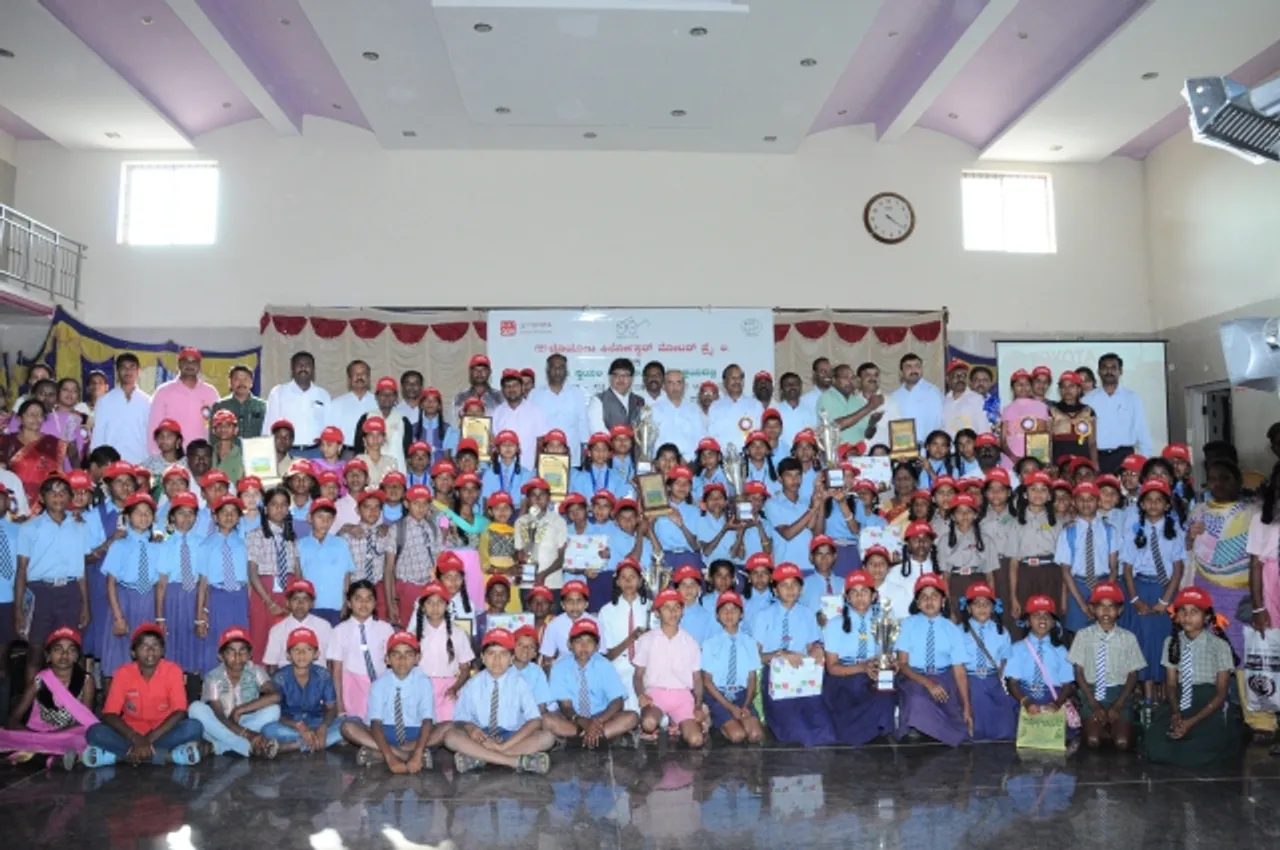 Bangalore, 28th June, 2016: Toyota Kirloskar Motor (TKM) in continuance of its efforts towards ensuring 'Swacch Bharat' has conceptualized and implemented its CSR initiative - Project ABCD aimed at curbing open defecation. This comprehensive project which was rolled out last year has reached out to 102 schools in 88 villages in Magadi, Kanakapura and Ramanagara.  TKM has targeted 40 villages to become open defecation free in Karnataka and has been already successful in ensuring 100% sanitation in 14 villages within a year.
In the wake of the growing concerns around insufficient sanitation facilities in government schools and lack of adequate toilet training among school children and recognizing the need for a new approach, TKM initiated the ABCD project with a focus on bringing in a behavioral change,  The Project ABCD (A Behavioral Change Demonstration) not only aims at achieving 100% school sanitation by increasing awareness, it also promoters dignity and privacy for the girl child by upgrading existing unhygienic school toilets to usable condition as well as to promote learning and retention among school children, teachers as well as the community members.
According to recent Unicef Reports, open defecation is rampant in India. Around 595 million people, which is nearly half the population of India, defecate in open. This practice poses serious threat to the health of villagers in India like diarrhea and worm infections, India reports the highest number of deaths due to diarrhea in children under five in the world.
TKM aims at enhancing school sanitation and ensuring sustainable hygienic condition in toilets with the ABCD project. Open defecation exposes women to the danger of physical attacks, snake bites and cripples the life expectancy. The ABCD project identified the lacunae that exists in the sanitation facilities in rural Karnataka and is trying to bridge the gap with a widespread awareness drive. As per the school teachers ABCD has contributed in reduction of school hour missing cases (earlier condition- adult girl children used to go to their home for toilet usage and miss the classes ( 1-2 hours). Currently, owing to the TKM's girl child sanitation initiatives and ABCD project implementation school missing hours have reduced to zero.
The project has already been benchmarked by UNICEF and the Education Department for its commendable contribution in raising awareness on this grave issue.
Speaking on the initiative Naveen Soni, Vice President, Toyota Kirloskar Motor said, "Open defecation is a serious social challenge in India. Every year 200,000 children in India die from diseases caused by fecal contamination. These numbers are disturbing and we as a responsible corporate citizen, we have been consistently working towards contributing to the Swacch Bharat Abhiyan initiated by Prime Minister Modi. With Project ABCD we not only believe in creating sanitation facilities, but we are going one step ahead in ensuring effective utilization of the facilities. The project aims at educating and motivating the villagers including children, parents and school teachers on the basics of toilet hygiene and the importance of sanitation.  ABCD program has been benchmarked by all DDPI of Karnataka and we hope the learnings will be taken forward by government. We will also share the success story of ABCD to concerned government department to take it forward."
TKM has constructed 500 units of sanitation facilities of which 125 units are located in Varanasi, 250 units in Ramnagara district in Karnataka and 125 units in Vaishali in Bihar. Additionally 176 toilet units were constructed in Chennapattana taluk in Karnataka.