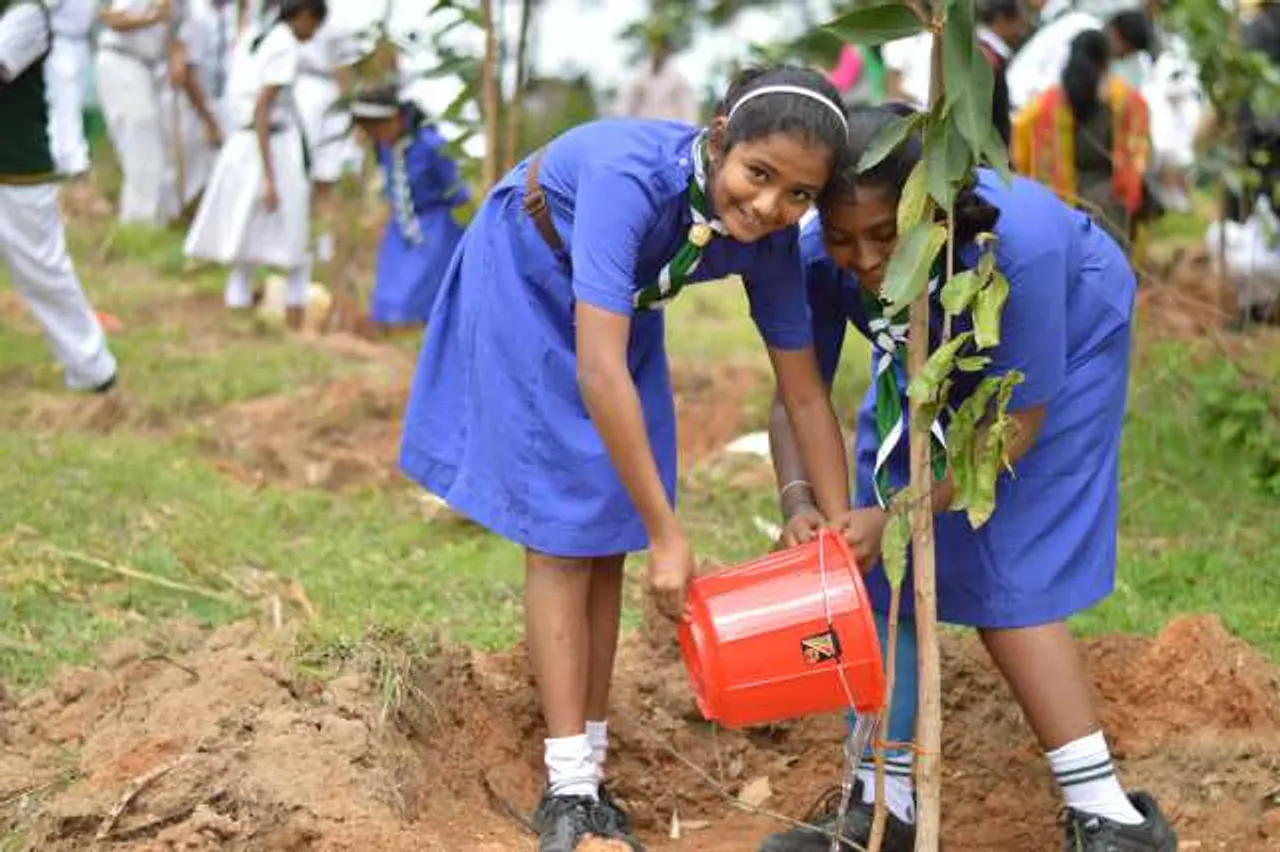 Bangalore (July 5, 2016): Toyota Kirloskar Motor organized a reforestation drive at the Bannerghatta National Park. The event witnessed participation from 600 TKM employees with their family, along with 150 students from Delhi Public School, Bangalore South, and 100 members from the Karnataka Forest Department. About 500 saplings were planted by the members who participated in the cause to spread awareness on conservation of native ecosystem and contribute towards reducing the carbon footprint.
A fully grown tree can roughly sequester 20kg of CO2 per year and generates about 118 kgs of oxygen per year. One Human being uses about 550 litres of pure oxygen per day. A single mature tree can release enough oxygen to support 2 human beings. Planting trees and restoring the green is one of the most effective means to reduce carbon emissions.
Dr Sunil Panwar, Deputy Conservator of Forests, Karnataka Forest Department, Bannerghatta National Park, Raju B Ketkale, Senior Vice President, Toyota Kirloskar Motor and Manju Sharma, Principal Delhi Public School, Bangalore South, were the dignitaries present at the afforestation drive.
Toyota Kirloskar Motor initiated a large scale afforestation drive in the year 2009 by planting 36000 saplings in a single day involving all its stakeholders to develop a greenbelt within its boundaries. TKM has planted around 2,65,000 saplings involving team members with the unique Japanese Miyawaki method. The plant at Bidadi has been designed in line with the Eco factory concept at Toyota. The company has undertaken environment friendly initiatives in the manufacturing facility like water based painting to reduce VOC emissions, low CO2 footprint technologies like Servo machines, vermi-composting for waste minimization, biogas plant to reduce LPG usage and rain water harvesting to reduce fresh water consumption. The water recycling & rainwater harvesting efforts at TKM manufacturing unit ensure least dependence on Freshwater/River water ensuring sustainable community. The rain water harvesting structure with a storage capacity of 25000 m3 was constructed, which has helped in saving consumption of 60000 m3 of freshwater last year. Moreover, through consistent efforts TKM has achieved a reduction of 8000 tons of CO2 compared to last year.
Toyota has decided to challenge itself to reduce vehicle CO₂ emissions to ZERO in comparison with 2010 levels, by 2050. From fuel efficient vehicle to developing ground breaking technology, TKM focuses on environmentally sustainable solutions in every business operation and every vehicle that is manufactured. Toyota also works towards increasing Hybrid vehicles in India. The company boasts of a lineage of over 15 years in hybrid with over 8 million hybrid cars across the globe
According to a recent analysis done by the Centre for Ecological Studies at the Indian Institute of Science, in the last 40 years Bangalore has seen a phenomenal increase of 625% in built up area and the vegetation of the city has seen a decline of an alarming 78%. The rapid urbanization has led to the alarming depletion of green cover in the city which as has resulted in human-wildlife conflict and dangerous levels of toxic matter in the atmosphere.
Raju B Ketkale, Senior Vice President, Toyota Kirloskar Motor said "Environment Conservation is inherent in the Toyota culture. We have been constantly investing our efforts to establish a society where human and nature coexist in harmony. With the rise in global warming and the impending environmental pollution increasing day by day, it is not just imperative to create necessary awareness, at the same time, one needs to action out measures like these, along with the involvement of the community. He also went on to stress the importance of conservation of biodiversity stating that "during the evolution of earth, species like plants, insects, animals inhabited the earth much before the humans did. We humans have only evolved at a much later stage however, we have been responsible for destruction of most of the life forms for our selfish needs." In addition to creating awareness, we also involve our employees physically in afforestation drives, environment month promotion and other Eco CSR activities with an intent to bring a sense of ownership towards the environment"
Speaking on the occasion Dr Sunil Panwar, Deputy Conservator of Forests, stressed on the importance of reforestation to avoid human animal conflicts which is prevalent currently around the sprawling Bannerghatta forest reserve. He went on to say "As human populations expand and natural habitats shrink, people and animals are increasingly coming into conflict over living space and food". Further he said "People lose their crops, livestock, property, and sometimes their lives. The animals, many of which are already threatened or endangered, are often killed in retaliation or to 'prevent' future conflicts". He emphasized that public must join hands with the forest department to save & preserve the biodiversity that we are left with.