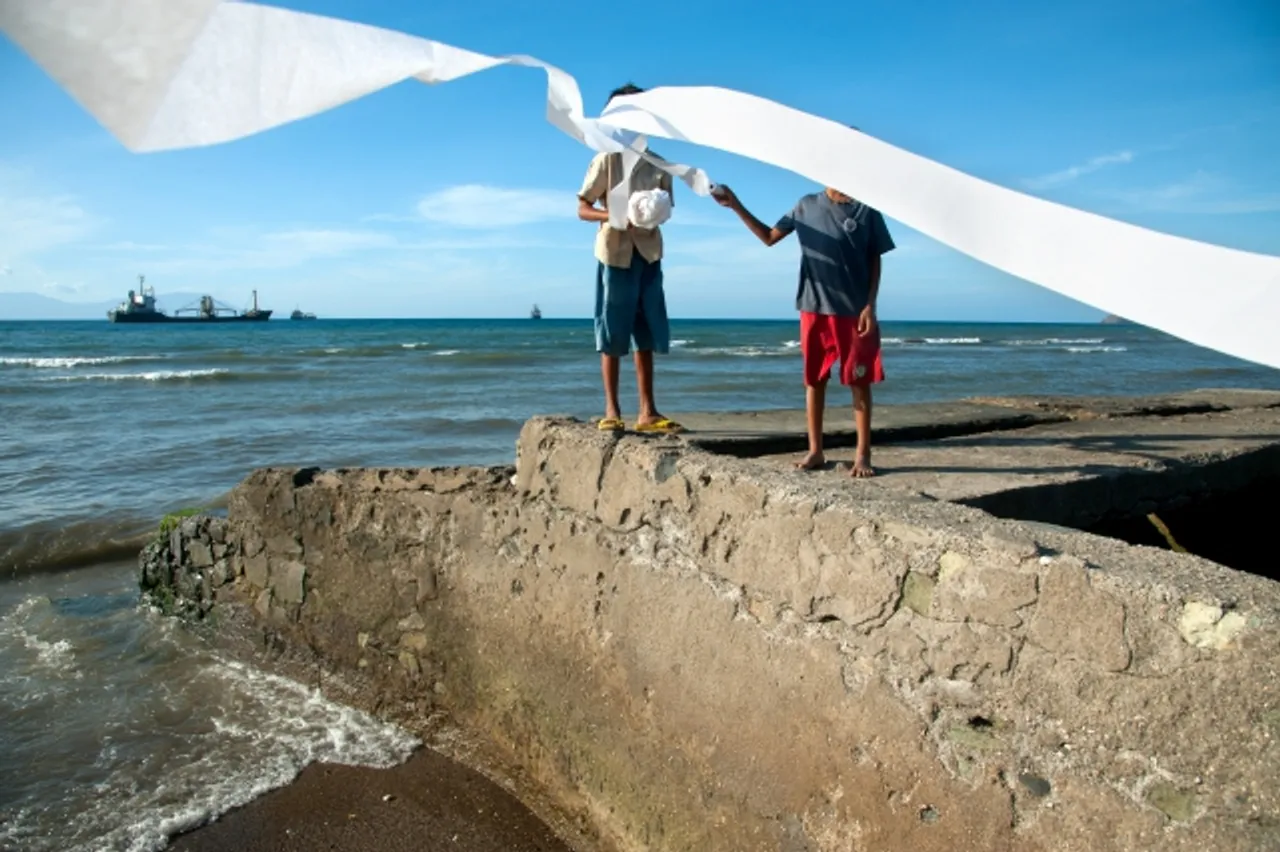 When the Indian Ocean tsunami struck on 26th December 2004, all I could do was look on in mute horror as a giant wall of water descended on Tamil Nadu and my home state of Andhra Pradesh, causing unprecedented destruction and displacing millions. It remains one of the deadliest natural disasters in recorded history.
At the time, I was stationed at Nalgonda (a district in present day Telangana), as Programme Manager for a Plan India partner in South India. Watching the news from the safety of my home, I saw the sea I'd grown up playing in wreak havoc in the lives of so many. Little did I know that the very same tsunami would forever change my life too.
I received a call from Plan India's then Country Director asking if I'd like to be part of their Tsunami Response Programme. I said yes, of course, but going in, I knew next to nothing about disaster response. I joined Plan India and spent the next six weeks learning on the job, coordinating relief and response from their Delhi country office. Then I went to the field.
Nothing could have prepared me for what I saw there.
Destruction in Tamil Nadu, India following the tsunami which hit on 26 December 2004 (Image: Plan India)
It was unreal, coming face to face with the widespread devastation along the shore. Entire villages lay in rubble while their former residents grappled with everything they'd lost. My first day in the field is one I'll never forget. All day, we sat together and talked, of life and loss. We connected as only people can with each other. In that moment, I knew I'd found my life's calling.
FAST FORWARD TO YEAR 2016
Plan India responded to the November 2015 deluge in Tamil Nadu's worst affected areas of Chennai and Cuddalore. I was overseeing immediate relief efforts in Chennai and Cuddalore, when a local partner representative suggested visiting the tsunami-affected villages of yesteryear. We had worked side by side in the aftermath of the tsunami and he knew of my deep connection with what we had strived to recover and rebuild.
It was decided: with over a decade's experience under my belt, I would finally re-visit the tsunami struck areas we'd worked in so long ago. I made my way excitedly, mind racing with the memories of our response efforts there. Our first stop was the non-fishing village of Kottaimedu. On stepping out of the vehicle, the changes were immediately visible. Almost all the houses were now made of concrete, the streets paved and alleys packed with two-wheelers and independently owned micro-enterprise stores.
Image: Plan India
Post tsunami, Plan India had focused on forming and strengthening women's self-help groups (SHG) and micro-enterprises to reduce their vulnerability and contribute to their household incomes. Today, this has manifested in 1,115 SHGs with 18,180 members in 12 federations spread across 400 villages in Tamil Nadu's Villupuram and Cuddalore districts. Over the last decade, loans amounting to over INR 65 crores have been accessible to the women, who now manage their federations and successful businesses by themselves.
Our next stop was Nochi Kuppam, a first line fishing village in which we'd constructed 115 permanent houses as part of a housing project during the response. What strikes me even today, is that Plan India consulted children when creating their housing designs. Perhaps that's why many homes, even after all these years, are still well maintained aside from being extended to accommodate extra rooms and compound walls.
A home in Nochi Kuppam after the Tsunami (Image: Plan India)
Plan India is a leading child-centred community development organisation for precisely this reason.
In the wake of the tsunami, our priority was to establish temporary child care and activity centres where multiple interventions with and for children were carried out. Many had lost their parents, siblings, friends, teachers, pets and extended family to the sea that fateful day. They became terrified of it, for all it had taken from them.
The first step was bringing back familiar routines. Our centres provided critical psycho-social care to affected children and acted as an outlet for their fear and despair. In due course, they were able to focus their energies on more meaningful and enjoyable activities.
Creating child care centres was a key part of Plan's assistance following the Tsunami (Image: Plan India)
One child survivor always comes to mind when I hearken back to those times.
Shobannath was 14 years old at the time of the tsunami. That morning, his grandfather, younger brother and he had ventured into the water to catch shrimp. Unbeknownst to them, the tsunami had gathered momentum and moments later, lashed the Indian coast without warning. Shobannath was able to grab hold of a culvert edge, but his brother and grandfather were swept away. Their bodies were never recovered.
When Plan India began its response in his village of Nagapattanam, the team encouraged Shobannath to join the child activity centre. With care and support, he began to participate in centre activities and gradually overcame his debilitating fear of the sea.
Well after programme activities were completed, we stayed in touch. He was determined to achieve great things and applied himself diligently at school. He also routinely participated in programme activities and was a natural fit to visit Plan Japan after the tsunami struck in 2011, and support children in their intervention areas by sharing his story of survival.
Shobannath interacting with Japanese school children who braved a tsunami in 2011 (Image: Plan India)
Today, I am proud to say that Shobannath is a nautical engineer who is sailing the South American seas and doing meaningful work with a Japanese shipping company.
Over the years, Plan India has touched so many lives - mine included. There are more stories to come, but I'll end this one with gratitude for our supporters, because of whom we were able to restore livelihoods, provide protection and education to children and rebuild their homes and communities.
It is an infinitely human experience to overcome great tragedy with unity, resilience and hope. Having experienced this first hand, I can say with absolute confidence and pride, that joining Plan India was the best decision I ever made.
Plan India, a member of Plan International Federation, is a nationally registered independent child development organisation committed to creating a lasting impact in the lives of vulnerable and excluded children, their families and communities. For over 35 years, Plan India and its partners have improved the lives of millions of children by providing them access to protection, basic education, proper healthcare, a healthy environment, livelihood opportunities and participation in decisions which affect their lives.