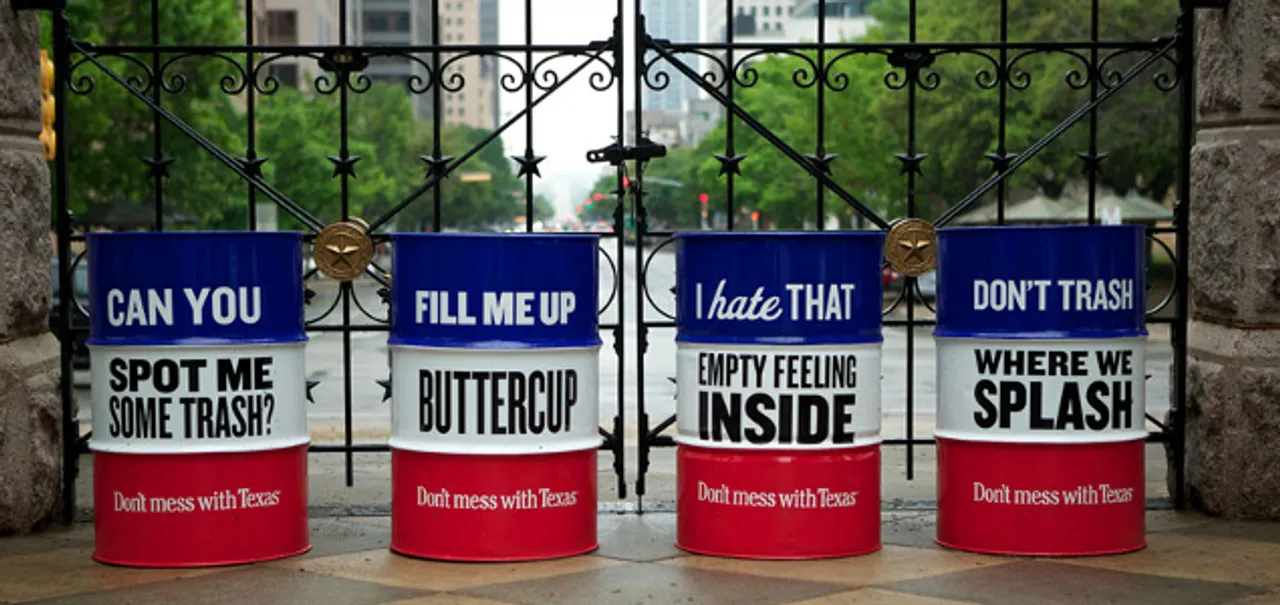 Behavior change charity Hubbub has launched a new global website designed to aid councils and businesses who are looking for solutions in their fight to tackle litter. Complete with statistics on impact and costs per campaign, the charity hopes the website will help reduce wasteful spending by providing guidance on best practices and inspiration.
NeatStreets.co already features over 20 anti-litter campaigns that are ready to be adopted by councils, businesses, and others looking to reduce waste in public spaces. The site will function as an open source, and is sponsored by INCPEN, the Industry Council for research on Packaging and the Environment.
If "Neat Streets" sounds familiar, that's because Hubbub ran a campaign under the same name last year, in partnership with the Westminster City Council and Veolia. Their May campaign specifically targeted cigarette butts and chewing gum through a series of interactive installations including giant cigarettes. Keep Britain Tidy found that the pilot helped chewing gum litter fall by 54 percent in June and 26 percent in July.
In delivering such anti-litter campaigns, Hubbub found that there is very little collaboration and sharing of best practices despite the large amount of work that has been done in the area.
"Why reinvent the wheel whilst there is much to be learnt from state of the art campaigns already tried and tested," said Trewin Restorick, the Founder and CEO of Hubbub. "It is Hubbub's ethos to give away ideas that have worked and share learnings, we want to provide a platform for others to do the same."
Examples of successful campaigns and organizations featured on the website include "Hey Tosser!" by the New South Wales Environment Protection Authority (NSW EPA), "Bin it for Good," by Keep Britain Tidy, Gumdrop Bins by Gumdrop Ltd., and Don't Mess with Texas.
The "Hey Tosser!" campaign invites the general public to report on litter being thrown out of car windows and has resulted in the NSW EPA receiving more than 80 reports of rubbish being thrown out of car windows every day — up from 18 a day last year. The department's figures showed that 10,036 people downloaded the related app, and a record 5,466 people registered to make a report. From the registered users, 3,663 reports have been received to date with 1,779 motorists being sent a fine — quadruple the number issued for the entire 2014 year.
"Bin it for Good," involved providing special bin stickers that encourage passersby to "do social good simply by putting their litter in the bin." Keep Britain Tidy partnered with local authorities for 3 months to set up a network of 'charity bins.' The more litter that goes into the bins and the less on the ground, the more money the featured charity/cause receives. The project was funded by The Wrigley Company and saw great results: Litter was reduced by an average 42 percent during the pilot town's 3 'charity bin' months and 3 local charities received over £1,300.
Building on the gum recycling program we've reported on before, Gumdrop Ltd. has expanded to provide 'Gumdrop on the Go' portable gum bins to members of the public. The keychain gum holders could later be deposited in collection bins to be recycled into new products made with the company's gum-based plastic.
Don't Mess with Texas is celebrating 30 years conducting campaigns that have leveraged their strong slogan, celebrity involvement, marketing, education and infrastructure to reduce littering behaviors. Among their highlight achievements, a 2013 study found a 34 percent reduction in visible litter on Texas Department of Transportation (TxDOT)-maintained roadways compared to four years earlier despite a 5.8 percent increase in adult population and 1.5 billion additional miles travelled annually in the state during the same time period.
Hubbub welcomes participation: Individuals and organizations can sign up to contribute their "tried and tested ideas" for tackling litter, provide feedback, or upload their version of an existing project on the Neat Streets website.
Sustainable Brands®
 is a global community of brand innovators who are shaping the future of commerce worldwide. Since 2006, their mission has been to inspire, engage and equip today's business and brand leaders to prosper for the near and long term by leading the way to a better future. Digitally published news articles and issues-focused conversation topics, internationally known conferences and regional events, a robust e-learning library and peer-to-peer membership groups all facilitate community learning and engagement throughout the year. Sustainable Brands is a division of Sustainable Life Media, headquartered in San Francisco, CA.