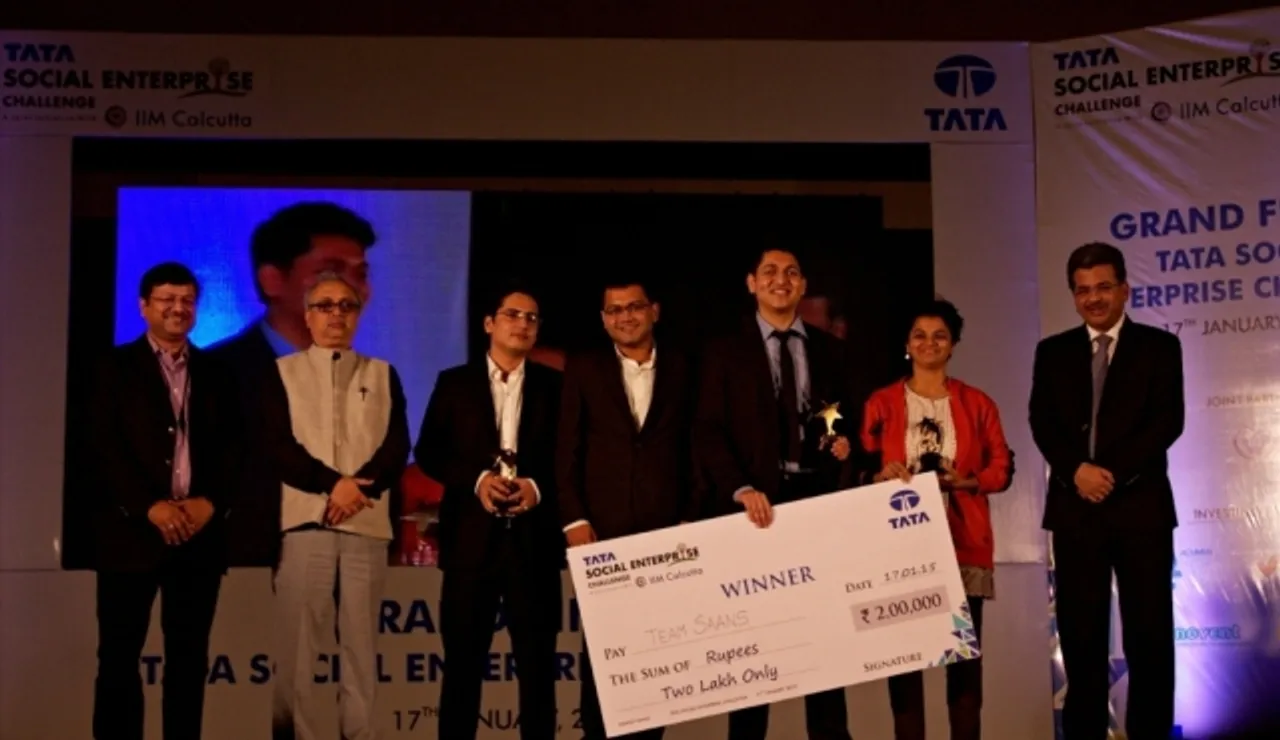 The winners of the Tata Social Enterprise Challenge 2014-15 (TSEC), a joint initiative of the Tata group and Indian Institute of Management Calcutta (IIMC), were announced during the grand finale which was held at the IIM Calcutta campus. The challenge endeavours to find India's most promising early-stage social enterprises, and create an ecosystem for social entrepreneurship – encouraging sustainable, scalable and measurable social impact.
SAANS from Bangalore (Winner), Godavari Women Weaver's Services Producer Company (GWWSPC) from Mandapeta, Andhra Pradesh (1st Runners-up) and Ultrasafe Ultrasound from Kolkata (2nd Runners-up) emerged as the top three most promising social ventures, winning prize money of Rs. 2 lakhs, Rs. 1.5 lakhs and Rs. 1.25 lakhs, respectively. In a first, during the grand finale ceremony, the 2nd Runners-up team, Ultrasafe Ultra Sound, received on-the-spot seed funding Rs. 500,000 plus technical support by Glocal Healthcare Systems (P) Ltd., a West Bengal based healthcare company.
Khalid Abdullah Quidwai, the winner of the Tata Social Enterprise Challenge 2014-15 has developed SAANS, a low cost and easy to use mechanical device to help keep the lungs of newborns open during troubled breathing. Exhilarated with his win Khalid said, "Tata Social Enterprise Challenge is a great platform to showcase our venture and what we are working for. Getting our concept validated in front of esteemed judges is great motivation for us."
Vijayan Switha Gandhi, founder of GWWSPC, who was declared as the 1st Runner-up, has developed a business model to strengthen the weaver base by collectivisation and integrating the entire value chain involved in the handloom process. Explaining further, she said, "When I started my work, I got support from Sir Ratan Tata Trust, and since then it has been a long and difficult but fruitful journey. Today, my journey has come to a full circle. I stand here receiving recognition on a Tata platform for a model, created by my team, the seed for which was a grant from Tata's. I feel very happy and motivated."
The 2nd Runners-up, Abhishek Biswas and Aditya Pangte, have developed Ultrasafe Ultra Sound, which uses a patented technology that automatically prevents the identification of genitalia in live images produced by ultrasound machines. Talking about their project, they said, "Tata Social Enterprise Challenge is the biggest platform for social entrepreneurs. Social entrepreneurship is ignored if we compare it to the mainstream entrepreneurship. This is a great validation of our idea and further motivates us to do better. Thank you Tata and IIM Calcutta."
The ceremony featured special talks by Mr. Anshu Gupta, Founder Goonj, Dr. S.P. Gon Chaudhuri, founder of India's first renewable energy college - NB Institute for Rural Development (NBIRT), Dr.Sabahat Azim, Founder Glocaland Dr. N.S. Rajan, Member - Group Executive Council and Chief Group Human Resources Officer, Tata Sons. Speaking on the occasion, Prof. Ashok Banerjee, Dean (New Initiatives and External Relations), IIM Calcutta, said, "The 3rd edition of Tata Social Enterprise Challenge has been important in terms of both the quality and the quantity of impact proposals received. We are extremely happy to note that this national level contest is eagerly awaited by aspiring social entrepreneurs. The on-the-spot announcement of seed funding to one of the winners of the contest goes a long way to prove the potential of this platform."
The top 10 teams of Tata Social Enterprise Challenge 2014-15 with dignitaries at the grand finale that took place at the IIM Calcutta campus.
Felicitating the winners, Dr. N.S. Rajan, Member - Group Executive Council and Chief Group Human Resources Officer, Tata Sons said, "In its third year, Tata Social Enterprise Challenge has grown into a single platform to catalyse new and promising sustainable ventures, build an enabling ecosystem for these ventures to convert their ideas into sustainable impact, create awareness of the social entrepreneurship field, and educate and mentor future champions of change. We are delighted to have IIM – Calcutta as a partner. Their expertise and mentoring proves extremely valuable in making this initiative a success. In line with the Tata group's ethos of giving back to the society, the group through this platform endeavours to encourage innovative ideas and talent that will help in bringing about a change for the larger good of society. It is heartening to see the passion that these entrepreneurs have to make a difference and we wish them the very best of luck."
Tata Social Enterprise Challenge 2014-15 kicked-off on August 25, 2014 and invited social entrepreneurs who either had an early stage venture (not older than 3 years) or a promising idea with a plan that could create sustainable social impact in India. Impact Proposals (detailed Business Plans) were invited in the areas of education, health, agriculture, technology, sanitation, and handicrafts, among others.
Apart from the top 3 winning ventures, the 7 ventures that have made it to the top 10 finalists are, Nyayika, Leaps & Bounds, Tinker Tank, Centre for Social Consulting India Pvt. Ltd, Sukhibhava, Autoraja Mobility Solutions Pvt. Ltd, and Future Society. The ventures were judged on three parameters - Business Model, Social Impact and Sustainability. All the top 20 teams have been mentored by Ashoka Innovators for the Public and Villgro, and the IIM Calcutta faculty. The social VC partners of the initiative were Acumen, Ankur Capital, Yunus SocialBusiness and Ennovent. The teams also had an opportunity to network with mentors, experts and fellow social entrepreneurs.
For more details and updates on the 'Tata Social Enterprise Challenge, please log onto http://www.tatasechallenge.org/