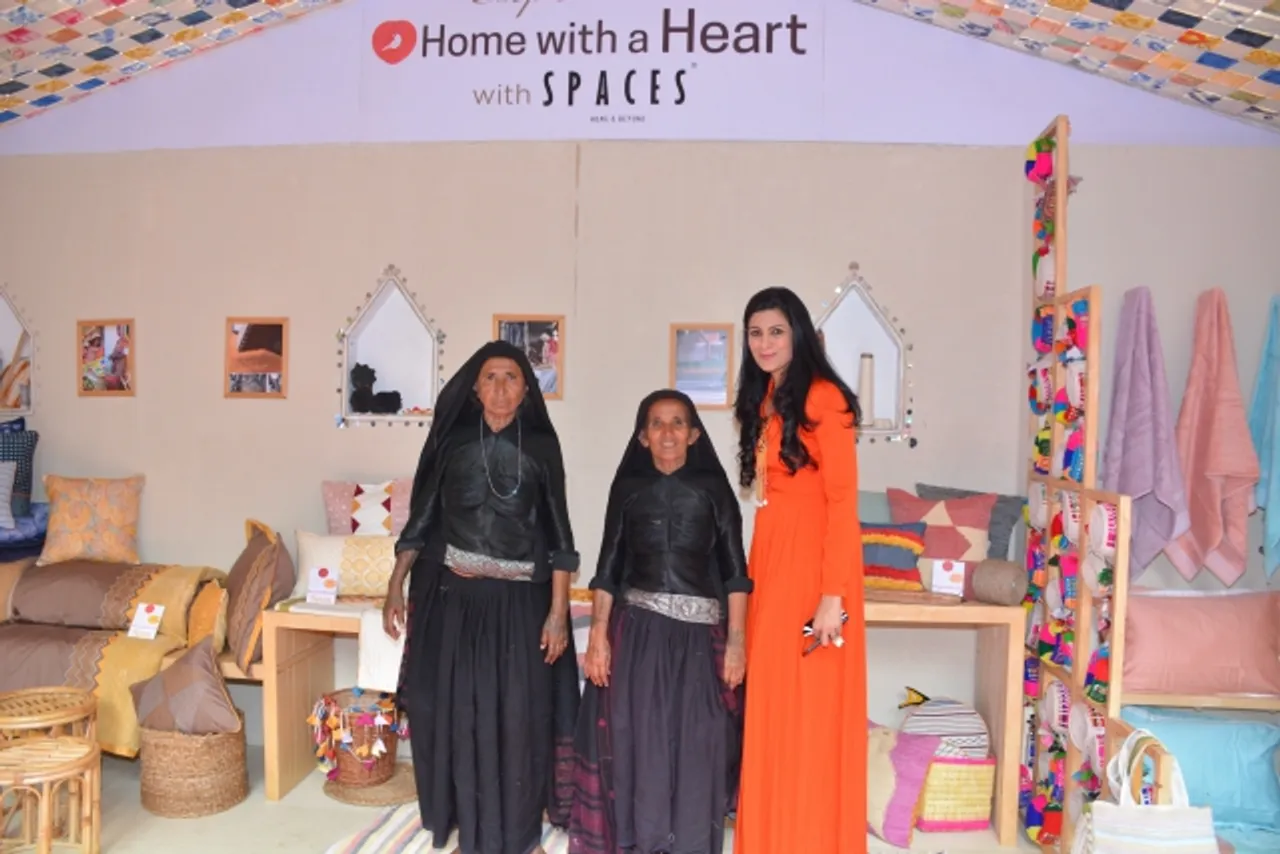 Mumbai (February 4, 2017): SPACES Home & Beyond from the house of Welspun presented the 'Spun Women of Gujarat' at the Kala Ghoda Arts Festival 2017. Art lover and philanthropist, Dipali Goenka, unveiled Spun's live installation at the festival. This was the first time that the 'Spun Women of Gujarat' have presented at a public forum their globally renowned art.
Dipali Goenka, along with Megiben Rabari and Bejiben Rabari, the two Spun women, presented the art aficionados the rich heritage and art of Kutch that today adorns the rich and famous of the world. The two women – once devastated by the Gujarat earthquake of 2001 – are the flagship artisans developed from Ms Goenka's empowerment programmes in the region. The women from Gujarat demonstrated their exquisite craft to the amazed festival visitors and media.
Said Dipali Goenka, who is also the CEO and Joint MD of Welspun India Limited, "Spun is an initiative that is very close to our hearts, and through this initiative we have been addressing both social and environmental issues. Spun has helped empower women in Kutch, who were till just a few years ago facing a number of hardships. The awe-inspiring art they produce is now being sold across the globe, and nothing makes me happier than knowing that we helped put the art of Kutch on the global map."
The 2001 earthquake had left behind vast devastation, leaving several women widowed, and penniless with children to care for. This was when the idea of Spun was born, with an intent to support women in the villages of Kutch by giving them the skills to earn a respectable income. The initiative helped revive the dying art of Kutch and also turned the hobby of these women into a much sought-after profession. Welspun, through its global distribution network, has been selling these products to art lovers across USA, Canada, UK and several parts of Europe, under the brand name 'Spun'.
The Spun products are made out of the textile waste generated from Welspun's factories and includes exquisitely handcrafted quilts, decorative pillows, bedding accessories and several home fashion items, bring to life the rich folklore, history, songs and ballads of the Kutch land, all woven into lively and classy products.