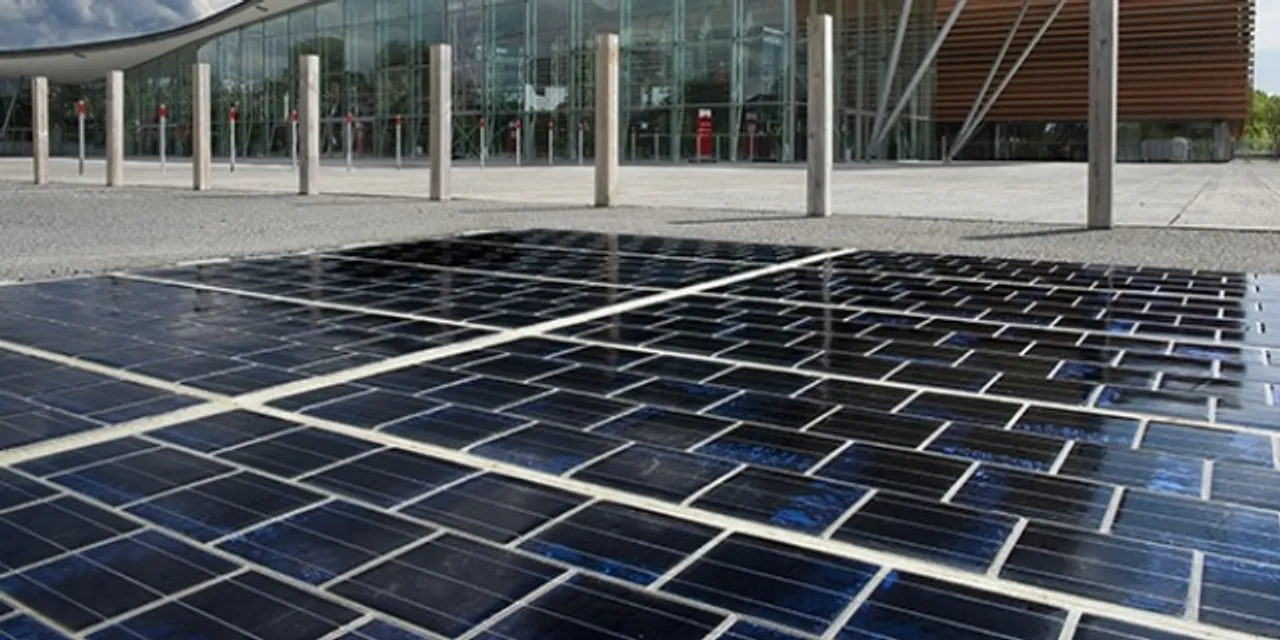 French engineering giant Bouygues Group is making a convincing case for reinventing the wheel, rolling out four new solar road projects across four continents that could change the way we drive by 2018.
Colas SA, a subsidiary of Bouygues Group, has designed solar panels that are rugged enough to withstand the weight of an 18-wheeler truck — and are currently building them into road surfaces in France. Colas has been performing research and laboratory tests over the past five years and now plans to construct 100 test sites to further test the new technology before commercializing it in 2018.
"We wanted to find a second life for a road," said Philippe Harelle, chief technology officer at Colas SA's Wattway unit. "Solar farms use land that could otherwise be for agriculture, while the roads are free."
This type of thinking is becoming more prominent as the costs associated with solar begins to drop and new ways to harness energy in urban environments are explored. Back in 2014, Sweden's Scania and Solar Roadways in the United States took a similar route to the one currently being explored by Bouygues, as did the UK's PaveGen — albeit on a smaller scale: the startup installed innovative, energy-harnessing floor tiles in schools across the UK and New York City. And just last month, Tesla Motors Inc. unveiled new roof shingles that double as solar panels. Others are innovating new ways to incorporate solar panels into building façades and even wallpaper
Image Credit: Wattway
Unlike the world's first solar road, a bike commuter path in Krommenie, Netherlands, a solar road intended for vehicle use requires sound structural engineering to protect the panels and design elements that keep drivers safe. So how is this all feasible? Standard panels are safeguarded by layers of plastic to create a sturdy, durable casing that can resist the weight of traffic. Electrical wiring is laid into the road and each unit is covered with an anti-slip surface made from crushed glass.
The village of Tourouvre in France's Normandy region is the location of the first test site. The kilometer-sized test site consists of 2,800 square meters of solar panels, and is expected to generate 280 kilowatts of energy at its peak capacity — enough to power all the public lighting for the town of 5,000 for a year, according to Wattway. The company has plans to test the new technology in Calgary, Canada; the state of Georgia; and throughout the European Union, Africa and Asia.
Each test site will experiment with different forms of power generation. The project in Tourouvre will feed directly into the grid, while other sites will be used to charge electric vehicles, power a small hydrogen production plant, light billboards and link to street lights.
"We need to test for all kinds of different traffic and climate conditions," Harelle said. "I want to find the limits of it. We think that maybe it will not be able to withstand a snow plow."
At €2,000 and €2,500 per square meter (which includes monitoring, data collection and installation costs), the cost of constructing a solar roadway makes only demonstration projects sensible at this time. By 2020, the company believes it can make the price competitive with traditional solar farms.
Source:
Sustainable Brands®
 is a global community of brand innovators who are shaping the future of commerce worldwide. Since 2006, their mission has been to inspire, engage and equip today's business and brand leaders to prosper for the near and long term by leading the way to a better future. Digitally published news articles and issues-focused conversation topics, internationally known conferences and regional events, a robust e-learning library and peer-to-peer membership groups all facilitate community learning and engagement throughout the year. Sustainable Brands is a division of Sustainable Life Media, headquartered in San Francisco, CA.