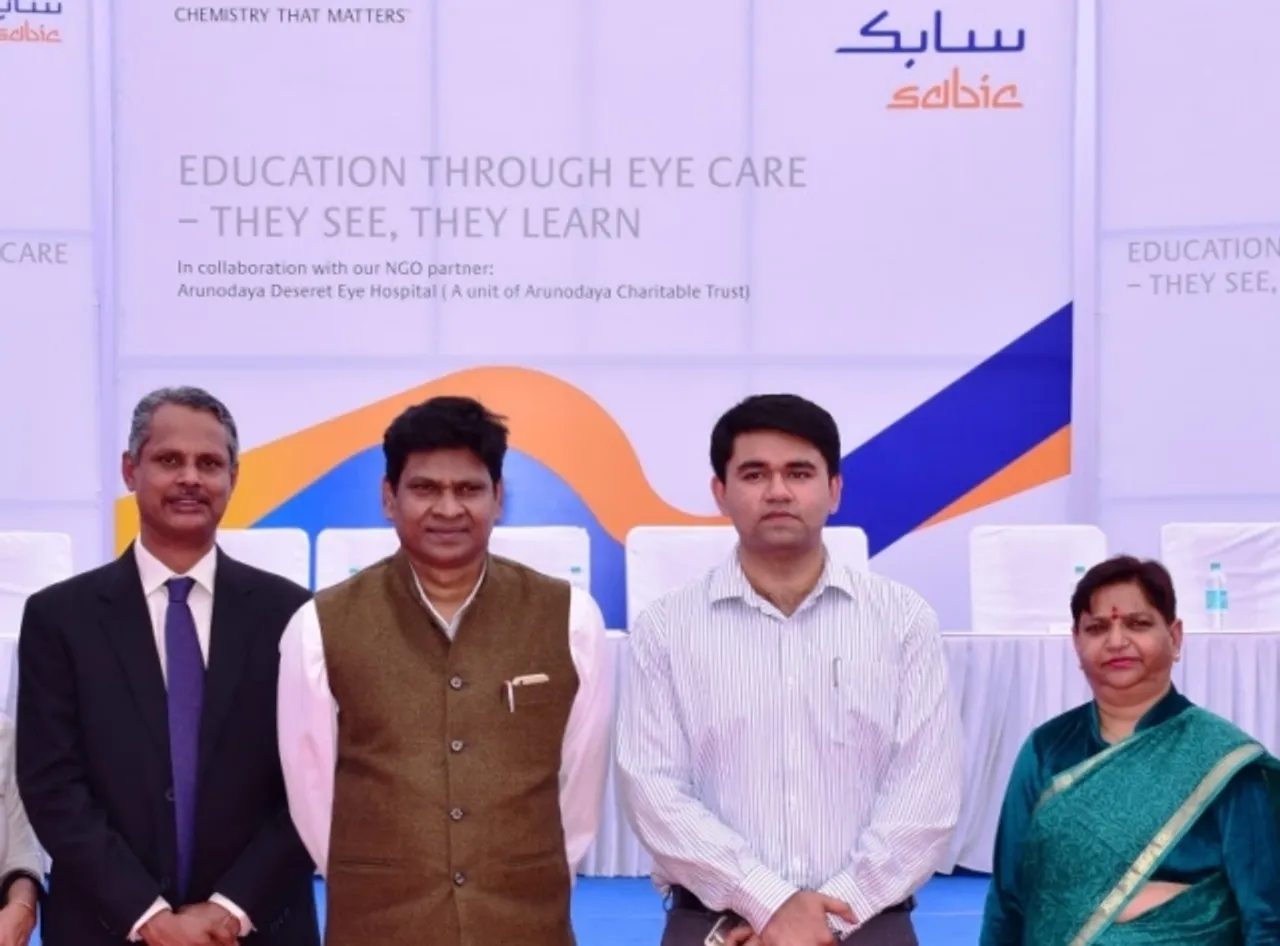 SABIC has reached a milestone of touching the lives of over 15,000 government school children in Gurgaon through its "They See, They Learn" eye care initiative and targets to reach 20,000 children by April 2016. As part of SABIC's ongoing corporate social responsibility commitment, the eye care initiative focuses on education by vision screening of govt. school children in class 6 to 12 across over 20 schools in Gurgaon, India and providing spectacles free to children found with correctible vision.
Among the 15,000 school children screened, 14-15 percent required spectacles and some additional 3 percent required further testing for other eye ailments and were organized to be referred to district hospital, by the district administration.
Dr. D. Suresh, IAS, Commissioner, Gurgaon Division said, "I appreciate the collaborative efforts of Gurgaon district administration, SABIC and the NGO for completing vision screening of over 15000 children in more than 20 government schools in Gurgaon. I am impressed with the documentary made by SABIC which captures the effort that goes behind the successful execution of such project and encourage more corporates to join this campaign, extending benefits to the children from not only Haryana, but, whole of the nation."
Speaking on the occasion, Janardhanan Ramanujalu, Vice President, South Asia & ANZ, SABIC, said, "We thank the Gurgaon district administration, our NGO partners Arunodaya Charitable Trust and SABIC team for meticulously executing this initiative at such a massive scale and delivering one of the most cost efficient solutions impacting the lives of thousands of school children. SABIC intends to continue and reach out to total 1, 00,000 government school children in a year's time."
T.L. Satyaprakash, IAS, Deputy Commissioner, Gurgaon said, "Vision care is an important aspect of health which directly affects the education of children. We appreciate the support from SABIC and their NGO partner in aiding the district administration's efforts to screen less privileged school children for eye related issues through their initiative "They See, They Learn", and try to address them at an early stage."
Dr. Sethi, Arunodaya Deseret Eye Hospital, a unit of Arunodaya Charitable Trust, said, "We are happy to be associated with SABIC's CSR project 'They See, They Learn" which has enabled many of the village children to get proper vision with the help of proper screening and specs distribution."
SABIC embarked upon the Eyecare initiative "They See, They Learn" in 2014 and till date, has increased its total reach to over 60,000 children across four cities in India where it operates - Delhi, Gurgaon, Bengaluru and Vadodara. With employee engagement at the core of SABIC's corporate social responsibility, 200 SABIC employees volunteers across India spent over 6000 hours volunteering for the "They See, They Learn" initiative in last two years, working closely with the program partners and supporting with on-ground logistics.
SABIC's other CSR programs in India, aligned with CSR RAISE (Reputation, Audience, Innovation, Strategy, Endurance) strategy, include countrywide blood donation drive, reconstruction of schools in Bengaluru and Vadodara, sponsoring less privileged youth for residential courses in injection moulding operator's program in Central Institute of Plastics Engineering & Technology (CIPET) Chennai, Hyderabad and Ahmedabad, restoration of lake in Bengaluru. To read more about SABIC's CSR strategy and find out more about our CSR programs, visit here.
Press Release Source: