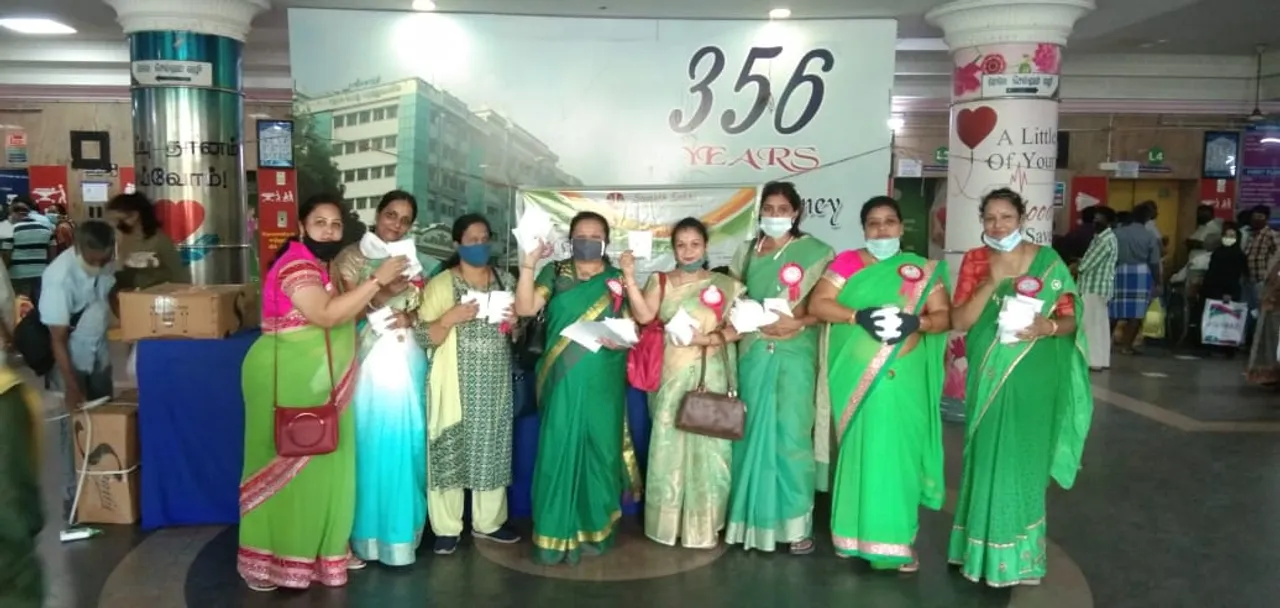 Did you know, only 18% of India's menstruators have access to sanitary napkins?
With COVID-19, the number of women with access to sanitary pads has gone down drastically. In some cases due to lack of work, food has now become a priority.. During times like this, their menstrual health is relegated to the background. Poor menstrual hygiene can result in fungal and bacterial infections in the reproductive and urinary tract. They are also at the risk of Hepatitis B and cervical cancer. Furthermore, lack of options for managing periods affects both physical and mental health of the menstruator resulting in shame causing lack of confidence. Most female school children from rural areas got access to sanitary pads only from their schools. With schools shutting down indefinitely because of COVID-19, coupled with the inability to move freely, it has been extremely difficult for women to get sanitary napkins. They end up practising unhygienic methods like filling up socks with sand and tying them around their waists in the hope that it will absorb menstrual blood, using old pieces of cloth, reusing the same material, and using dried leaves, newspapers, etc.
Saathi from the inception has worked towards addressing the issue of lack of access to sanitary pads and made sure we do not create plastic waste.
This year when India celebrates 72nd Republic Day, Saathi & Dori Sakhi joined hands together in a bid to combat period poverty - a cause which forms the foundation for Saathi. Under the Clean India - Healthy India programme, Saathi & Dori Sakhi organised an event "Sawastha Sakhi" (Healthy Friend) in which biodegradable sanitary pads were distributed in Chennai at Central Railway Station and at Rajiv Gandhi Government General Hospital.
Saathi & Dori Sakhi together established a world record on this occasion with the number of pads distributed. The Chief Guest of the event was Mr. Gauri Shankar Rathi. Also, the Asia Head of Golden Book of World Records, Dr. Manish Bishnoi joined Mr. Tarun Bothra from Saathi & Ms. Neelam Sharda from Dori Sakhi.
The other renowned guests in the event were Dr. Vijay Raghvan, Mrs. Kamla Sajjan, MrRaj Mehta from the Rajasthan Patrika Editorial Team, Rajiv Gandhi General Hospital RMO Dr. Subramani, Central Railway Station's Station Director Mr. V. Umashankar. Rajasthan Patrika (Chennai) was our media supporter in this women health awareness event, which began at 10:30 AM on 25th January, 2021. Neelam Sharda from Dori Sakhi said, We are so glad to partner with Saathi in this record.
This is a start to introduce biodegradable pads in these communities and spread awareness about sustainable menstruation. We look forward to more such collaboration towards happy and health periods.
All the safety norms were followed in the event and 20,000 sanitary pads were distributed in the course of the entire day.
---
Disclaimer: This story has not been edited by CSRLive Staff and is auto-generated from news agency feeds | Source: Saathi|