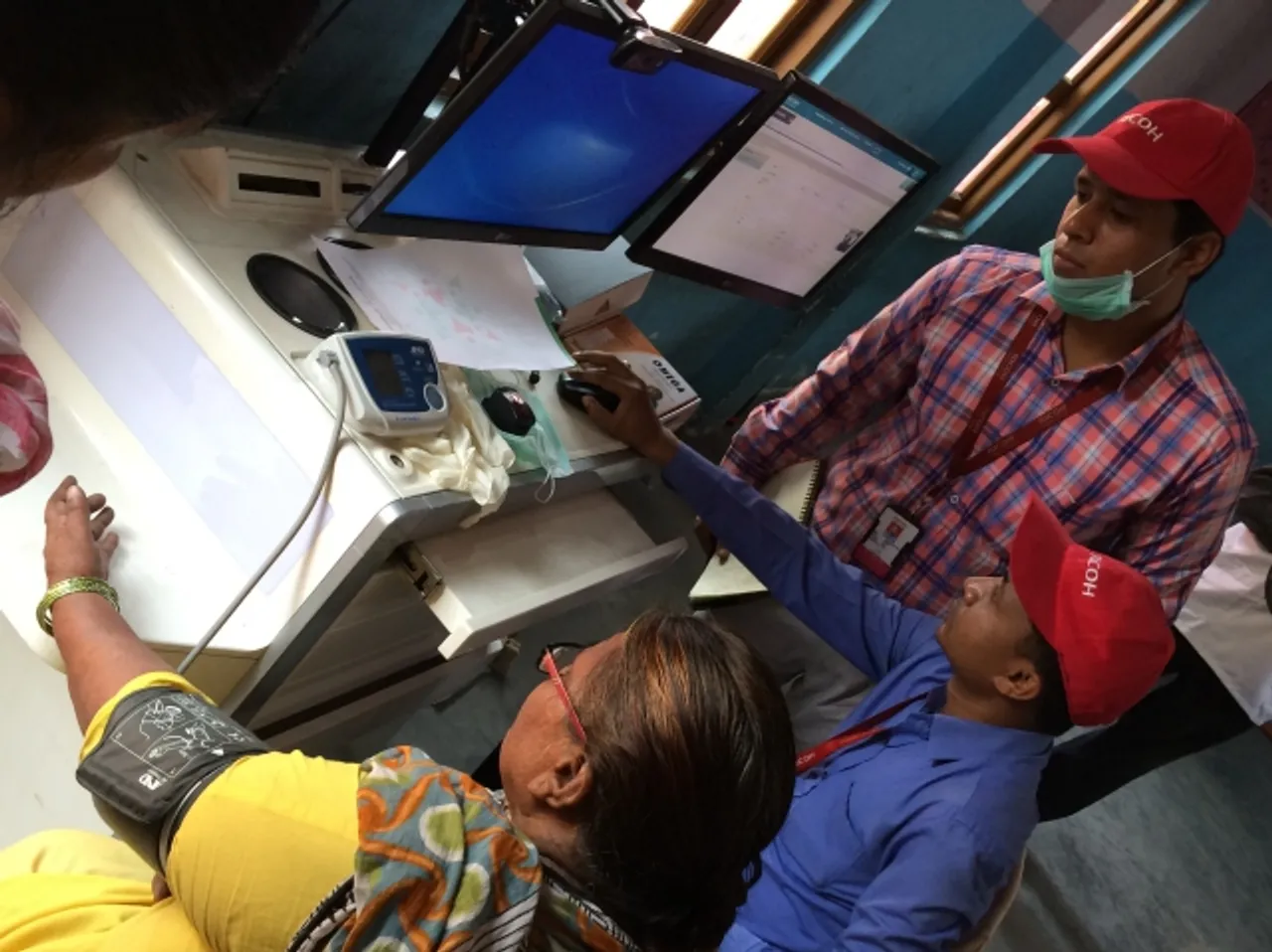 New Delhi:  Ricoh India recently celebrated the World Red Cross Day, by organizing a free health checkup camp for the community residing at Jaitpur extension in the outskirts of South-east Delhi. The medical camp leveraged the company's remote healthcare delivery platform for conducting of remote diagnostics and live consultations at the camp site.
This camp was conducted in association with the Indian Red Cross Society (Delhi branch) with ground mobilization and implementation by MediHelp Foundation, a local NGO having domain expertise. The day long free health check-up camp enabled facilities such as consultation, blood tests, eye checkup, frames+lenses and medicines which was availed by nearly 400 residents who registered for the check-up. It was attended by the leadership team along with a team of doctors, nursing staff and volunteers from the Indian Red Cross Society (Delhi branch), Ricoh India and Apollo Hospital (Sarita Vihar).
Dr. Rakesh Gupta, senior consultant at Apollo Hospital (Sarita Vihar) who visited the camp offered the expert support of his team in conducting of similar projects in future for societal well-being.
Speaking about the program, A. T. Rajan, MD & CEO of Ricoh India said, "At Ricoh, we are committed to providing excellence to improve the quality of living. We believe that being healthy is important for all and the company can play a meaningful role in the betterment of community by organizing such technology-enabled health camps. We strive to enhance the healthcare services for the nation through our domain expertise in information and communication technology (ICT) and the value chain of our health care vertical."
Present on the occasion, Ashok Malik, Hon. Secretary of Indian Red Cross Society (Delhi), said, "Red Cross stands for the most important aspect of human life which is 'health', within the framework of its seven principles –humanity, impartiality, neutrality, independence, voluntary service, unity and universality. Theme for today's celebration is 'Everywhere for Everyone'. It means making essential health services available to all. This camp organized and supported by Ricoh India Ltd. for the vulnerable and needy part of the society is a true testimonial to the humanitarian spirt of the Red Cross movement."
In sharing his experience in implementation of the camp, S. N. Raza, Managing Director of Medihelp Foundation said, "In our years of experience in conducting medical camps, we felt non-accessibility to primary health care is one of the basic reasons for poor health conditions among the underprivileged community. Support and technological expertise by Ricoh can enable not just accessibility to quality healthcare for the people in remote parts but also reduce the cost of logistics".