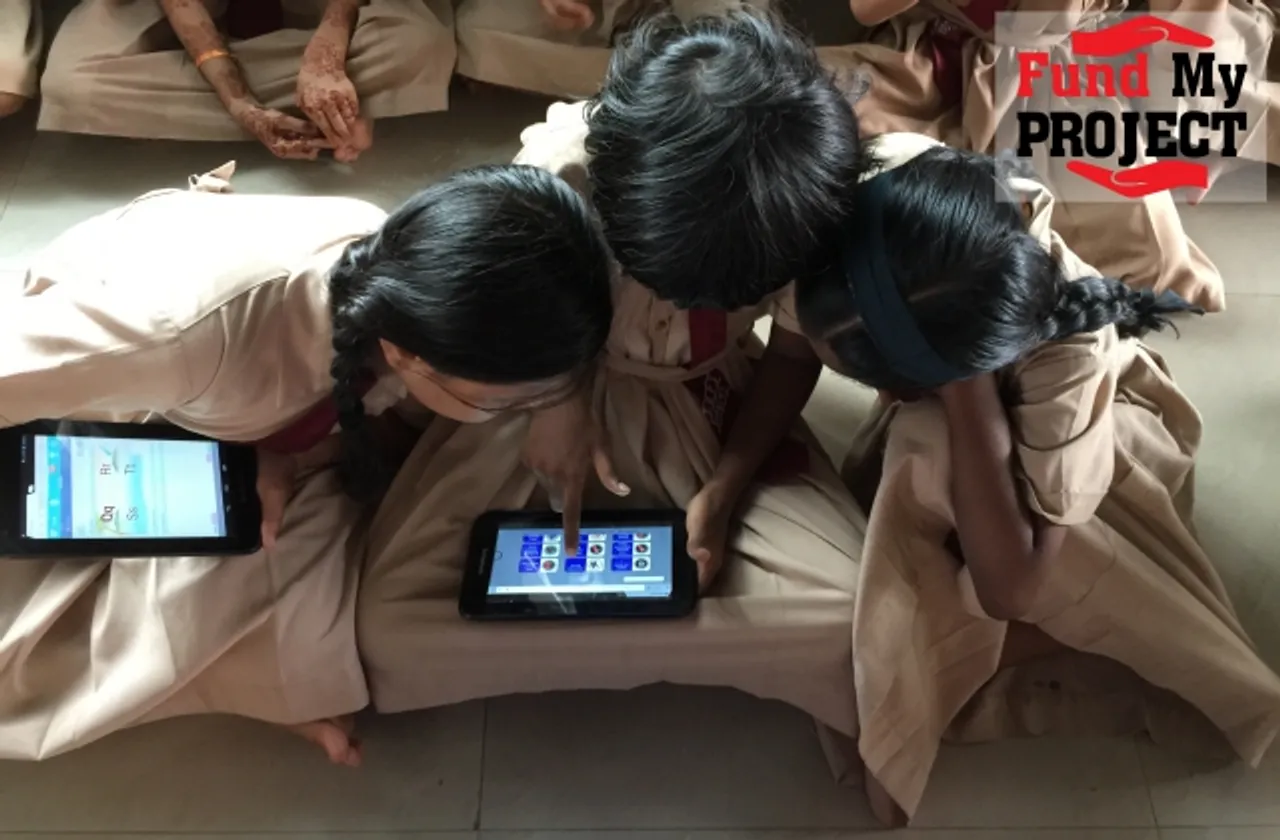 Here's how your CSR funds can leverage Android for truly impactful learning through the TABLAB & bring high quality, effective, self driven, skill oriented education to bottom of the pyramid in India.
Project by: Gudskool Foundation
Location: Gurgaon
Category: Eligible CSR activity as per Companies Act 2013, Schedule VII
(ii) promoting education, including special education and employment enhancing vocation skills especially among children, women, elderly,… and livelihood enhancement projects;
Funding Required: INR 1 Cr. to setup Tablet based labs in 25-30 schools across different target regions) for FY-16-17
Working Since: 6 years (2010 – 2016)
The tab based lab becomes the student's first personal source of edutainment, and therefore proactive learning will begin to happen
Unique Concept: Gudskool Foundation and its team has been working in the domain of interactive and enjoyable learning for schools since 2010. The organization envisions facilitating more meaningful school education via interactive learning labs powered by multimedia and android devices. Leveraging the students natural affinity to touch based devices, and the engaging capability of learning apps, multimedia and games, the Tablab offers an effective, self driven and skill oriented learning to the bottom of the pyramid in India.
The Proposed Project: The TABLAB project plans to setup Tablet based interactive learning labs for government schools. It combines the best of learning tablets, safeguarded in a lockable, auto-charging trolley (movable or fixed) installed with easy to use, interactive learning apps, multimedia and games for all grades. Such a high usage and effective multimedia lab shall facilitate enjoyable, regular and impactful learning in a secure, easy to use lab setup to the government school students with lesser teacher dependence.
Key Features of the Tablab:
The tab based lab becomes the student's first personal source of edutainment, and therefore proactive learning will begin to happen
The intimidated govt school teacher enjoys being the facilitator only, and lets the excited student drive the fun based learning via tablets in a secure environment
A lockable, auto charging trolley which is specially designed for government schools, removes all hardware, usage, charging and safety issues, therefore offering the most usable and applicable computing solution for the underserved government schools.
The Impact Area: Rural India is sitting on the verge of a mobile and android revolution. Tablab aims to leverage this reach of android and the engaging power of touch based multimedia, to offer a level playing field to those underserved students creating a fundamental, life shaping impact to theirs and their families future. Proactive and skill oriented learning is the base for any possible upliftment in rural regions. The student centric learning lab shall make the students willingly run to school to play on magical tablets, connect theory to applicable skills and in the process give them life shaping, skill oriented learning for a brighter future.
Increased participation is seen in classrooms with tabs
Overview of funding required and operational strategy:
Funding estimate of INR 1 Cr has been calculated at an average cost of INR 3 to 5 lac per school (depending on number of tabs from 10 to 30 as per student strength). This is easily scalable further to a larger reach & regions based on funding organization's confidence and satisfaction on cognitive outcomes of the project.
The project plans to setup and support the tablet-based labs for three years time, to ensure best usage and showcase genuine long-term impact on learning levels, attendance and cognitive skill building in the students.
Post installation, the project shall be directly supported with in-person training and usage visits, handholding, monitoring and recording the best of impact with follow up improvement plan.
The project shall best sync with organizations working to leverage the power of mobile in learning for the rural population, and those who are committed to deliver truly impactful learning programs for government schools.
The mobile learning initiative can be customized and structured for Corporate partners and implemented at schools in their target locations and regions.
Some facts & figures:
The project will have an estimated direct impact on 15000 – 20000 students and their families in the region, with further free learning app dissemination to parents with low cost android phones.
The project will also initiate a "learn via mobile" campaign in the 25 to 30 villages where the government schools shall be selected for setting up the Tablabs.
One 10 tablet lab can offer interactive and enjoyable learning platform to 100-150 students on a regular basis, transforming the way they feel about school and learning.
Want to Fund this Project?
Write to us at editor@csrlive.in and we will assist you with the process.
Looking for funding?
If you have a social project that's high on innovation and impact, but running low on financial fuel, do write in to Nidhi Singh at nidhi@csrlive.in with your proposal, and we'll feature it on FUND MY PROJECT.