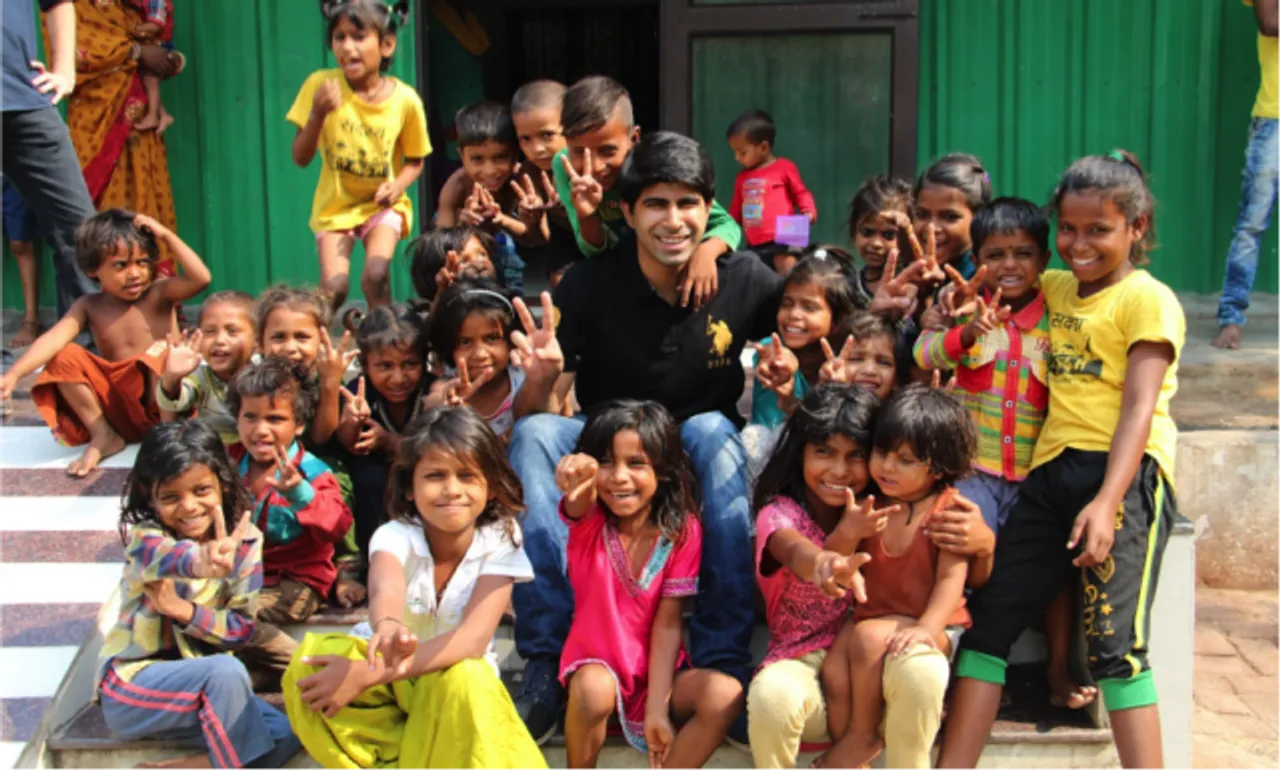 New Delhi (June 20, 2017): A young Indian man committed to solving hunger and malnutrition in India has been selected to receive the prestigious Queen's Young Leaders Award for 2017. Ankit Kawatra will be awarded by Her Majesty the Queen Elizabeth II for his exceptional work, at a ceremony to be held in the Buckingham Palace on 29 June.
Ankit Kawatra, 25, is the founder of Feeding India, a not for profit organization that works towards solving problems of hunger, malnutrition and food wastage, mainly by redistributing extra food from restaurants, canteens, households, corporates, etc. to people in need. Ankit against all odds started Feeding India in 2014 (at 22), quitting his corporate business job to work towards ending hunger in the country, after witnessing massive amount of extra food being thrown away in a wedding. Starting from a team of 5 in 2014, today, Feeding India works in 43 cities with 4,500 volunteers and has served more than 8.5 million meals to vulnerable individuals in need such as children, women, old age citizens, disabled people, etc. His mission is to end hunger in his lifetime. "India wastes 67 million tones food every year which is more than the national output of Britain. If no one else was working on it, I had to take the first step to channelize the excess food" said Ankit.
"Getting this honour from the Queen herself at the Buckingham Palace is a huge honour, something that I could not even dream of. I also believe that this is a landmark for both countries, especially since UK and India have a shared history on so many fronts. An Indian's presence at the Buckingham Palace today symbolizes the long way the two countries have come, and proves once again, how we can do so much more if we work together peacefully" said Ankit. "A huge salute to each and everyone of the 4,500 Feeding India volunteers who relentlessly make efforts to provide food to people in need doing so much for the country and the people."
Ankit will also be a part of a 10 day residential program before receiving the award. He will stay at the University of Cambridge for the first few days as a part of different learning workshops and exercises. He will then travel to London to network with some of the world's leading business heads and philanthropists at political events and later awarded by Her Majesty the Queen Elizabeth II, at the ceremony to be held in the Buckingham Palace. "We recognise not only what these amazing young people have achieved, but also their potential in changing people's lives for the better in the countries and communities in which they live," said Astrid Bonfield, chief executive of the Queen Elizabeth Diamond Jubilee Trust.
Ankit has been chosen for the Queen's Young Leaders award in UK for his exceptional work in transforming the lives of others and making a lasting difference in the communities. Ankit added, "Food is a fundamental human right and the massive problem of hunger and malnutrition in the country is a man-made phenomenon. Globally, there is more food available than needed. Despite being one of the fastest developing countries in the world, India has the highest number of undernourished people in the world. I am determined to eradicate hunger and I realize that this cannot be done unless we establish a global movement. I learn from peers and mentors not just for my personal growth but also my professional skills." He further added "through the 10 day residential week, I want to highlight the importance of solving hunger and encourage people to take action towards the 725 million people around the world who do not even have basic food and nutrition. Undernourished people fight hard to get three meals a day and cannot fight for themselves, let alone fight for their human rights.", Ankit said today. "Selection as one of The Queen's Young Leaders will enable me to meet and learn from some of the world's top business leaders, social activists, politicians and provide me invaluable opportunities to share ideas and the importance of solving hunger with a worldwide network of young social leaders dedicated to implementing positive and enduring social change in their communities."
Established by The Queen Elizabeth Jubilee Trust, the Royal Commonwealth Society and Comic Relief to mark the Queen's 60 years on the throne and six decades of service to Commonwealth nations, the Queen's Young Leader Awards are designed to "discover, celebrate and support 60 exceptional young people from across the Commonwealth, aged 18-29, who are taking the lead in making a lasting difference in their communities and using their skills to transform the lives of others".
The 60 inspirational young people chosen as Award winners, from among thousands of nominees across all 53 Commonwealth member countries, are working to support others, raise awareness and inspire change on a variety of different issues across the globe including climate change, gender equality, youth unemployment, anti-bullying strategies, hunger and education reforms. The award winners also attend a year-long program of training and mentoring facilitated by the Institute of Continuing Education, University of Cambridge. (More information on all the Award recipients: www.queensyoungleaders.com)
Ankit was also selected as one of the 17 United Nations Young Leader for the Sustainable Development Goals in 2016 to raise awareness about the United Nations SDGs among the youth of today and was most recently listed as a Forbes 30 Under 30 Honoree along with actor Alia Bhatt, gymnast Dipa Karmakar, Olympic medalist Sakshi Malik, etc.