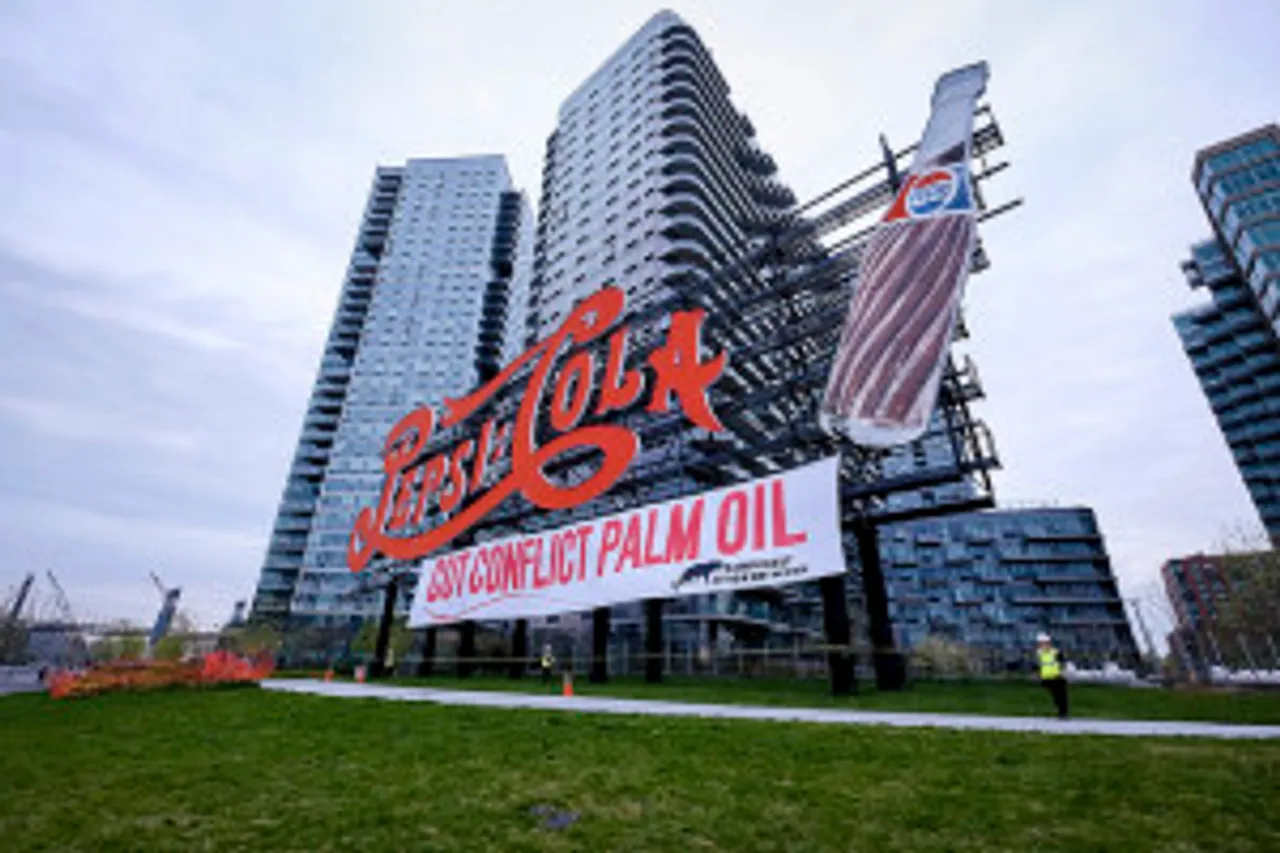 New York: Activists with Rainforest Action Network (RAN) recently scaled the iconic Pepsi sign in Gantry State Park along the East River in Queens and dropped a 100 x 15 foot banner calling on snack food giant PepsiCo to eliminate Conflict Palm Oil from its supply chains.
The action is the latest escalation in the three-year campaign to pressure the company to address the egregious human rights abuses and deforestation in its palm oil supply chain and commit to using only responsibly produced palm oil for all its globally branded products. While many of PepsiCo's competitors have adopted aggressive timelines to source only responsible palm oil, PepsiCo has continued with a 'business as usual' timeline of 2020, positioning the company as a laggard among its peers.
"Pepsi has known for over three years about major environmental and human rights violations in its palm oil supply chain, but the company has fallen short and continues to drag its feet instead of taking the kind of decisive action needed to address this urgent problem," said Robin Averbeck, senior campaigner with Rainforest Action Network (RAN). "Every day Pepsi delays cleaning up its palm oil problem is another day when countless plantation workers continue to suffer under brutal labor conditions, the last Sumatran orangutan and tiger habitat continues to fall and massive carbon emissions continue to pour into the atmosphere from burning rainforests."
For nearly ten years, RAN has been targeting the destruction of rainforests, severe climate impacts and human rights abuses that accompany palm oil plantations. The exponential expansion of these plantations has made Southeast Asia ground zero for deforestation and carbon emissions (from the systematic draining of carbon rich peat swamps and intentional burning of rainforests). RAN launched its Snack Food 20 campaign to highlight some of the largest snack food brands on the planet that have been driving the demand for cheap palm oil and creating this environmental and human rights disaster.
PepsiCo is the world's largest globally distributed snack food company and the biggest remaining brand among the Snack Food 20 that has failed to put forward a comprehensive responsible palm oil policy. PepsiCo's current palm oil policy has a 'loophole the size of Indonesia' in that it does not require compliance from its joint venture partner Indofood, which produces all Pepsi branded snack foods in Indonesia.
"The time for excuses and half measures is over," said Ginger Cassady, Forest Program Director at Rainforest Action Network. "Pepsi is a globally influential, multibillion dollar brand. It has both the power and the resources to tackle the palm oil crisis head on to drive real change through its suppliers down to the forest floor where it is so desperately needed. All that's needed is the will to do the right thing. Continuing with business as usual is simply no longer acceptable."
You can read see the Snack Food 20 scorecard, and download the full report, here.
Re-published from
MySocialGoodNews.com
as part of CSRlive's collaboration with
Your Mark On The World