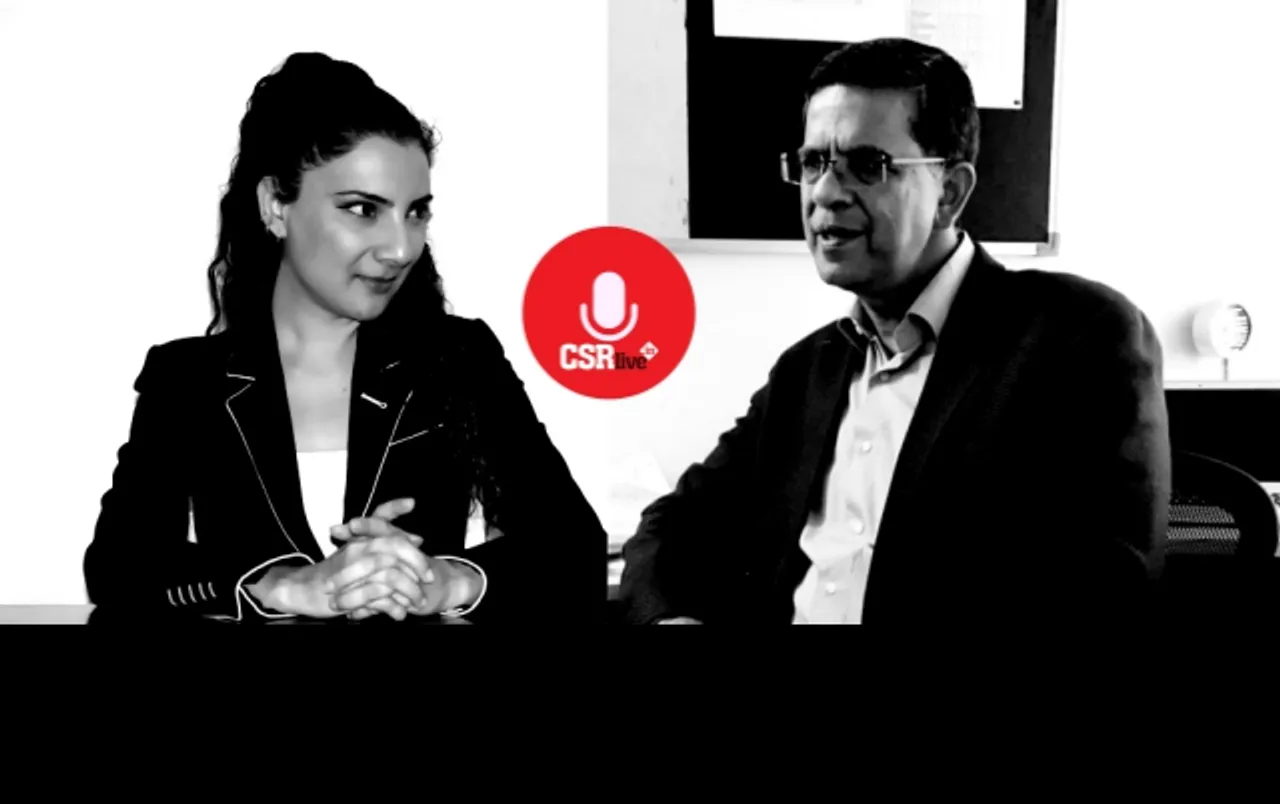 Arun Nagpal, Co-founder of MRIDA Group, a social business venture that focuses on sustainable, scalable models for 'holistic rural development' talks to Nidhi Singh, Executive Editor, CSRlive.in about the fast developing CSR landscape in India and the positive signs to look out for. Here are some excerpts from the interview:
Scroll down to listen to the PODCAST now. Or click the PODCAST button here:
Excerpts:
Recommends creating & implementing sustainable, financially viable business models which can contribute to holistic development at the base of the pyramid.
One of the key intervention areas of MRIDA is setting up solar micro-grids to electrify villages and use the energy access for livelihood, education and women's empowerment.
They also work on agricultural interventions, working with small and marginal farmers and encouraging them to cultivate high-value plants, crops & herbs. MRIDA then buys the produce at better price points than what the villagers would normally receive and use their experience, supply chain, logistics, branding and marketing to give market access to the farmers.
Worked on unique village development projects with IL&FS that started out initially only as an energy access initiative and expanded into several other interventions including women's empowerment via stitching classes, effective education via introduction of new tools & techniques, e hub for information & entertainment, a highway touch point providing clean toilet facilities and a shop to showcase village handicrafts. They also further expanded the project to agricultural interventions.
Unique aspects of MRIDA's holistic rural development model includes creating a small 'village economy'  by adding stimulus with CSR funding thereby accelerating the 'village GDP'. Also, nothing comes free to the villagers. They pay for the services like energy access, etc and the funds thus generated go into the Village Development Fund (VDF), which is used for other development activities that are undertaken by the Village Development Committee (VDC) comprising of villagers.
Another interesting intervention MRIDA introduced was part of the MPowered Villages developed for Mahindra & Mahindra's CSR where along with the above mentioned rural development initiatives an E-Rickshaw was introduced to connect village hamlets which are usually located 8-10 kms apart. The battery operated E-Rickshaw is run by a village level entrepreneur who pays only 10% of the set up cost via EMI to the VDC.
CSR law - Arun Nagpal sees the CSR law as a positive move by the Government as it provides more opportunities for CSR funding coming into the development sector.
By and large, a positive trend of many instances of Corporate companies implementing CSR really well. Sees progressive, more aware Companies in the current CSR landscape who are discussing CSR at the Boardroom level. Many Companies are also already working beyond the comfort zone of their own area of operation to develop remote areas with an urgent need for multiple interventions.
Arun believes that regulation of CSR implementation by the Government should be encouraged to an extent, however, self-regulation and impact assessment by the corporates themselves is a more long-term, sustainable approach.
https://soundcloud.com/csrlive/podcasts-arun-nagpal-interview