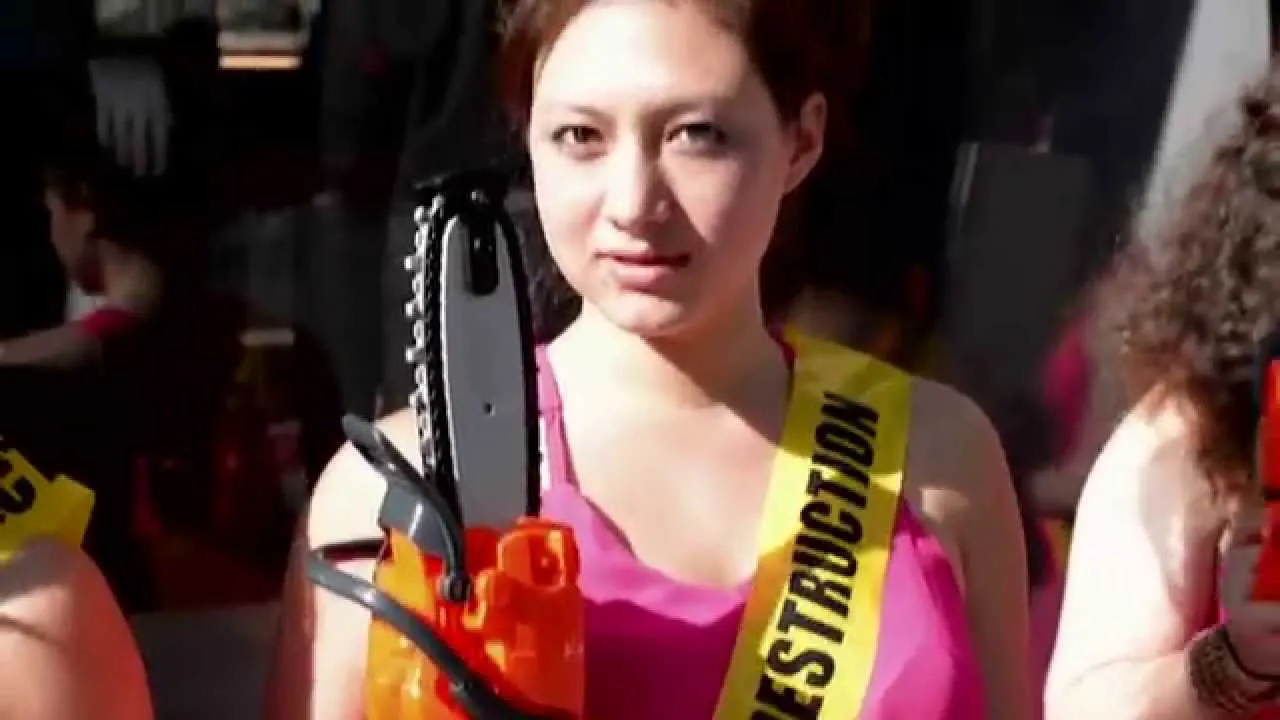 SAN FRANCISCO, CA: The struggling Abercrombie & Fitch -recently named the 'most-hated retailer in America' - announced weak profits in its fourth quarter, as hundreds of consumers took to the phones and literally called on the company to address the potential deforestation and human rights abuses in its supply chain.
Tens of thousands of American shoppers have directly contacted Abercrombie & Fitch to call attention to the disastrous environmental and social impacts of forest-sourced fabrics and to ask the company to take immediate action, but to date the company has refused to do so. The recent phone calls were one more action in an on-going consumer-driven movement against controversial fabrics like rayon and viscose.
"Currently, Abercrombie & Fitch stocks almost 300 items that use fabrics made from trees––like rayon, viscose, or modal. These fabrics are driving rainforest destruction in Indonesia and threatening the livelihoods of Indigenous and frontline communities," said Brihannala Morgan, Senior Forest Campaigner with Rainforest Action Network (RAN).
"The announcement from Abercrombie & Fitch is another milestone in its long trend in placing profits before people and the environment. With its new executive leadership, the company has the opportunity to break from its controversial past and become a leader for forests and fashion. If Abercrombie & Fitch wants to be truly profitable with today's consumer, then they need to ensure that its products are not hurting the rainforest or the people who depend on it," Morgan said.
Rainforest Action Network (RAN) recently singled out Abercrombie & Fitch among the 'Fashion 15' group of companies for its inadequate policies and commitments to ensure that the fabrics it sources are not responsible for deforestation, human rights abuses or species extinction. In January, activists caused a scene outside the Santa Monica, CA flagship Abercrombie & Fitch store, while thousands of others contacted the company directly on social media.
Recent global expansion of mega-plantations for the production of pulp for fabrics has been devastating to forests and Indigenous and forest-dependent communities. Illegal land-grabbing is rampant in the industry. In the area owned by just one company, Toba Pulp Lestari, in Northern Sumatra, Indonesia, over 20 distinct cases have been documented where traditional, community-owned land has been forcibly seized without the consent of the community and clear-cut for fabric pulp production.
RAN's Out of Fashion campaign is highlighting Abercrombie & Fitch as one of the most prominent brands among the 'Fashion 15' group of companies—including Prada, LVMH, Tory Burch, Michael Kors, Vince, Guess, Velvet, L Brands, Forever 21, Under Armour, Footlocker, GAIAM and Beyond Yoga. RAN is calling on these fashion companies to take responsibility for their supply chains, identify and eliminate bad actors, and develop strong, time bound commitments to protect forests and human rights.
For more information on dissolving pulp and RAN's Out of Fashion campaign, see here.
Rainforest Action Network runs hard­ hitting campaigns to break North America's fossil fuels addiction, protect endangered forests and Indigenous rights, and stop destructive investments around the world through education, grassroots organizing, and non­ violent direct action. For more information, please visit here.
Re-published from MySocialGoodNews.com as part of CSRlive's collaboration with Your Mark On The World