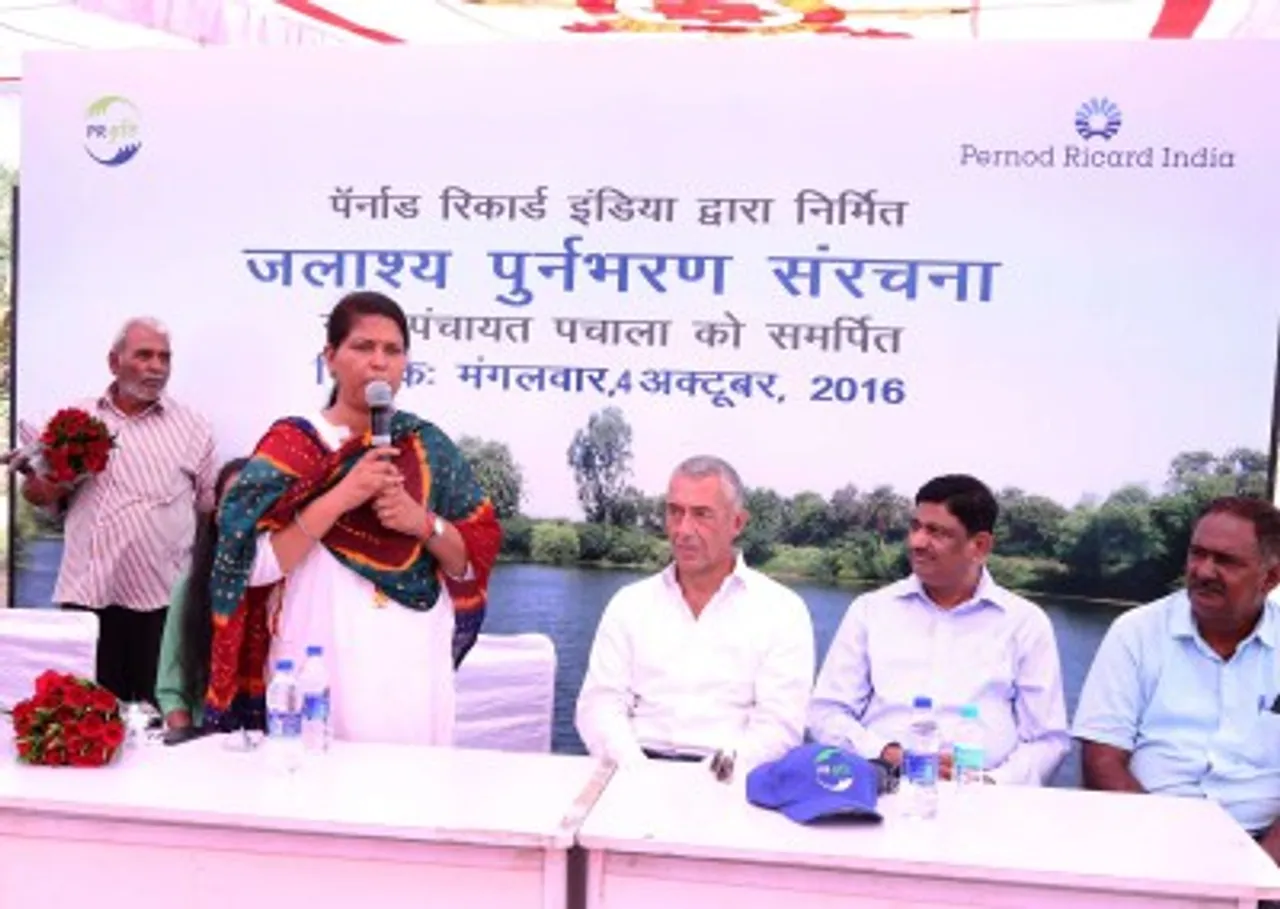 New Delhi (October 24, 2016): Pernod Ricard India has developed sustainable water management structures that will recharge ground water in water-scarce regions of Rajasthan. The handing over of the structures took place in the presence of Dr Prabha Vyas, Sub-Divisional Magistrate, Phagi, Sarpanch and the Gramsabha members of the nearby villages.
With a total capacity of 32,000 cubic meter, the four structures will help recharge groundwater which is a major and dependable source of irrigation and uncontaminated water for drinking in the rural areas of Phagi. These structures will also help increase soil moisture, recharge wells thereby reducing salinity and fluoride levels in the groundwater and improve cropping pattern.
Present at the occasion, Sunil Duggal, Vice President – Corporate Affairs, Pernod Ricard India commented, "At Pernod Ricard India, our aim is to address the rising concerns of water depletion by taking up initiatives that would lead to livelihood enhancement in rural areas in India. We are committed to enhance water management in India through long term sustainable solutions."
Dr. Prabha Vyas, Sub-Divisional Magistrate, Phagi, said, "The importance of living and groundwater for the existence of human society cannot be overemphasized. Groundwater is the major source of irrigation and drinking in the rural areas of Rajasthan. The evidence of the thought and good work lies in the benefits that the villagers will derive from this intervention. With the support of Pernod Ricard India, we plan to expand the project to cover and benefit more such villages in Rajasthan."
A formal handover of the sustainable water management structures to the community was made during the Event. A health camp for villagers was also organized near the water structure at Sawa ka Baas. 
Through this initiative, the company also aims to introduce new technologies and train the local community members and community mobilization which will start in parallel to the construction of the structures and ensure an income increase. Water user groups will be created which will be responsible for long term maintenance of the structure.