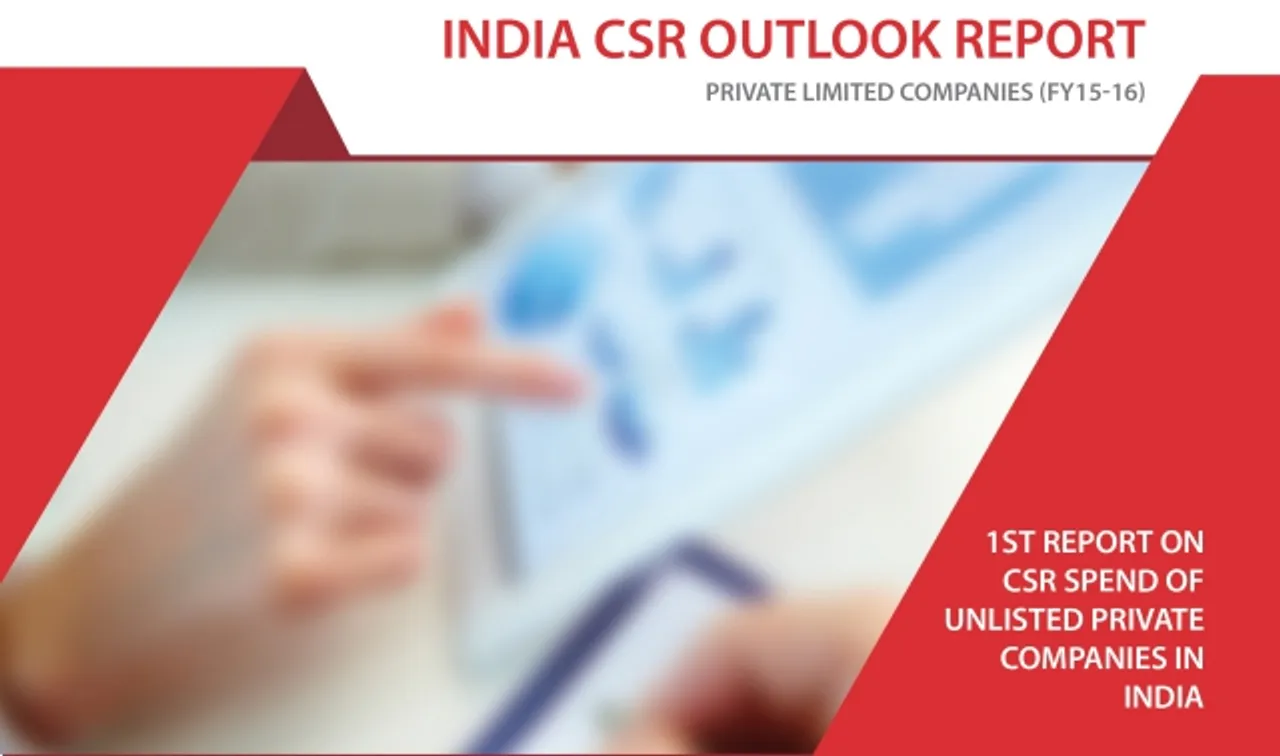 India (April 25, 2017): Development and CSR platform-NGOBOX has come out with a report on ÇSR spend analysis of private limited companies. The report focuses on CSR analysis of unlisted privately owned companies in India, after the enactment of Companies Act 2013.
The report is based on analysis of 305 privately owned unlisted companies, including a few of the biggest brands like Google, IBM, Microsoft, Barclays, HSBC, Sony, LG, Samsung, Visa etc operating in India. The report brings out analysis of prescribed CSR spend and actul CSR spent of finacial year 2015-16. As unlisted companies are not required to put their annual report in the public domain,  the CSR data of these companies is not easily available for review.
According to the report, 39% of the private unlisted companies failed to meet the CSR compliance that requires 2% of the average net profit of the previous three years to be spent on CSR projects. However, 29% companies went beyond manadatory CSR limit. While almost 2% of the companies did not spend any amount on the CSR, despite having mandatory CSR spend requirements.
This report was compiled on the basis of availability of CSR data as of 31st January 2017 from relevant sources and companies with prescribed CSR of INR 15 lacs or above.
Out of 305 companies, only one company had prescribed CSR range of more than 100 crore. Most of the companies (156) had a prescribed CSR which ranged between 1-10 crore. As few as 14 companies had prescribed CSR between the ranges of 10-100 crores.
The total prescribed CSR of 305 companies amounted to Rs 954.18 crore and the actual CSR spent was around 707.87 crore. The total unspent CSR was rounded off to 26% whilst actual CSR spent to prescribed CSR was 74%.
Implementing agencies remained the popular method by which the projects were implemented as 62% (1020) projects were implemented through Implementing Agencies, followed by direct implementation which amounted to 36% projects. Only 2% projects were implemented through CSR Foundations.
Moving on to the unspent CSR, 118 companies did not spend the prescribed amount on the CSR and 24 companies (20% of those who did not spend) did not explain the reason behind their unspent CSR budget, whilst 19% of the companies suggested that their project begins next year. Under Companies Act, it is mandatory to give a reason for unpsent CSR amount.
According to the analysis, Education & Skilling were the area where the most CSR spending happened. Almost 50% of projects took place in this area followed by Poverty Allevation, Malnutrition, WASH, and Healthcare where 23% of the actual CSR budget was spent. Overall 7% of the actual CSR spent was for administrative expenses.   Areas like benefits to armed forces veterans, war widows, urban Slum development etc. were not able to get much attention of CSR committees of these companies.
The Geographic distribution of CSR funds have been quite erratic and unequal. Top 5 states (Gujarat, Maharashtra, Karnataka, Telengana and Tamil Nadu) received almost 2/3rd of the total CSR funds. Meanwhile, Maharashtra topped the list by receiving 1/4th of the total CSR fund (i.e. 27%) followed by Karnataka with 11% of the funds received.