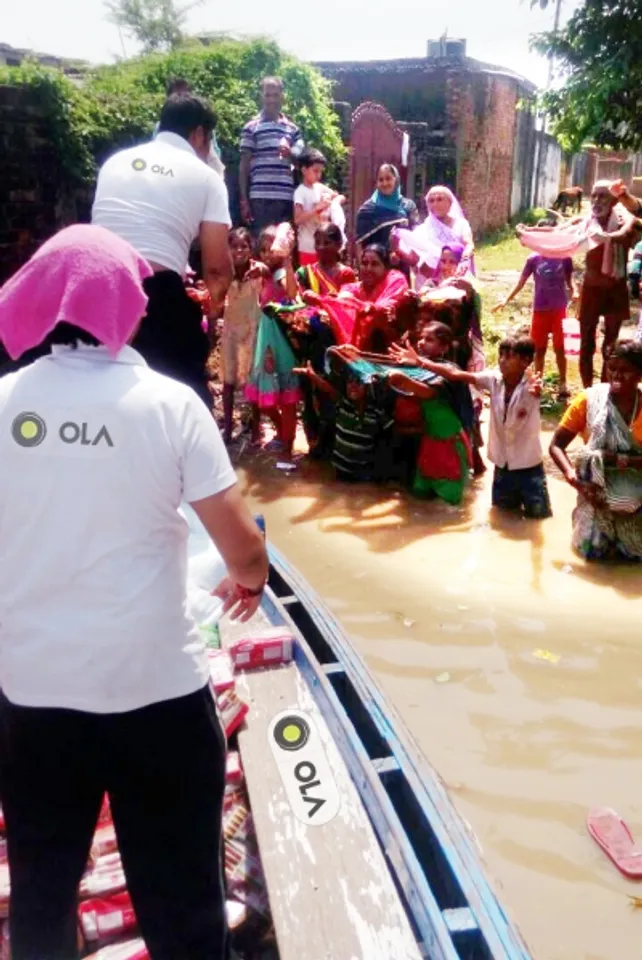 Varanasi/Allahabad (August 26, 2016): In an endeavour to help thousands of citizens affected by the floods and waterlogging in Varanasi and Allahabad, transportation Mobile App Ola has deployed boats to help people in affected areas across the two cities in Uttar Pradesh. Manned by professional rowers, these boats will help rescue citizens from flooded zones to safer areas and in distribution of relief material like food items, drinking water and medicines.
Ola is also introducing a special category 'Donate' on its app in Varanasi and Allahabad. Fellow citizens who wish to donate food items, clothes, blankets, medicines etc. can open the Ola app and click on this icon. An Ola relief van will come to their doorstep to collect the material which will then be distributed using boats in the water-logged areas. The category will be live between 8am and 6pm everyday starting from 27 August for a period three days.
Piyush Surana, Business Head - East at Ola said, "Thousands of citizens have been stranded and are suffering due to heavy rains and water logging in Varanasi and Allahabad. We are leveraging the benefits of our technology platform to make it easier for people to donate essentials and aggregate them for distribution in the affected areas. Boats deployed by Ola will help rescue people stranded in flooded areas and distribute supplies in affected areas. We will continue to extend support with all available mobility options in the city to help citizens who need transportation most and we urge our users to support their fellow citizens in distress."
Ola had undertaken similar flood relief initiatives in the past in Chennai and Guwahati. During the Chennai floods last year, Ola had deployed boats in water logged and partially submerged areas, basis information provided by the Fire and Rescue Department of Tamil Nadu. During the recent floods in Guwahati, Ola had created an on-demand 'Flood Relief' category on its app to help Ola users in Guwahati contribute non-perishable food items and clothes. Ola had also sent veterinary doctors from Guwahati to Kaziranga to help Wildlife Trust of India (WTI) in its rescue operations.