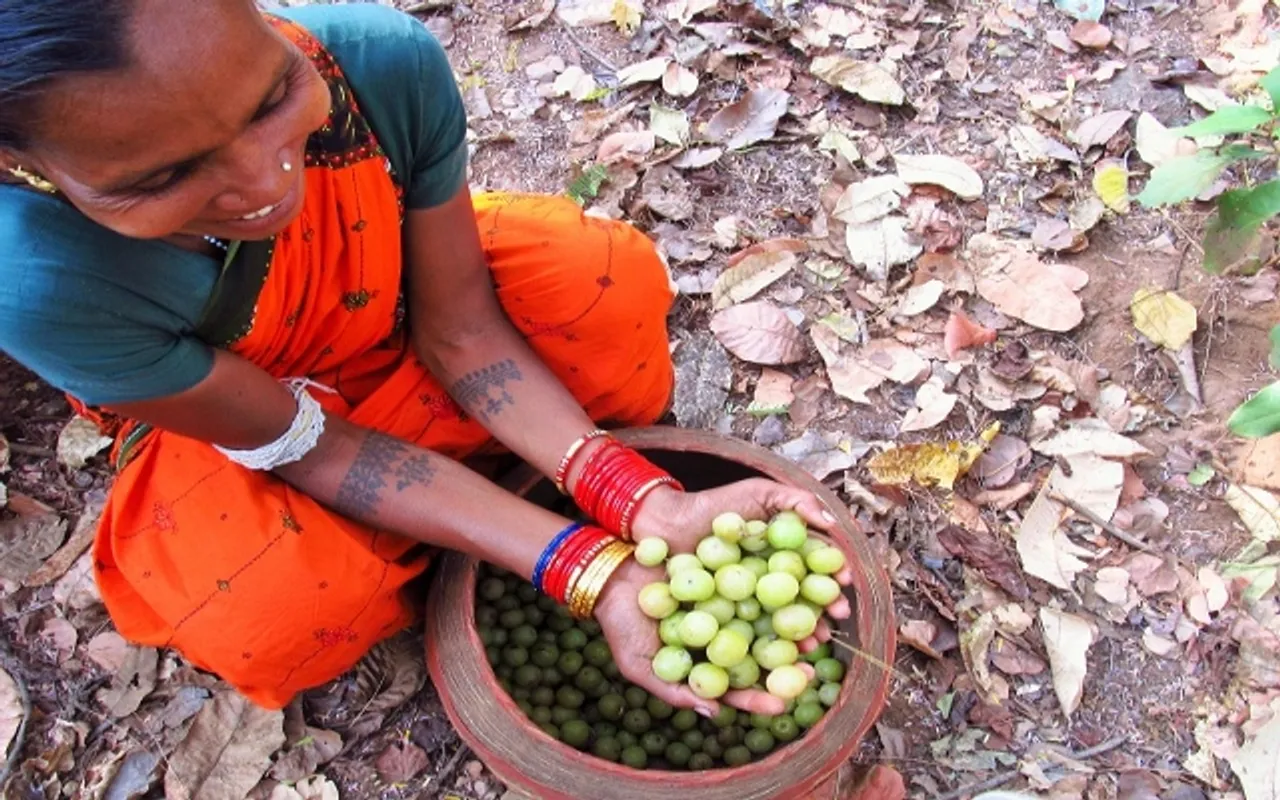 Understanding how community based systems, ownership and management can help protect and conserve forests, reduce climate crisis and ultimately increase our chances of survival
When I was leaving for Kalahandi in Odisha for a project, my father sounded very worried. Like him, Kalahandi, to many, still brings up images of famine, extreme poverty and lack of availability of food. But the part of Kalahandi that I saw and experienced was quite the opposite – with lush green fields, forested hills and no signs of famine. What led to this big change despite years of continuous droughts, I do not know. However, the story that I got to know there of a few forest dependent communities showcased the perfect example of what we are currently doing to our planet, the impact of our actions and a solution that can be replicated across other micro-ecosystems to reduce the progress of climate change.
Below the hill and forest range of Churapahad, in Golamunda block, Kalahandi, lies ten villages who depended on the thick forests for their food, livelihood, firewood etc. Seasonal rain carried nutrients down the hill into the farms of the village members. The soil rich in humus helped grow indigenous varieties of paddy and millets. These crops never required fertilizers and the yield was high. The forest provided them with sufficient food to eat and Non Timber Forest Produces (amla, mahua, hareda, jharu etc.) to sell. But this self-sufficient life existed a few decades back. Then came a time when rampant and illegal felling of trees took place, mostly by people with vested interests and partly by the communities themselves who cut down trees to access NTFPs. By 2006, the entire hill range was barren, devoid of any trees and life. The result was dramatic.
Heat increased and became unbearable. Soil and water would roll off the surface leading to large scale erosion. With a decrease in rains, soil health and water table declined affecting agriculture and people's livelihood. There was no fodder for cattle and people went to other villages to bathe. For drinking water, people of Jhamjhara would ration the limited water they got from their well. In Khasiguda, people had scoop out water from the semi-dried river bed. Animals and birds also disappeared from the area. Starvation loomed with people often walking many kilometers to the forests on the other side of the hill in search of food and fodder. Many times they returned empty handed.
"We used to get a lot from the forest earlier – firewood, food to eat and forest produces which we collected and sold. After the forest disappeared, the heat increased and rainfall became erratic and we stopped getting anything. We could barely survive. We would make rice water and keep that for later use. If we earned Rs.5, I would keep it under the pillow so that we could use it during more urgent times. The monsoon months were especially bad. We killed the forest ourselves", said Domoli Manjhi (62), who has seen many changes occurring to the land, forests and their lives over the years.
Practicing sustainable community based forest management in Jhamjhara (Image: Bipasha M)
Regional Centre for Development Cooperation (RCDC), Odisha, started work with the communities in the region in 2004-05 by creating awareness and organising community based systems to work on sustainable management of forests and natural resources. In Odisha, RCDC has been instrumental in setting up a four-tier forest protection system which is now solely managed by the forest dependent communities themselves. At the village level, the Village Forest Protection and Management Committee (VFPMC) with all people as its members, plants local varieties of trees, keeps a watch over their forests, regulates NTFP and firewood collection, stops illegal cutting or felling of trees, controls forest fires, and oversees utilisation of funds etc. Block level Jungle Manch takes care of conflict and border issues between villages. The District Forest Forum is a platform for advocacy while the Odisha Jungle Manch at the state level gives feedback to various state level government departments on their issues and requirements. RCDC also helped in strengthening the communities' livelihood through implementation of the Community Forest Rights (CFR) under Forest Rights Act. Now, five villages under a single Gram Panchayat are involved in regenerating, protecting and managing 2000 hectares of the reserved forest of Churapahad.
The results of the efforts of RCDC and the communities have been just as dramatic. The forests have regenerated over a decade though as the community mentioned, it is yet to regain its original health. I looked around and saw the hill range full of trees. The men and women took me inside the forest to show me the various trees that have grown as well as the methods they use for sustainably collecting NTFPs. With the forest regenerated, birds and animals including tigers, bears, foxes, wild boars and leopards have also come back. The level of ground water table has improved with water available throughout the year. The people practise organic methods of farming in order to improve soil nutrients though most local varieties of paddy are now not available.
Along with socio-economic improvement came more changes. As Promiyo Bhoi (30), President of Khasiguda's VFPMC said, "Earlier, we (women) used to be shy and did not step much beyond our houses and household work. Now we all contribute to the discussions and the men not only listen to our opinions but also implement them. A lot of things have changed in the village; we are developed, we have schools, health facilities, roads, pucca houses, various government schemes meant for us etc. We have got land and forest rights. Women go to sell the NTFPs in the market."
The experience of the adivasis of Churapahad hill range is a strong reminder of the impact of climate crisis which the world will face in future once we cut down all our forests and use up all natural resources. Similar situations are now already unfolding in many states especially Uttarakhand where large scale deforestation has resulted in barren hill ranges, unviable agriculture and many natural disasters. With the help of RCDC, people have learnt the importance of forests in maintaining a healthy ecosystem beneficial for both humans and wildlife. They are conscious of protecting and conserving their forests, so that they do not face such devastating consequences again. For the rest of us, this provides a big learning which can ultimately become a matter of survival for all of us.
Note: The case story was taken as part of a project on climate change by Oxfam India. Oxfam India is a strategic and financial partner of RCDC working on FRA and livelihood in Odisha.
Bipasha Majumder shifted to the social sector after working in advertising and media for a decade. She loves traveling to the grassroot, talking to the communities, understanding their issues first hand and writing about her experiences. Currently she works as a communication consultant for various NGOs and CSR projects.