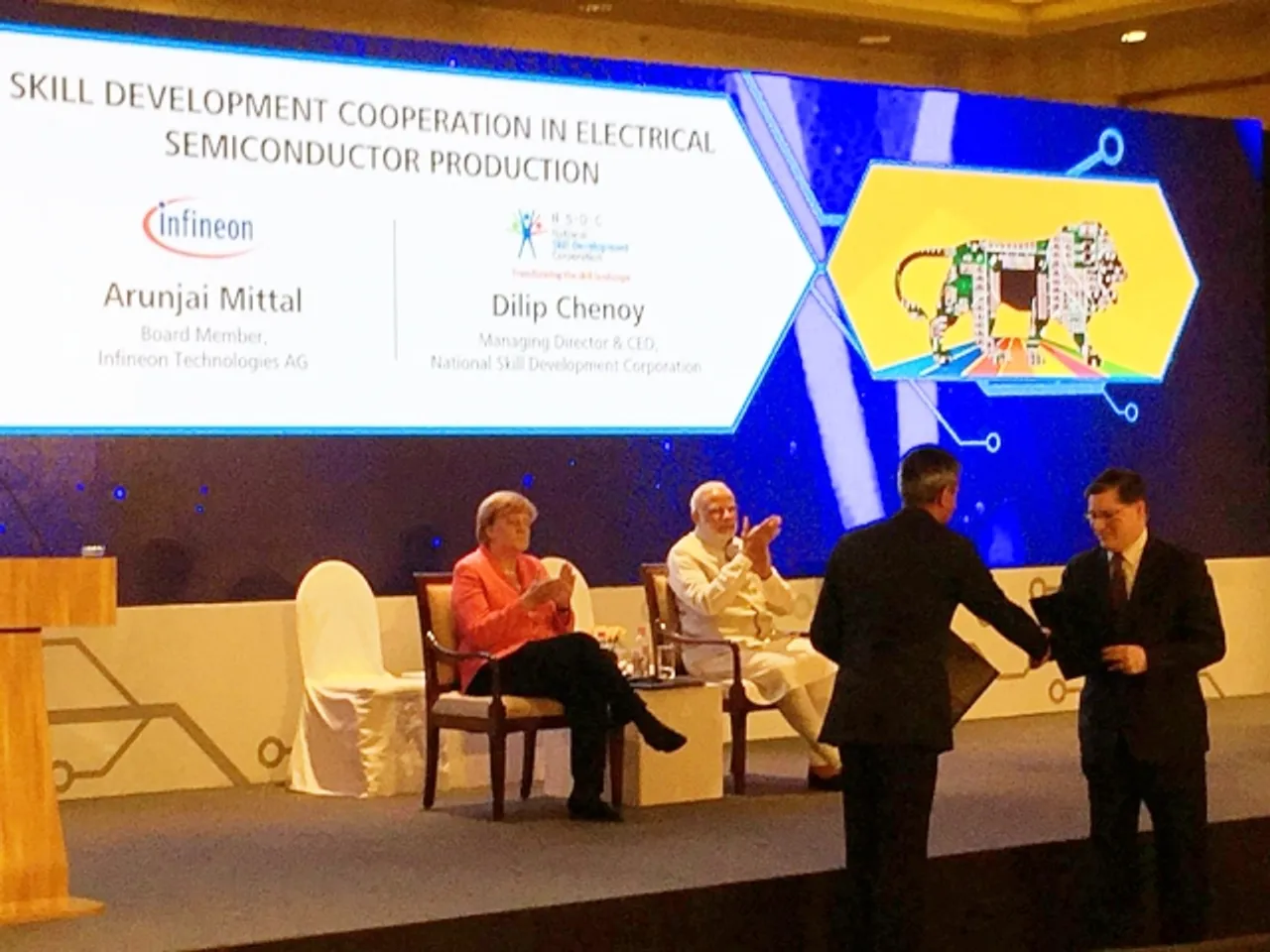 National Skill Development Corporation (NSDC) has signed a Memorandum of Understanding (MoU) with Infineon Technologies, a German Semiconductor Manufacturer, to develop a joint curriculum for skill development programs in semiconductor manufacturing. The MoU was signed by Dilip Chenoy, MD and CEO of NSDC and Arunjai Mittal, Member of the Board at Infineon Technologies. The collaboration aims to give a boost to the Government's 'Make in India' campaign and 'Skill India' movement.
Under the 'Make in India' program, plans for three Front End fabrication (fabs) projects of other investors are in the process of approval. Total direct employment of 30,000 is expected to be created by these fabs, along with further indirect employment of over 100,000. In terms of Back End manufacturing which is more labor intensive, several facilities are expected to be set up to support the downstream activities from the Front End fabs.
Speaking on the occasion, Dilip Chenoy, Managing Director and CEO of National Skill Development Corporation (NSDC) said: "This is an opportune time for developing standardized curricula in this sector and based on Infineon's deep experience in the semiconductor industry, coupled with NSDC's experience in skill development and leveraging partnerships with training providers and other service partners, we believe that our collaboration could contribute to the success of the overall 'Skill India' movement and make India self-reliant in the sector and reduce imports."
Commenting on the partnership, Arunjai Mittal, Member of the Board of Infineon Technologies India said: "The semiconductor market in India is projected to grow by more than 20 percent annually in the years to come. Infineon appreciates the advances made in this field as well as the recent progress that India as a business destination has made. We are excited about this collaboration with NSDC and look forward to the overall success of this project."
The MoU primarily focusses on imparting electronics and semiconductor related knowledge and fundamental skills. These include packaging technology and semiconductor metrology, wafer level testing, collection organization and interpretation of production and product performance data, process capability, cycle time, yield, cost and quality. The curriculum shall also cover process development and yield enhancement, process performance improvements upon equipment modification, documentation of process development and failure analysis. All courses will be aligned into the Qualifications Pack - National Occupational Standards (QP-NOS) framework and obtain accreditation from the respective Sector Skill Council (SSC). NSDC will work with the respective SSC on conduct and assessment of the aligned course through their trained and certified Assessors.
The electronic system design and manufacturing (ESDM) industry will benefit from the government's "Make in India" campaign and is projected to see investment proposals worth Rs 10,000 crore (US$ 1.61 billion) over the next two years, according to the India Electronics and Semiconductor Association (IESA), an industry body. According to data released by the Department of Industrial Policy and Promotion (DIPP), the electronics sector attracted foreign direct investment (FDI) worth US$ 1,417 million between April 2000 and January 2015. Also, the telecommunications sector attracted FDI worth US$ 16,995 million during the same period.