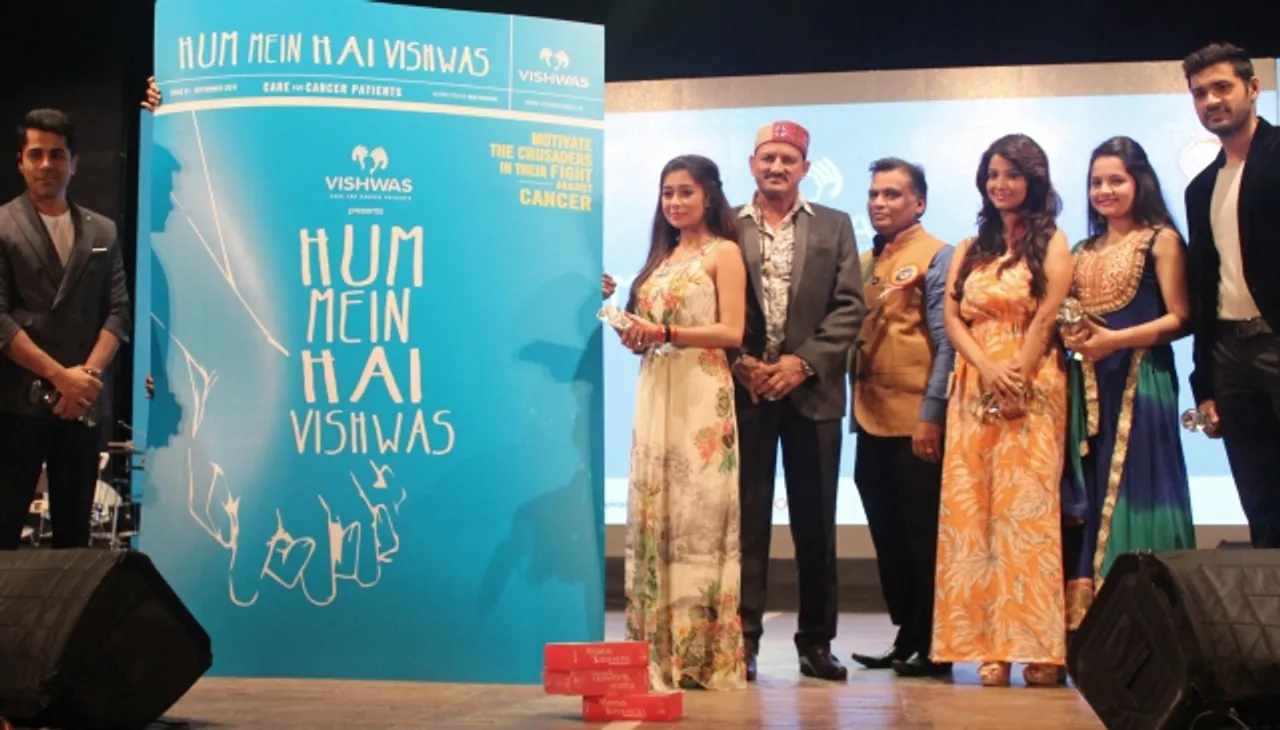 MUMBAI: 600 Cancer patients and their families, 200 Doctors and supporters of NGO Vishwas, all came together recently for an evening to cherish for Crusaders fighting against Cancer. Actor Ragini Khanna sang on stage and danced with Cancer kids while singing Maestros Suresh Wadkar, Shabbir Kumar sang to popular tunes and created a heart whelming moment when Doctors and patients danced together, forgetting all their pain and sufferings going through Chemo sessions. The Event was organized by NGO Vishwas with support from Hinduja Hospital.
Suresh Agrawal – Founder, NGO Vishwas said, "I am so touched by the fact that my patients, who were in pain, went back home smiling. After providing shelter to few Cancer patients, hailing from remote villages of India, we are now working on creating a housing complex, where patients and their families can stay till the treatment is over."
Cancer Crusader Manisha Koirala added, "I have fought Cancer and I know how important hygiene is during the treatment, thus, I had decided when I win over Cancer, I will help others to battle the disease. And I pledge to join this movement with NGO Vishwas and ask people to come forward and help us in making this dream possible."
Dr. Asha Kapadia – Head Oncologist, Hinduja Hospital said, "Suresh and his team are doing a wonderful job of housing Cancer patients, as many patients leave the treatment and succumb to cancer as they do not have a place to stay in expensive metros like Mumbai. More and more people should come forward and if whoever has a single room or flat lying vacant in Mumbai – and if they could let Cancer families stay there for 1 day or 1 month or 1 year, they will be a big help in saving lives."
The evening also saw performances from The String Theory, Sand Artist Machindra Shinde and Never End Crew – both from India's Got Talent platforms and was hosted by Mantra. Author Mamta Bhatt who earlier wrote the Mahabharata for the kids and is now soon, unveiling the Ramayana for kids, gifted her books to cancer kids, inorder to give the strength and inspiration to fight and win over Cancer.
The event was conceptualized and organized for NGO Vishwas by Bubble Communication, outdoor support was provided by Moryaas Multi Media Pvt Ltd with CSRlive.in and DharmishthasDiary.com as online partners for the event.